Staying Alive! Confessions of a Serial Plant Killer
I kill plants. Or rather, plants die on me.
Whatever I grew never seemed to celebrate its two month-anniversary with me. And the records back me up.
My planting experiments have included a Spanish mint, a spearmint, a pineapple mint, a peppermint, three orchids and a pot of fittonias. Even the plants in the terrarium that I created at a DIY terrarium workshop started to wilt after five weeks. While some may have died due to my lack of interest in them, others probably died from my enthusiasm - death by drowning was the usual verdict.
Till today, I do not know the exact reasons for the "murder spree", but the reasons, as I postulate, are plentiful and different each time. They died due to lack of water, poor air circulation, lack of sunlight, too much sunlight, too much water, and the list goes on... It was with much reluctance that I agreed to participate in this experiment.
I had read that Cath Lim, who started "The Plant Story", was once a plant killer herself . However, she now calls herself an urban gardener. Her range of products included "aesthetically pleasing plants/landscaping that are kind enough for serial plant killers". Now, that attracted my attention. The solution was a terrarium Starter T, targeted at beginner gardeners like me.
After sharing my failed terrarium experience with Cath, she gave me some tips, "Terrariums thrive on neglect. Leave them alone. Don't water them, in fact, you probably don't need to water them until six months later." With that, I set my terrarium on my workdesk and departed for a vacation.
Two weeks later, the plants still looked bright and alive. And so I thought, there is hope after all for them to survive past two months under my care. And now, more than four months later, the fittonia in my terrarium is doing so well, they are threatening to pop the cover off my container. I'm looking forward to celebrating their 6-month anniversary.
Tips for terrarium growers:
Don't overwater the plants. As the terrarium is covered, condensation occurs and the water within will not evaporate as easily. You only need to water the plants once every six months or so.
If the plants look like they are dying, feel the soil to see if it is wet or dry. If it is dry, it means that the plant is in need of water. If it is wet, try to rescue the plant before it rots. Remove the mulch (gravel) and dab it with tissue to remove the excess water before putting it back into the pot.
Do not remove the cover of your terrarium for too long, this may cause the water within the terrarium to evaporate.
Do not put your terrarium under direct sunlight. You can leave them on your office desk with florescent lighting or in your house with filtered sunlight.
The growth of your plants is restricted by the size of the container they are in, as long as you keep the cover on.
By Eta Lauw
The Plant Story is now at HortPark!
The Plant Story is opened from 12noon to 7pm on weekdays, 11am to 7pm on weekends and public holidays, and closed on Wednesday.
It also conducts group workshops upon request.
It has a cafe within its premises, too, offering healthy bites and refreshments.
Visit the website, Facebook, or the shop at HortPark to find out more.

Eta at her workstation with her terrarium, which is doing so well, it is threatening to outgrow its jar.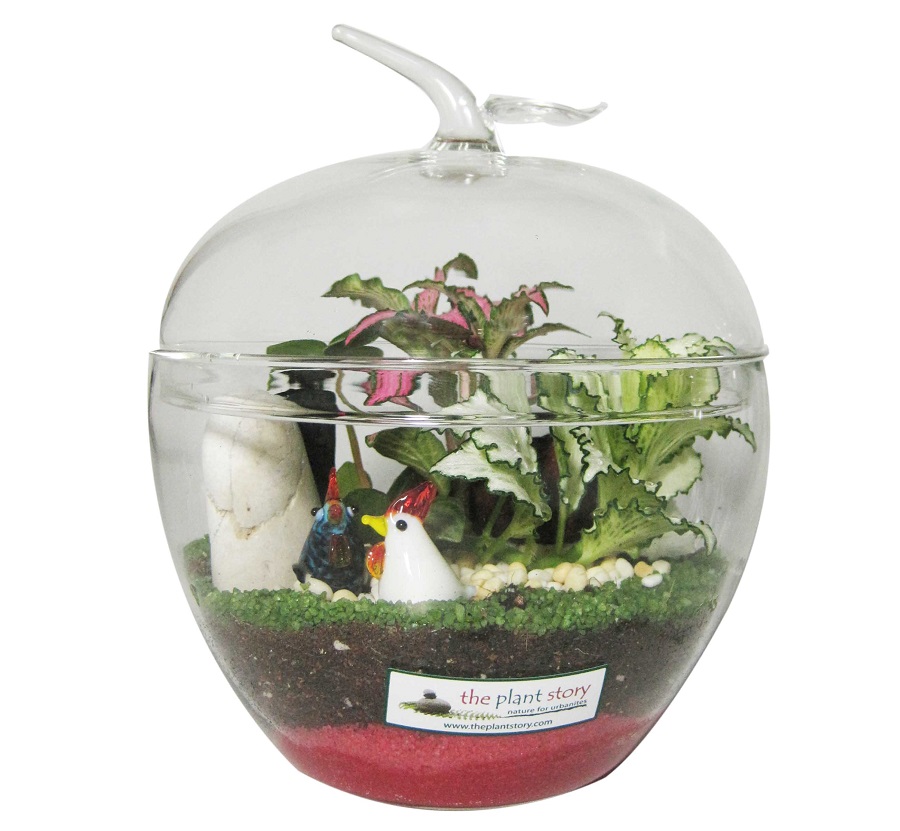 A pretty Apple to brighten one's day.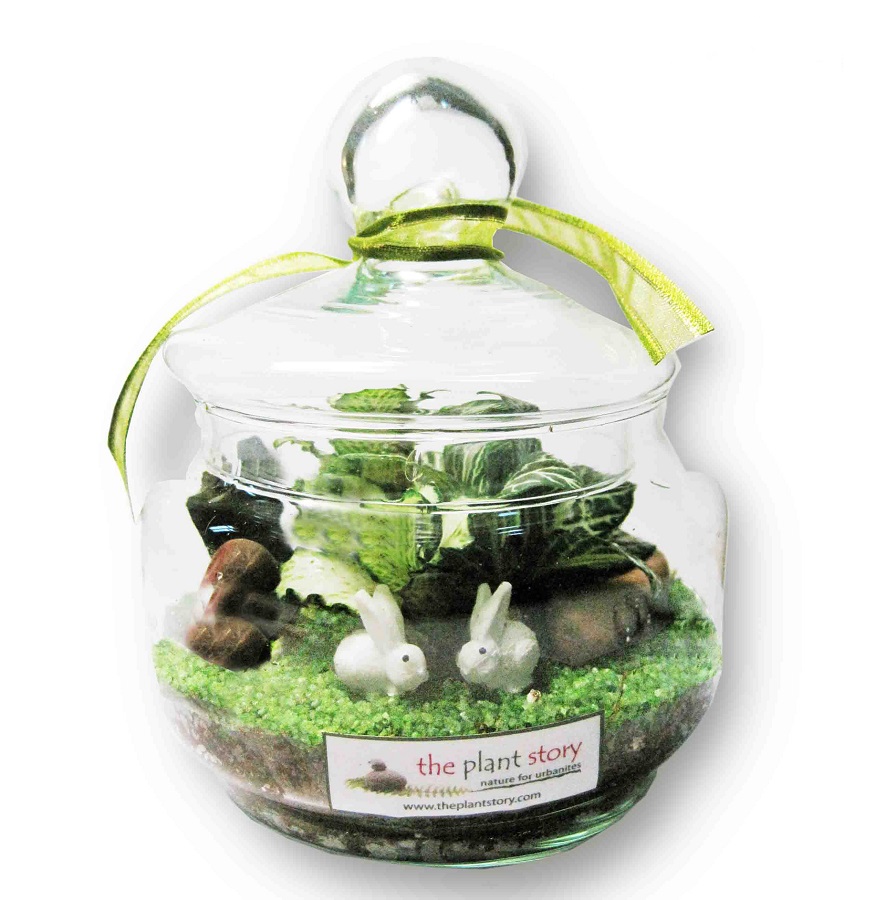 A Little Green Escapade for a spot of relaxation.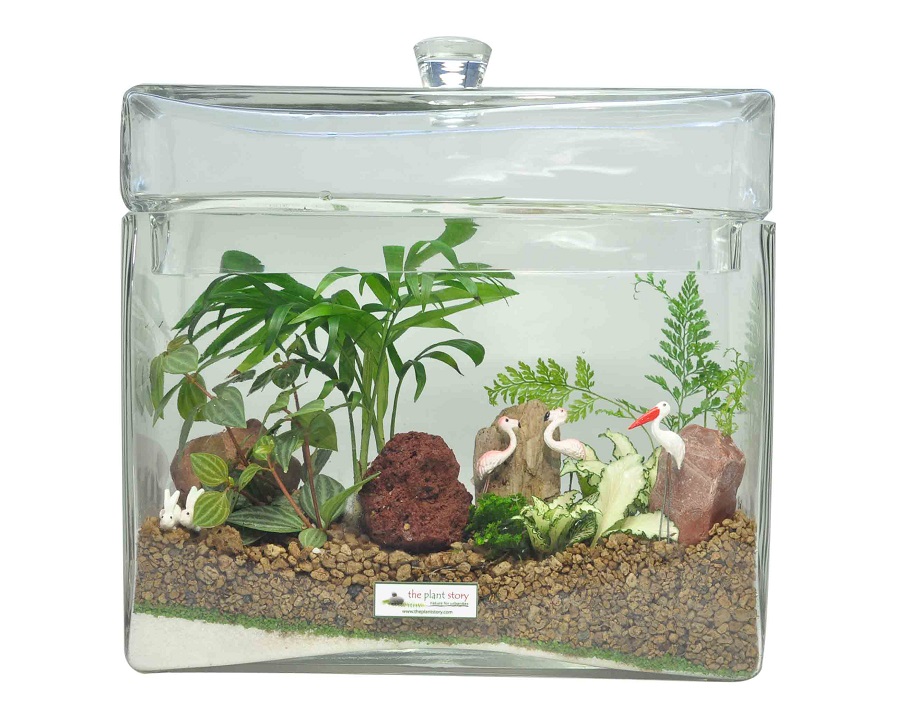 A Picture Perfect moment that looks good on any desk.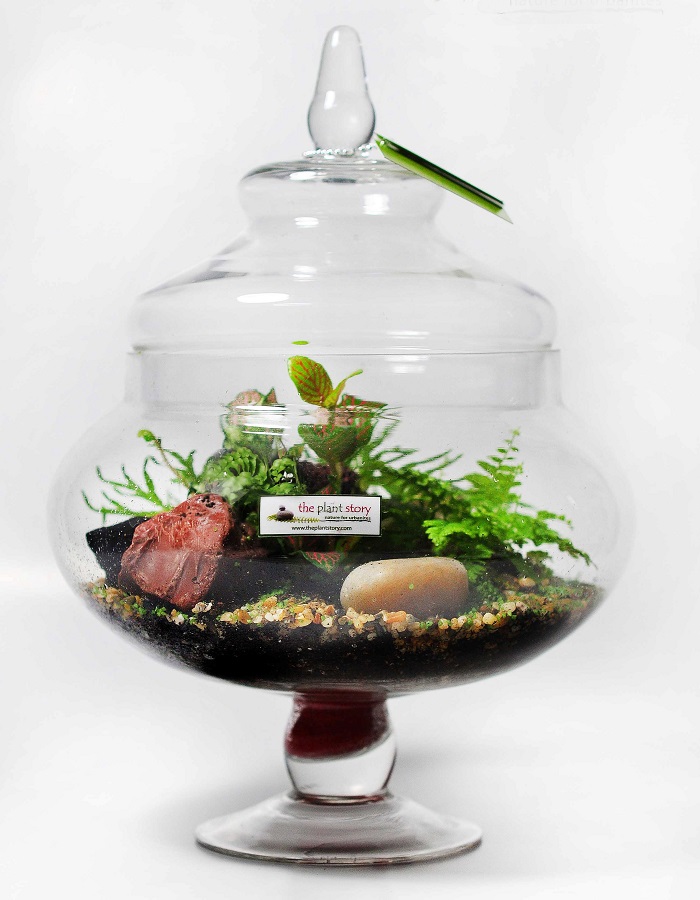 A lush Tropical Green Forest that is a sight for sore eyes.