Dining Amid Lush Greenery
If dining amid the lush surroundings of nature is something you enjoy, then you should head on down to Cornerstone Restaurant located at Bishan-Ang Mo Kio Park River Plains (formerly Bishan Park 2).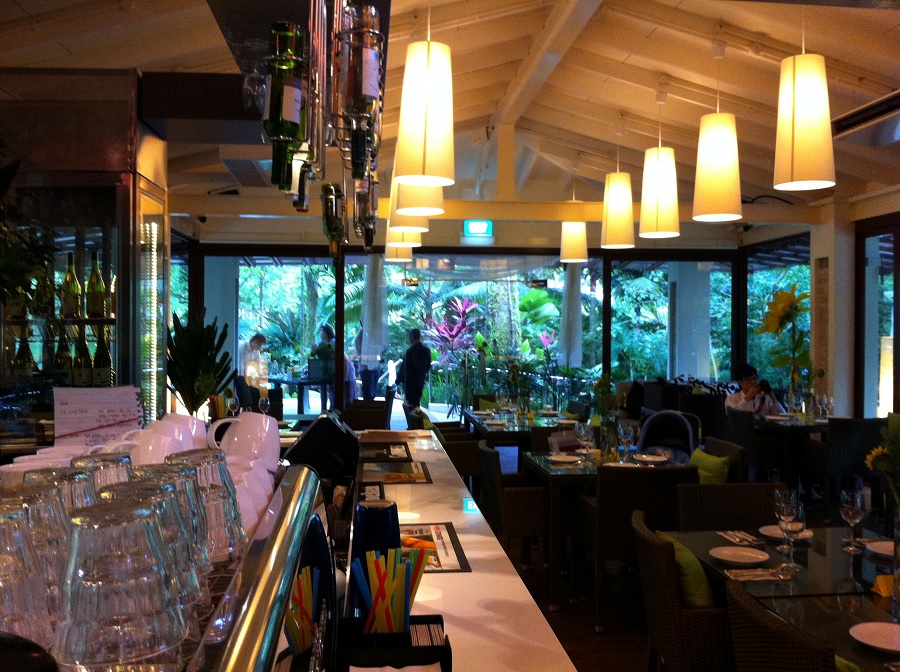 The interior of the restaurant exudes a relaxing atmosphere.
I made my way down to Cornerstone for dinner one evening with my husband and two toddlers in tow. The green and brown interior of the restaurant provided a relaxing backdrop for dinner on a Saturday night. Business was brisk, with most of the indoor seating taken up. There is also al fresco dining for those who prefer to enjoy their food while listening to the birds and crickets sing their tunes.
A fusion of good flavours
After taking a quick scan of the menu, which consists of a wide range of Western fusion food, I was relieved to see that the restaurant offers a kid's menu. The service staff was attentive enough to ask if I wanted to place the order for my children's food first so that their food could be served earlier, which I gratefully agreed to. I ordered a Bambini (spaghetti with butter and cream) and chicken nuggets for the tots.



The writer's older son slurping up his meal of Bambini.
As for my husband and I, we ordered a couple of appetisers - Japanese Stewed Pork Buns (2 buns per serving) and the Mussel Pot - to share. Our mains comprised the Signature Lamb Rack with Garlic Crust and Juvenile Lobster Marinara.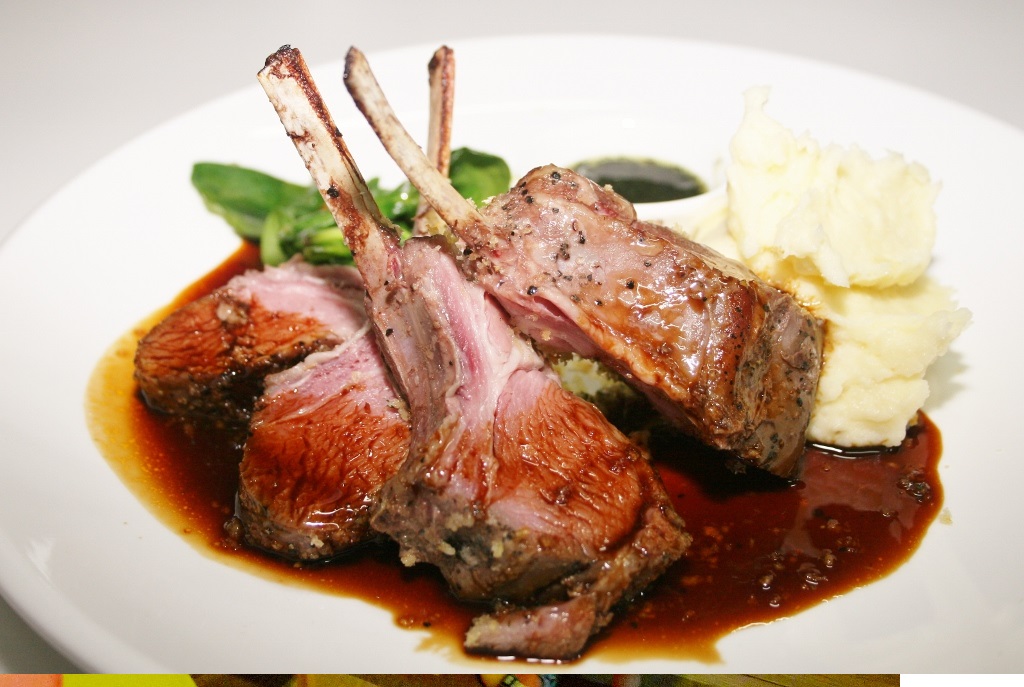 The herb-encrusted Signature Lamb Rack with Garlic Crust.
The mussel pot and stewed pork buns did not disappoint. We could taste the white wine in the cream sauce that the mussels were cooked in, and the focaccia toast that was served on the side complemented the dish wonderfully. Secretly, I wished that more toast could be provided so that we did not have to let the remaining rich cream sauce go to waste.



The Mussel Pot was accompanied by toasted foacccia bread.
My husband was more than satisfied with his rack of lamb. The herb-encrusted exterior was seared to perfection - the entire cut of lamb was moist and cooked to an impeccable medium pink. This was complemented with an ideal portion of potato mash and wine gravy. The spaghetti accompanying my Juvenile Lobster Marinara was cooked a perfect al dente and embedded with generous portions of fresh and sweet morsels of baby lobster.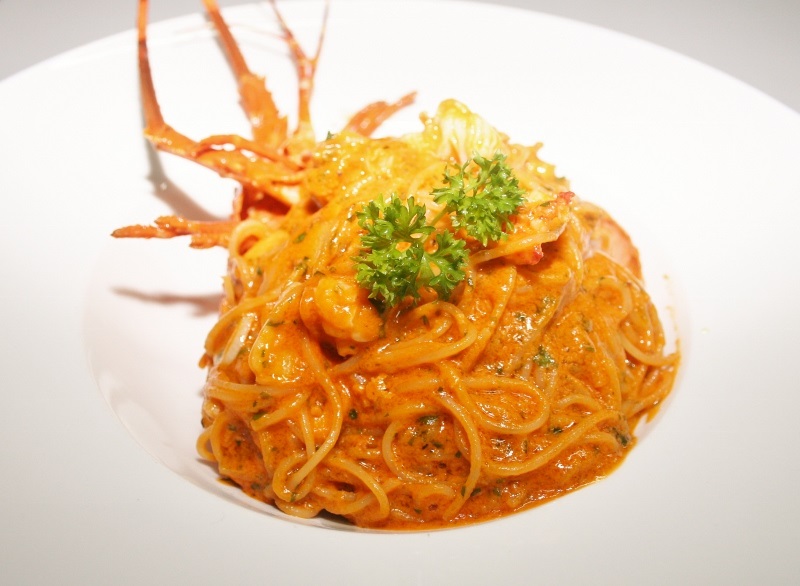 The Juvenile Lobster Marinara had generous portions of lobster meat.
A sight to behold, a heavenly dessert to savour
Surprisingly, we found space in our stomachs to order a dessert to share. The Flaming Bomb Alaska came highly recommended by the chef. My boys loved watching the meringue top burst into flame after bourbon was poured over it. It is a must-try if you are dining with curious children. They will be mesmerised by the lighted dessert. The dessert wasn't just a thrill to watch - it tasted heavenly as well.
On the whole, dinner at Cornerstone was a delightful experience. My kids loved their food and had fun entertaining themselves at the play area located out in the restaurant's patio. The child-friendly environment at the restaurant was a nice touch, as it gave my husband and me much-needed time to devour our food without having to entertain the children instead.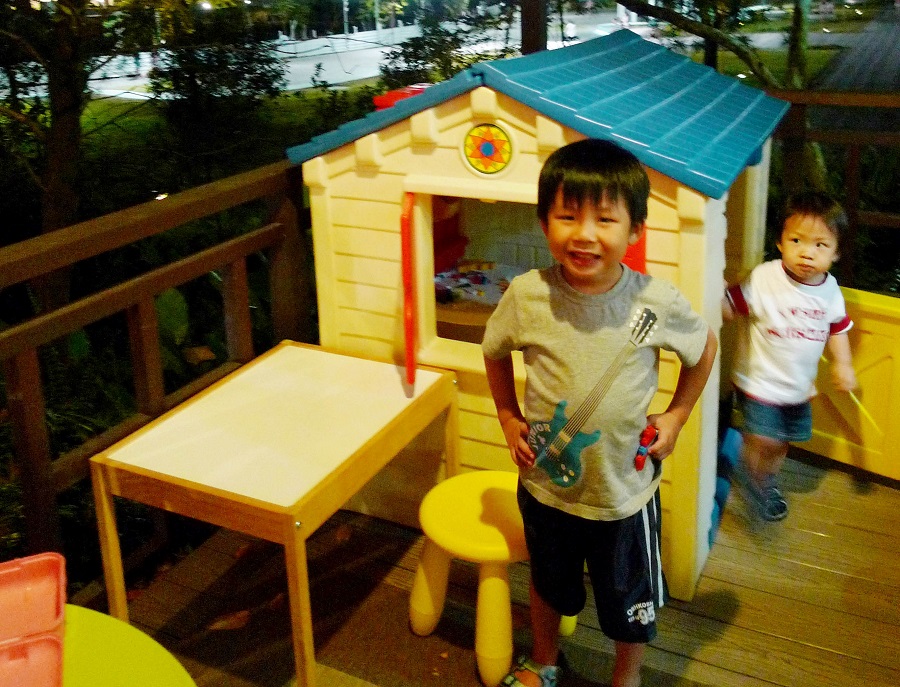 The writer's children checking out the outdoor play area.
Oh yes, if you are a football enthusiast, you will be happy to hear that Cornerstone screens football matches live in its al fresco dining area. All you need is some beer and buffalo wings to keep you company as you watch the match. Although the restaurant takes its last order at 10.30pm, diners seated outside are free to stay till the wee hours of the morning if they wish, even after the restaurant has closed! Word has it that the restaurant will start serving weekend brunch in time to come. I'll definitely keep my eyes peeled for the announcement when that happens, as I would love to take my children to the park on a weekend morning.
Cornerstone Restaurant serves set lunches on weekdays at $18++ comprising a soup/salad, main course and dessert.
It is open Sunday to Thursday, 12.30pm to 10.30pm, and Friday and Saturday, 12.30pm to 11pm.
The restaurant is closed on Mondays You can visit their Facebook page for more information.
By Charmaine Lim
Photos of restaurant interior and dishes provided by Cornerstone.
A Passion for Cooking
Playing masak-masak (or children's game of role-playing as cooks) has paid off for chef-restaurant owner Yeo Kian Tiong.Now 38, Kian Tiong is the owner and chef of Cornerstone Restaurant located at Bishan-Ang Mo Kio Park. He also owns Ramen Monster, a ramen eatery located in Novena Square.
The father of three has loved cooking from a young age. His parents bought his twin brother and him pots and pans to play with and it was probably then that his love affair with cooking started. He fried his first egg at the age of eight and then proceeded to experiment on preparing eggs in different styles.Although he had a passion for cooking, Kian Tiong obeyed his father, a former Hokkien noodle-seller, to study something that was more practical, and so graduated with a degree in microbiology from the University of Austin at Texas. He then worked as an IT consultant in Texas. However, unsatisfied with his life, he decided to take the plunge and pursue his passion.
Kian Tiong enrolled himself in Le Cordon Bleu in Austin, Texas, and graduated with a bachelor in Culinary Arts. Kian Tiong had chanced upon the restaurant space during a visit to Bishan-Ang Mo Kio Park many years ago and was captivated by the lush and green surroundings of the space. Then, it was still occupied by the previous tenant. Kian Tiong's big break came when the space at the park was available for lease. He tendered for the space and the rest is history. Now, Kian Tiong is operating a restaurant that serves food he particularly enjoys cooking - Western food (think rack of lamb, fillet mignon, etc.), at a reasonable price.