A Rare Glimpse into a Scientific Expedition
Not many non-scientists can say they have ever been on a scientific expedition, especially someone like me, who's not trained as a scientist. However, I got my chance when I signed on as a volunteer with Singapore's first Comprehensive Marine Biodiversity Survey (CMBS), also known as the Mega Marine Survey.
For three days in March, I joined the team of scientists and volunteers on the Galaxea as we explored the waters off Pulau Ubin. I enjoyed it so much, I postponed my trip home three times! This scientific expedition was the first ever attempted in Singapore and was a prelude to a larger-scale expedition that will be held later in the year. Following a proposal in the Singapore Blue Plan 2009 to conserve our marine life, CMBS aims to survey all our marine and coastal areas and take stock what we have.
Working hard on and off the ship
I went one day earlier than the official start of the expedition to help with the logistics. And boy, was there a lot involved, even for such a short expedition! Lots of equipment had to be loaded into the Galaxea, the Tropical Marine Science Institute's (TMSI) research vessel, giving me a chance to go on board.
After much effort, we finally arrived at Celestial Resort on Pulau Ubin, our base camp for the next few days. Those of us who were not scientifically trained, like me, were mainly engaged to hep with more labour-intensive work.
During this expedition, we would be covering a variety of sites: sea-bed; mudflat; and mud lobster mounds, as well as night surveys. During those surveys, specimens would be collected and brought back to base camp, where lots of manpower would be needed to help sort them out for the experts to identify! Despite having postponed my return trip three times, I could only participate in one of the sea-bed survey.
Most times, I was busy at base camp sorting specimens that were collected earlier into their respective taxonomic groups. When my chance came to participate in the field survey, I was very excited as I boarded the Galaxea. The team and I brought along a dredging net, sorting trays and other equipment.
As most of us had no formal training in marine biology, we had to learn some basic taxonomy along the way. And there's plenty to learn, especially when sorting, as we had to separate the animals into containers. Sorting was particularly exciting, as it gave us a chance to chat and learn more about each other, while at the same time making ourselves useful.
It isn't easy being a biologist!
Back at the Base Camp, we observed how the scientists preserve, photograph and extract DNA samples from the specimens. Everything has to follow a workflow, and we must all be very careful, especially with labeling of specimens! These labels provide vital information for future research work.
Lab work also gave us a rare chance to talk to biologists and find out more about what they do (which is very different from the glamourous portrayal of biologists on TV!).
From my time as a volunteer with CMBS, I learnt that knowing what animals can be found where is useful when planning which key areas require protection and conservation. I once thought that as an individual, there is little I can do to influence policies. But my experience with CMBS has made me believe that we can all contribute as citizen scientists and help care for our natural heritage. The next phases of CMBS will be sea bed surveys (more chance to go onboad the Galaxea!) and reef surveys (divers needed!). This is clearly an exciting time to be involved in our marine community and I can't wait!
By Jocelyne Sze
Comprehensive Marine Biodiversity Survey

The Comprehensive Marine Biodiversity Survey (CMBS) is a project sponsored by
Asia Pacific Breweries,
the Care-for-Nature Trust Fund and
Shell Companies in Singapore
. It aims to discover all the fauna and flora that can be found in all of Singapore's marine habitats, ranging from mudflats, rocky shores, coral reefs and the seabed. Other than tertiary institutions, the survey also engages the community in the form of volunteers to increase the awareness of our marine natural heritage.
The CMBS mini-expedition was a collaboration by National Parks Board with the Tropical Marine Science Institute and the Raffles Museum of Biodiversity Research of the National University of Singapore. If you are interested to sign up as a volunteer, please contact Kwan Siong at koh_kwan_siong@nparks.gov.sg.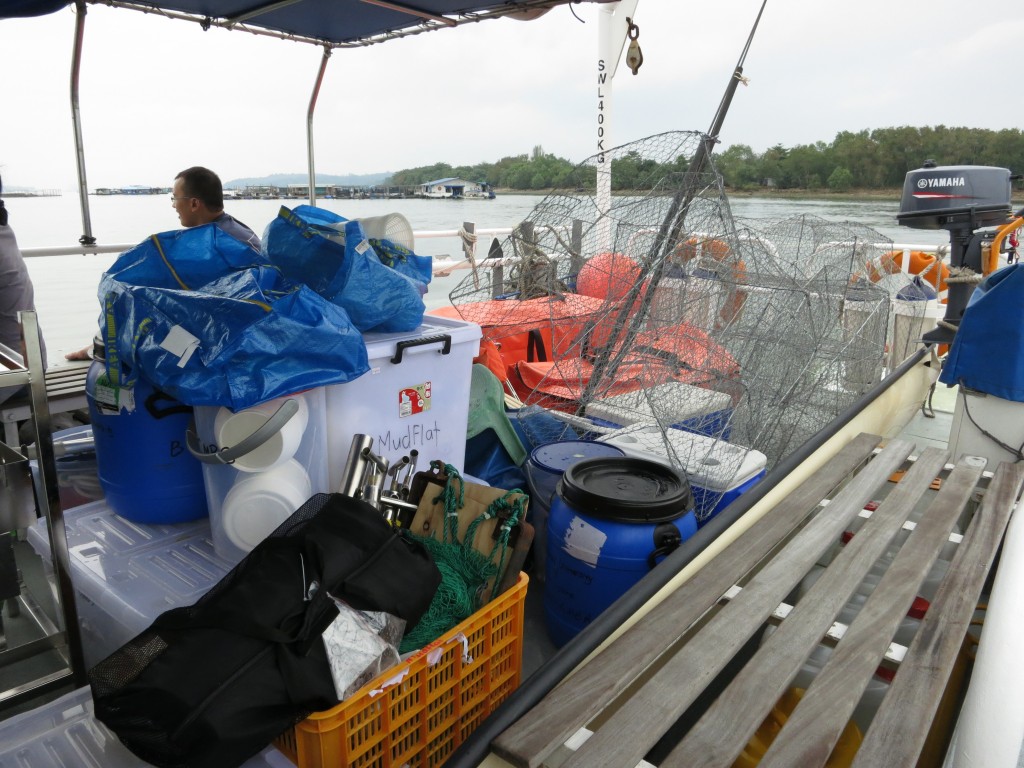 Took 2 boat trips on board Galaxea to transport all the logistics required

The dredging net brings up a sample of sea-bed for us to examine closely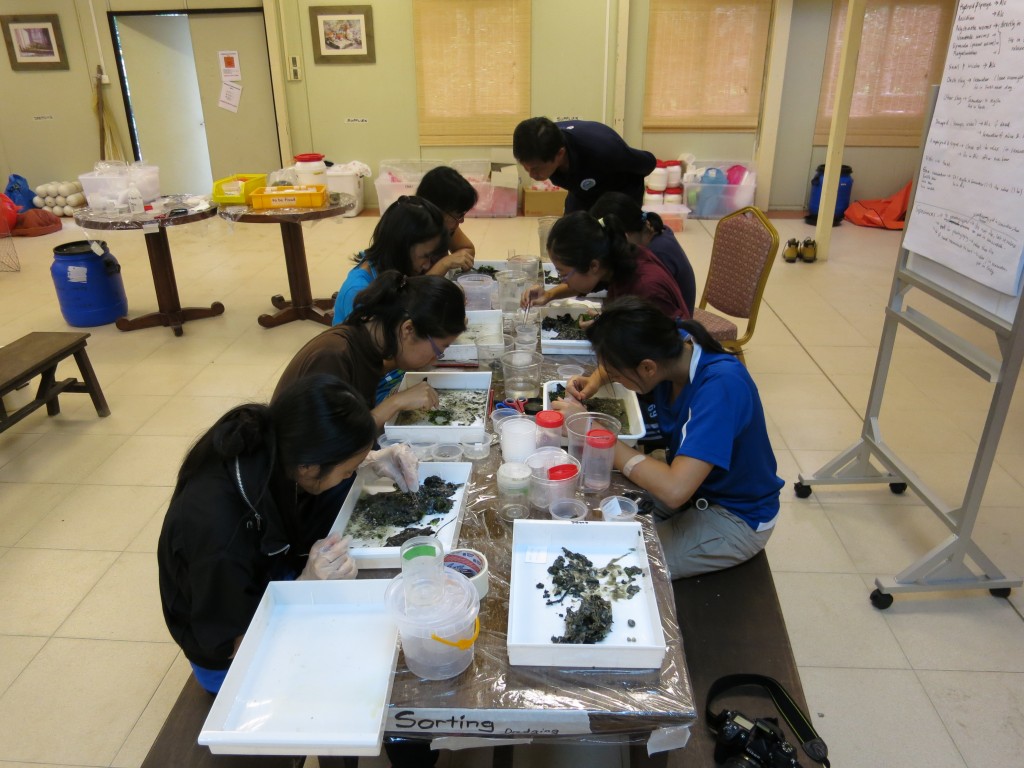 At work sorting the collected mixture of soil and animals Professor Peter Ng from NUS (or is it better to say RMBR or TMSI?) sharing with the volunteers about the specimens collected.