The Fragile Rainforests of Singapore
Dusk has arrived. It is the weekend. In the forest, it is dark and humid. Yet, several people are moving about choosing to spend valuable time to appreciate trees and search for animals. Just who are these people?
Exciting discoveries
A dedicated team of enthusiastic biodiversity surveyors devoted three years of their time to an ecological study on rainforest biodiversity, from 2008 to 2010. The surveyors comprised National Parks Board (NParks) staff from the Central Catchment Nature Reserve (CCNR), and corporate volunteers from HSBC. These volunteer surveyors spent many a day and night immersed in the forest environment of Singapore to document and monitor the creatures that dwell there, including spotlighting in the evenings to locate nocturnal forest animals.
Exciting finds from the forest surveys include the rediscovery of the White-spotted Cat Snake (Boiga drapiezii). It has not been seen in Singapore for more than 100 years! This snake is mostly nocturnal, climbs trees and can grow to more than 2m in length. An interesting aspect of this snake is that it usually lays its eggs in the nest of termites.
Another rediscovery was the Bicoloured Leaf-nosed Bat (Hipposideros bicolor). This species which feeds on insects had not been recorded in Singapore for more than 130 years! The bat got its name because of the fur on its body which starts with a pale base and has grey brown ends - two colours on the same hairs. An interesting find is the Hardwicke's Woolly Bat (Kerivoula hardwickii). It is a small mammal, but a big find as it has not been recorded in Singapore before.
A number of moth species were also documented in Singapore for the first time, such as the Hadennia kimae, which was previously known to exist only on the island of Borneo. These surveys highlight the rich biodiversity of Singapore's rainforests, and show that these creatures are still present in appreciable numbers in spite of the pressures from development and climate change. The findings now serve as a useful baseline and point of reference when future surveys are done.
A partnership to care for our rainforest
The HSBC Climate Partnership was initiated on a global level to generate greater awareness and action to combat the urgent threat of climate change by promoting action by individuals, businesses and governments.
HSBC has partnered with organisations such as the Climate Group, Earthwatch Institute, Smithsonian Tropical Research Institute and World Wide Fund for Nature (WWF) to initiate conservation projects around the world to improve our understanding of how forests interact with carbon and their relationship with the climate.
In Singapore, HSBC has partnered NParks since 2008 to conduct the study on rainforest biodiversity to determine the relative health of its inhabitants and find out which native species could be vulnerable to the long term effects of climate change at the local level. Embarking on this project is timely, as the last time that an intensive survey was conducted within CCNR was in the 1990s.
Through this study, HSBC hopes to generate greater awareness of the local biodiversity to enable better conservation efforts of our rainforests and wildlife, and ultimately on our own well-being. Roderick Oliveiro, a corporate volunteer from HSBC, felt he had learnt a lot from his experience with the project, "This project has taught me the importance of the diversity of each small creature and how it plays a part in the ecosystem." Casey Ng, also a HSBC corporate volunteer, said "If it weren't for this project, I would not have known that our rainforests has such an impressive diversity of animals. I am very glad to be part of this project."
By James Gan
Photos by Dr Leong Tzi Ming
Our Fragile Rainforest is a compilation of some of the findings from this research made possible through a collaboration between NParks and HSBC. The book is now available at $10.00 per copy at the Garden Shop and the Library Shop located at Singapore Botanic Gardens, as well as major bookstores. Sale proceeds from the book will support conservation work in our rainforests.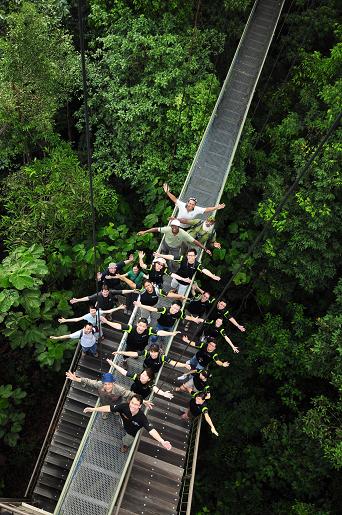 Some of the volunteers who helped with the survey on the Tree-top Walk at MacRitchie.