A Cyclist with a Difference
Abdul Alim enjoys spending time outdoors – cycling, jogging, swimming, and playing the occasional game of football with his friends. At first glance, Abdul, who works as a logistics traffic co-coordinator, looks no different from the people around him. He has a body build that speaks of hours of exercise. But take a closer look and one realises Abdul wears a prosthetic where his right leg should be.
The accident that changed his life
Ten years ago, Abdul was working as maintenance technician when he decided to step out of his company building to get lunch. As he waited at a road junction to cross the road, a car suddenly appeared from a side road. It travelled at quite a high speed without regard for other traffic. A lorry heading down the adjacent main road hit the car and in the process, skidded towards Abdul and drag him for about 5 to 6m. "When I opened my eyes, I was underneath the lorry," Abdul recounted.
The ambulance arrived about 45 minutes later and Abdul rushed to hospital where he stayed for two months and underwent six operations. Despite his doctors' best efforts, his right leg could not be saved and had to be amputated below the knee. Despite losing his leg, Abdul was determined to return to his former active life. In 2004, he underwent an operation that shortened his leg to above the knee, so that he could be fitted with a wider range of prosthetic that would allow him to lead a more sporty lifestyle.
A breakthrough
The rehab was long and hard, but the therapists at Tan Tock Seng Hospital (TTSH) patiently helped Abdul learn to adjust to using a prosthetic.
In October 2011, nine years after his accident, Abdul started running again. "That was a breakthrough for me. So I decided to challenge myself to start cycling," he said. Abdul needed a different set of prosthetic in order to ride a bike.
With the help of TTSH, he managed to be fitted with one tailored for cycling. That particular prosthetic had to be brought in from overseas, thus it was not subsidised and was very expensive. So, Abdul had to seek sponsorship and donations to cover the cost.
After Abdul was fitted with his new prosthetic leg, he practised cycling with it until he got used to riding a bike again. "It was tough to cycle after the operation because I was unable to balance my body on the bike. The riding technique for a person using a prosthetic is different from a normal person. We have to consider a lot of things before we get on the bike, like how to dismount. As an above-the-knee amputee, I have no control over my right knee. Thus I need to dismount on my left leg, even in an emergency, to avoid injury."
Giving it back
Since getting his prosthetic 'cycling' leg, Abdul has participated in several activities. When he learnt that TTSH Community Charity Fund was organising the TTSH Family & Friends Charity Ride as part of the National Parks Board's launch of the North Eastern Riverine Loop in February 2012, Abdul decided to join them as he wanted to give back to the hospital for their care and support. "By contributing my time and a small donation, to cycle with their staff and donors, it was my way of saying 'thanks' and to help the less fortunate patients in TTSH," he said.
He is also to Treknology Bikes for sponsoring his road bike and helping him raise funds. "I hope others [in similar situation as him] can be inspired to go out there, live a normal life, and even help those less fortunate than us. I'm doing this to encourage them not to let any disability stop them from doing anything." Since then, Abdul has participated in other events, including the OCBC Cycle.
In June, he took part in the TTSH Charity Ride Bintan 2012 where he cycled 75km. He had looked forward to it as it was his first overseas cycling trip, as well as a longer distance than he usually cycles. Now Abdul has new goals, "I'm planning to compete in triathlons and Ironman, and if I can get a sponsor, I will do skydiving." In the meantime, you may see Abdul training on his bike or jogging at West Coast Park or Mount Faber Park.
By Ng Li-San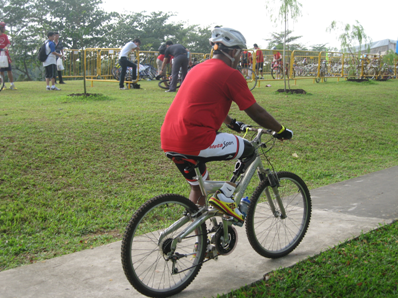 Abdul Alim participating in the TTSH Family & Friends Charity Ride, one of the events held to celebrate the launch of the North Eastern Riverine Loop in February 2012.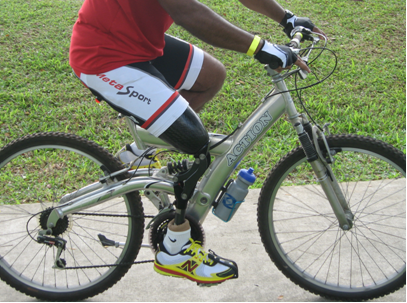 A closer look at Abdul Alim's prosthetic leg, which is specially crafted for cycling.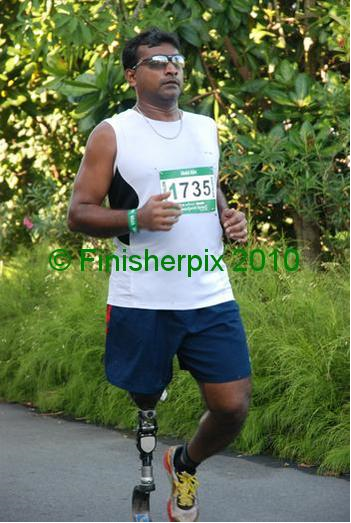 Abdul Alim running using a different prosthesis. He hopes to show others who have also lost a limb that it is still possible to lead a normal lifestyle.

Losing a leg hasn't stopped Abdul Alim (centre) from swimming, running and cycling. He hopes to compete in triathlons in the near future.