Translate Your Passion for Conservation into Action
On screen, she is an award-winning television news anchor. Off screen, she is a reforestation enthusiast. If you happened to pass by Ngee Ann City Civic Plaza on the evening of 31 March, you might have seen her, Tung Soo Hua, host of Money Week, near the World Wildlife Fund (WWF) booth sharing her nature conservation stories with her fans and passers-by.
Soo Hua initiated this I Will If You Will challenge on Earth Hour Day, where she pledged to plant a tree for every 50 signatures she collected at the Earth Hour Celebration. In the end, Soo Hua collected 91 signatures and she felt very encouraged by the hopes and words from her supporters. She happily shared some of the messages: "Singapore is famous for being green. We have to keep up the effort to continuously keep it as green as we can.""Well done. Plant a tree and save the Earth. All should do that!"
An Earth-conscious father
When asked what inspired her for her Earth Hour Challenge, Soo Hua answered, "I have used a lot of paper, either as a journalist or a student, hence I thought it would be meaningful if I could plant some trees to contribute to reforestation efforts." She also mentioned her father, from whom she acquired her enthusiasm for gardening and nature conservation.
"My father is very resourceful. He improvises and uses recycled materials for the home. He would revive potted plants discarded by neighbours and replant them in our garden. He created a fish pond all by himself using materials like cement and pebbles that have been discarded during renovation work."
Her father created a corner of the garden for growing vegetables and fruits, where she took pleasure in helping out with the pruning and watering when she was younger. The immense satisfaction of picking vegetables and fruits from her own garden left Soo Hua with fond memories and moulded her passion for conservation today.
Think of the small ways you can contribute
Although she has now stopped gardening due to her frequent travelling for work, Soo Hua always tries her best to take part in reforestation activities whenever there is an opportunity. She also plays an active role in engaging her colleagues in conservation donations. "I shared these messages from the public [at Earth Hour Challenge] with my colleagues and friends. A few have expressed interest in joining me immediately." Soo Hua believes that it takes collective effort to go green as a society, and that Singapore is not maintained as a City in a Garden through the efforts of city planners and professional landscape architects alone.
Even though she is a celebrity, she feels she only plays a small part in the overall green movement. But she believes in doing her part to help conservation efforts, no matter how minute her role is. And she wants others to do the same, too. "I hope to see more green initiatives coming from individuals, be it adopting a park or planting a tree annually. Be involved, make suggestions and mould our future green landscape together."
On 30 June this year, Soo Hua, with the help of her colleagues, fulfilled her Earth Hour Challenge pledge and planted four trees at Tiong Bahru Park through the Plant-A-Tree programme, under the Garden City Fund. Her colleagues had chipped in with donations to plant the additional trees.
By Erin Wang
About the Plant-A-Tree Programme
Launched in 2007, the Plant-A-Tree programme allows you to do your part for nature by planting trees at designated areas, including parks and nature reserves.The cost is $200 per tree. All proceeds are tax-deductible, and will go to the Garden City Fund for tree planting activities and conservation programmes.
To find out how you can plant your own tree, and view the planting schedule for 2012, visit http://www.gardencityfund.org/pat/index.htm.

Soo Hua with a painting she did for Earth Hour which she themed "One generation plants the trees in which shade another generation rests." It expressed her hope to plant a green future for the young people of Singapore.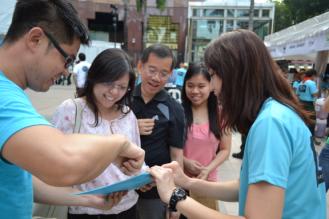 At the Earth Hour Challenge held at Ngee Ann City Civic Plaza, Soo Hua and Earth Hour ambassadors went round collecting signatures from the public to fulfil her pledge.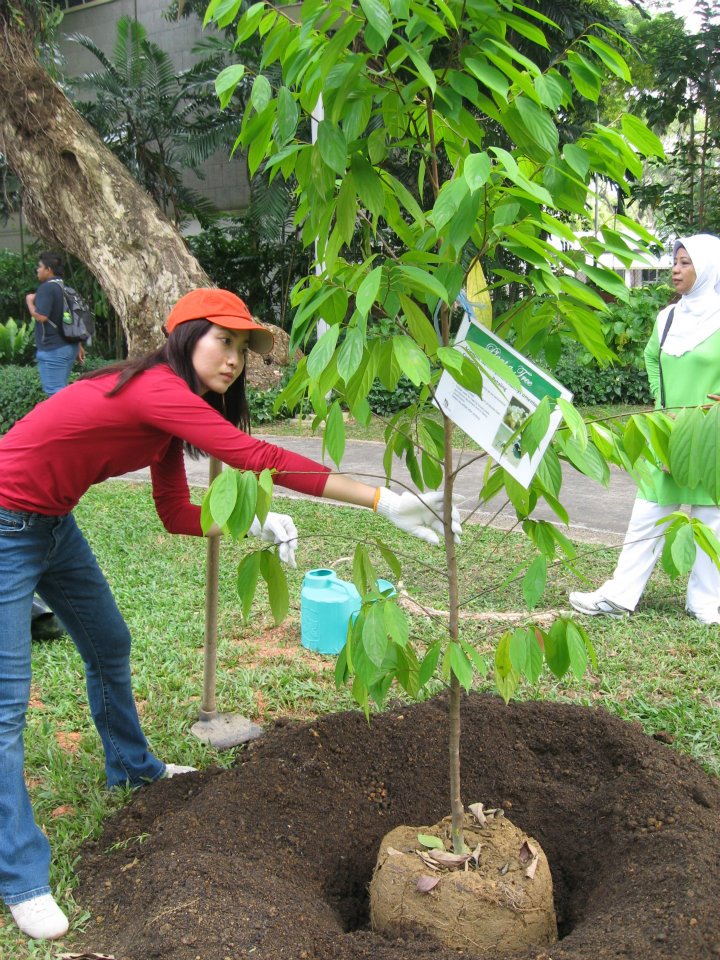 Tung Soo Hua taking an extra effort to ensure her tree is carefully in place.



Tung Soo Hua sealing her Earth Hour Challenge by watering her newly-planted tree!