An Intimate Affair at Eco Gourmet
Tucked away in the lush enclave of Labrador Nature Reserve lies Eco Gourmet - a fine-dining restaurant offering fusion cuisine that is neither Asian nor Western, but global. The eatery's spacious, Balinese style décor was very inviting.
What I liked most was the how well the tables were spaced out, allowing each group an intimate dining experience. This is in stark contrast to many other restaurants which usually seat patrons too closely to one another, where one can inadvertently listen in to private conversations from the next table.
Well, Eco Gourmet has none of that here. Although the restaurant has a large space of almost 4,000 square feet, the owners decided to provide a unique ambience and setup the eatery catering to only some 60 guests in the main dining area, seating everyone comfortably in a romantic tea-light setting amidst lush greenery - most suitable for couples or friends looking to have an intimate tête à tête.
As the name of the restaurant suggests, the owners subscribe to eco-friendly practices and this extends to their setup and furniture too. The restaurant is built using mainly old salvaged wood sourced from Malaysia. The materials are then specially re-crafted by the native Orang Asli community there before being transported to Singapore. Other eco-friendly practices they adopt include sourcing ingredients from sustainable producers and training staff to recycle and minimise wastage wherever possible.
Early this year, Eco Gourmet, under Chef Thiti Thammanatr, has refreshed its menu. Chef Thiti started out as a Teppanyaki chef in Canada, before working in and eventually helming several western and French high end restaurants. He has won several note-worthy culinary awards, including a gold medal in the Province of British Columbia for the inter-provincial culinary challenge. Best known for his 'global cuisine', Chef Thiti likes to apply different cooking methods to various ingredients to create new twists that will surprise the palette. One of the new interesting offerings on the new menu created by Chef Thiti is the Beef Tenderloin, which is glazed with Coca Cola reduction.
However, as both of us recently had steak, we opted for other delectable items on the menu. We eagerly tucked into the cream of mushroom and truffle soup and foie gras when our appetizers arrived. I especially liked how the unique foie gras was pan seared and served with a tangy sangria concentrate. My dining partner was equally impressed with the richly flavoured velvety soup except that the portion was rather small.
For our mains, we picked the Crustacean Cream Linguine and Lamb Loin. The pasta had a scrumptious and creamy crab bisque-like base paired with prawn oil and I chowed down the al-dente spaghetti leaving not a single strand on my plate. My partner also delighted in the unique serving of mint cous cous that came with the lamb loin, which was tender and flavourful.
After the relaxing dinner, we walked further into Labrador Nature Reserve, and ended the evening at the lookout point, where we enjoyed more of the scenic view of the southern seas.
Eco Gourmet is open daily from noon to 2.30pm for lunch and 6.30pm to 10.30pm on weekdays, and 11am to 10.30pm on weekends.
Call 6479 8885 for reservations or email eco@samadhiretreats.com.
The nearest parking facility is Car Park A at Labrador Nature Reserve.
If you have a little more time before lunch or dinner, you may want to take a walk in Labrador Nature Reserve and enjoy the natural beauty of southern Singapore.
A do-it-yourself (DIY) trail guide is available for downloading.
By Jean Louise Lee
Photographs courtesy of Eco Gourmet.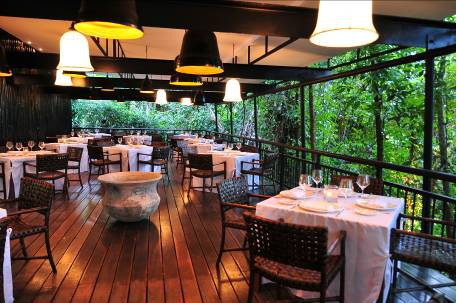 The spacious interior of the restaurant with its Balinese-themed setting.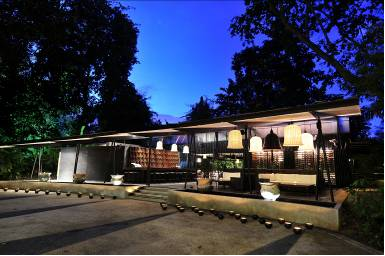 The exterior of Eco Gourmet. Set amid lush greenery, the restaurant offers a wonderful respite from the hustle and bustle of the city.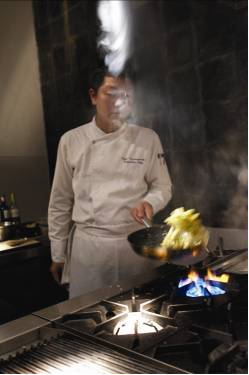 Chef Thiti at work in the kitchen. He enjoys using unique ingredients to further enhance flavours.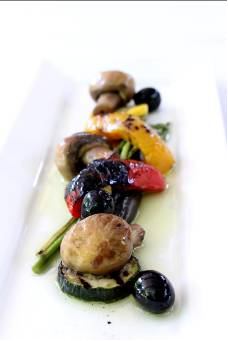 The Mediterranean Vegetation Antipasto is made up of marinated olive, capsicum, zucchini, eggplant, mushroom and asparagus.

The Smoked Salmon Benny consists of poached eggs and spinach on a fruit brioche with white wine sabayon.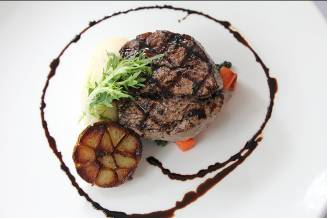 The Beef Tenderloin is grilled and glazed with Coca-Cola reduction.

The Burratina Caprese is served with refreshing watermelon instead of tomato, and is accompanied with pesto presented in a destructured style.