Mastering the Triple B: Art in the Park
"Juliet, we're sending you to an art class next month," said my supervisor at work one day.
You;ve got to be kidding, I thought. There is a good reason why my mum used to do my art assignments for me.
The box
My Art Space at Istana Park is essentially shaped like a box, but definitely not a boring and claustrophobic one. Surrounded by lush greenery and clear waters, with natural sunlight filtering through the glass walls, the studio is one of its kind, an amalgamation of art and nature.
Getting the hang of it
Embarking on the main activity for the day, still life painting, I wisely chose to start my painting endeavour with acrylic paint. With a faster drying time and a water-soluble medium, it assured me of less mess and more room for fixing mistakes, qualities that are sure to come in handy.
Or not?
"Don't be afraid to make mistakes, they are part of the process and are important elements in your work." Ms Olga, the artist-instructor for the day, responded to a student who asked for pencils to do her outline.
So this was a class where there are no wrong answers and mistakes? Wow, this was new to me.
As Ms Olga patiently demonstrated and guided us through the different elements of painting, from outlining to tonal relationships and highlights, I started to gain confidence in my painting of the triple b - ball, banana and box. It didn't look too bad really, except maybe that my banana looked like a mango.
"One of the most important skills for artists is to paint what they see, rather than what they know." Ms Olga has given me a good excuse for my mango-banana - the bananas I have at home must have been a little fatter than the one I'm supposed to paint!
Seated on my left was Christine Bueeck who was as new to art as I was. As she was leaving for Germany soon, the introductory class to art and acrylic painting was a new experience she wanted to try. Enquiring on her future plans, Christine explained that she might pursue abstract art in the future.
"Activities such as these art workshops are very interesting and good for people like me, who have free pockets of time. I really like the environment and accessibility that My Art Space provides," Mr Wah Seng, a retiree in his eighties, explained to me. The workshop was a stepping stone for the man who doodled frequently in his free time.
Make art and have a cake, too
For me, the best part of My Art Space was the café tucked away beside the studio. Strategically positioned next to the waters and sheltered from the afternoon sun, the Art Palates Café offers light snacks and refreshments. It was a most welcome retreat after an exhausting effort to bring out the artist in me. So if you are like me, a glutton more than an artist, you can still find your place at My Art Space.
Mastering the triple B is not an easy feat, and I may not have transformed into an artist, yet. However, it is a masterstroke to have an art school and gallery in the middle of the serene environment of Istana Park. Go experience it for yourself!
For those who are interested in signing up for classes, please check out My Art Space online. My Art Space also puts up temporary exhibitions by artists in its gallery. More information is available on its website.
By Juliet Fu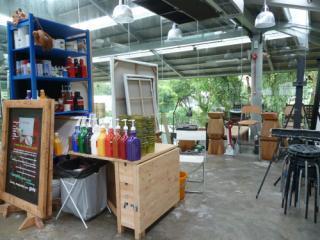 A display of the art materials in preparation for an Art Lifestyle Class.
The class looks on earnestly as Ms Olga demonstrates the basics of outlining with confident strokes of the brush.
Mr Wah Seng's undivided focus on his art piece.
A brilliant showcase of the class' masterpieces; mine's second from the right!
Presenting to you, the 'Triple B' by yours truly.