Steve Ma and Family Make New Discoveries at Jacob Ballas Children's Garden
On a hot and humid day in May, popular Taiwanese actor Steve Ma Ching Tao, also known as Xiao Ma Ge, dropped by Jacob Ballas Children's Garden at the Singapore Botanic Gardens with his family.
The family's six-day visit to Singapore was part of a feature for "New Discoveries", a programme by Singapore Tourism Board in partnership with China's Travel TV Channel, to market Singapore to the Chinese audience as an ideal family destination. This journalist followed the family around during their visit to Jacob Ballas and discovered a few interesting nuggets of information.
Ants are fascintating
Steve's youngest son, Ma Shi Xin, three years old, is an animal lover. Said Mdm Xie De Min, Steve's mother-in-law who accompanied the family on their visit to Jacob Ballas, "He was so excited when we visited the Singapore Zoo yesterday, but his elder brother was scared of the animals."
While there were no big animals at Jacob Ballas, large red ants caught the attention of Shi Xin. "Daddy, look at those ants! They are huge!" Shi Xin exclaimed to his father. He then proceeded to squat down to observe the giant forest ants (Camponotus gigas) as they marched across the path. His father bent down. "Be careful, don't step on them. The ants are crossing the road!"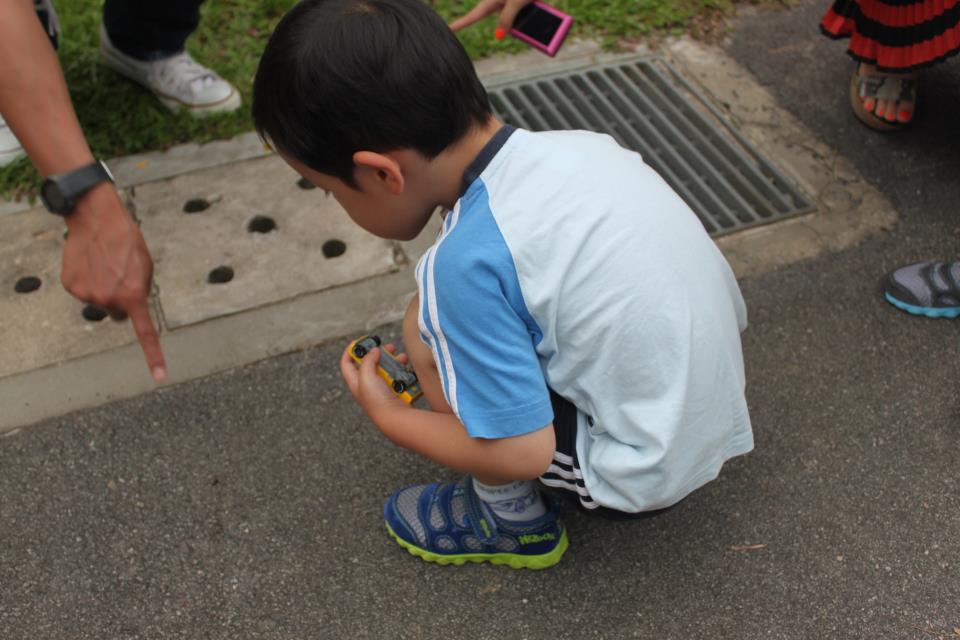 A procession of giant forest ants captivated little Shi Xin.
Steve's wife, Shanghainese actress Wu Jia Ni and elder son, five-year-old Ma Shi Tian, by contrast, were more interested in the plants. Jia Ni was especially curious about fruit trees endemic to Southeast Asia. She stopped by a lipstick tree (Bixa orellana) and asked her mom, "Is this a rambutan tree?"
Unfortunately it was also Mdm Xie's first time seeing a lipstick tree, and so she, too, mistakenly thought it was a rambutan tree with unusually-shaped fruits.

While little Shi Xin was observing the ants, his mother helped his older brother to reach for a calabash (Crescentia) fruit dangling above.
While his younger brother squatted along the path looking for more ants, Shi Tian spent most of his time at the four cranking stations that make up the Magic of Photosynthesis exhibit, which educates children on the photosynthesis process.
As he controlled the cranks, Shi Tian was fascinated by the various features representing different stages of the photosynthesis process, for example, mist, representing oxygen, would be released through the stomata (the nozzles) on the leaves of the tree, and durian-like fruits representing sugar and food would then light up. He clapped and cheered when the "sun", "carbon dioxide" meter and "durian fruit" lit up. "Shi Tian is quieter than his brother," said Mdm Xie. "He likes growing potted plants at home and taking gardening classes at kindergarten."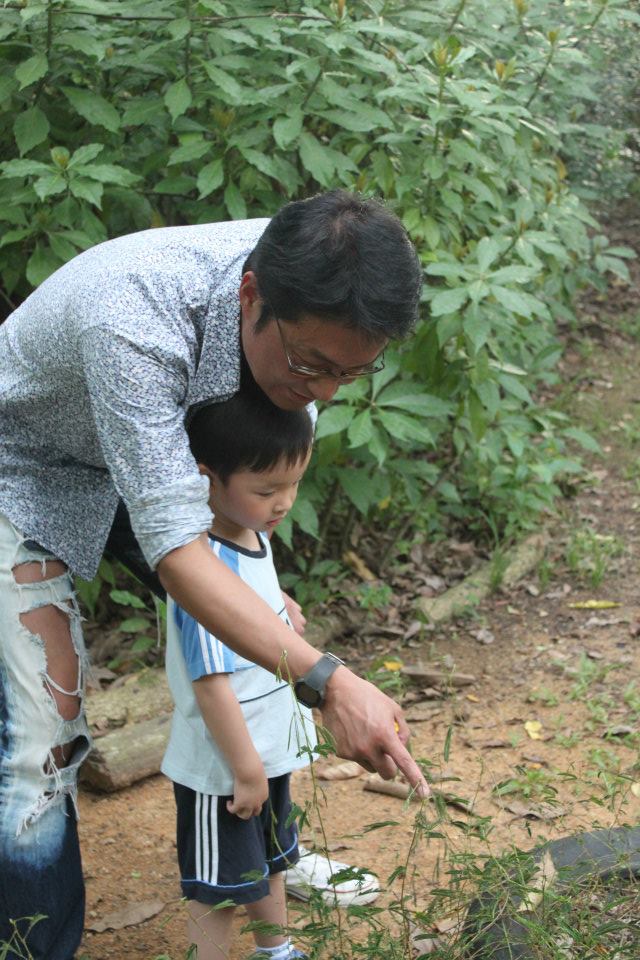 Steve and Shi Xin touching the sensitive plant (Mimosa pudica) at the Sensory Garden.
At the Sensory Garden, Steve tried to stimulate Shi Xin's interest in plants by having him to touch the mimosa plant, also called "touch-me-not" (Mimosa pudica). However, the active boy showed no enthusiasm at all and clamoured for more giant forest ants, "I like ants! The ants are much bigger in Singapore than in Shanghai!"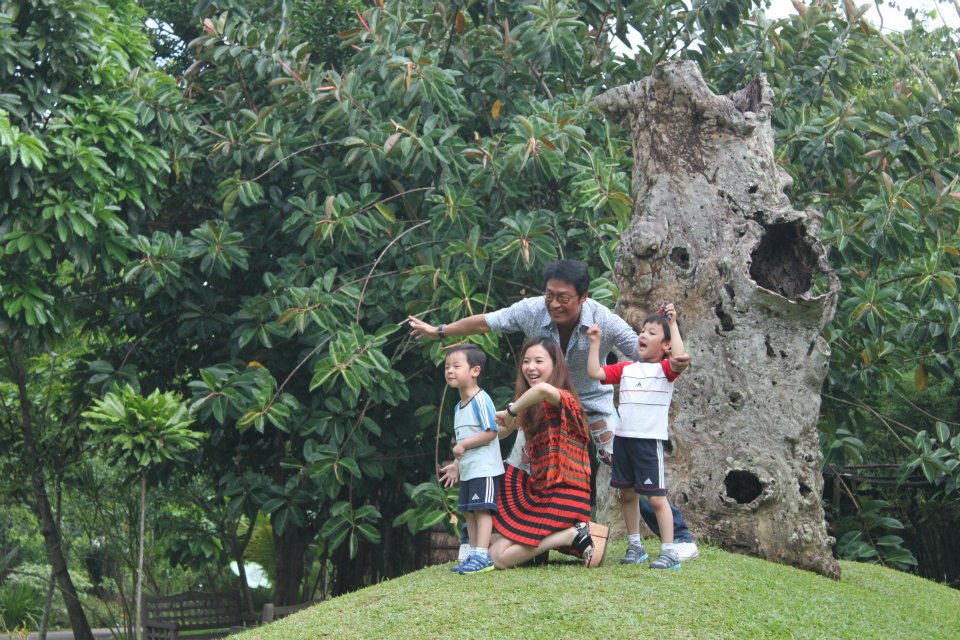 The celebrity family ended their visit to Jacob Ballas by having their photo taken in front of the trunk of a 100-year-old gigantic tree, a Pometia pinnata that once grew in the Tanglin Core of Singapore Botanic Gardens, but was destroyed by lightning in 2002.
The lush greenery of Singapore Botanic Gardens particularly impressed Mdm Xie, "Singapore is indeed a City in a Garden. There is greenery everywhere, and it is seamless, not just in parks and gardens."
By Erin Wang
Jacob Ballas Children's Garden is Asia's first children's garden. It aims to cultivate among children an appreciation for plants, nature and the environment. Developed along the theme "All Life On Earth Depends on Plants", it is created as a unique and interactive fun place where children up to 12 years of age can discover how plants provide their daily needs. More information can be found on the Singapore Botanic Gardens website.