Bonding over Gardening at the 2012 Gardeners' Cup
At the Singapore Garden Festival 2012 in July, groups of community gardeners gathered to put their green thumbs to the test. Five teams comprising some 30 community gardening groups from across Singapore came together to compete for the second running of the Gardeners' Cup - the first was in 2010.
Each group was tasked to conceptualise and bring to life a garden theme in creative and innovative ways that showcased a high standard of plants and structures within an allocated space. This year's winning theme was 'House by the Mangroves'. Residents from Tampines Starlight Residents' Committee, Seletar Hills East Neighbourhood Committee, members of the NTUC U-Live Eco Club, Pasir Ris Park Kitchen Garden and Darul Aman Mosque, and the students and teachers at Dunman Secondary teamed up to create this spectacular winning garden design.
Evoking memories of Singapore's past, when mangrove forests were extensive, the show garden aimed to enlighten and remind the younger generation of the importance of conserving our rich biodiversity in light of rapid development.
Bonding through collaboration
Having to work closely as a team since November 2011 to develop the House by the Mangrove theme has seen friendships develop. "This project under the Singapore Garden Festival brought everyone together, and we developed a friendship and trust. Like I said to everyone, although this ends, it is not the end of a friendship but rather the beginning of a friendship," said Ismail bin Hadi Suratman, 44, team leader from Tampines Starlight Residents' Committee.
Similar sentiments about team bonding and community spirit through gardening were shared by the other participants in the Gardeners' Cup. 75-year old Yippy Chew, a veteran in the Community in Bloom network, said, "The project brings out creativity in each of us from the different organisations and we discovered things that we didn't know we can do. More people stepped forward and volunteered to help, and everyone comes and works together to create the garden." Yippy's team was inspired by Singapore's historic Malayan Railway Track and their garden creation, 'The Journey', was a tribute to this momentous railway and included an actual piece of salvaged track.
Building confidence in the young
Apart from uniting communities together, participating in the Gardeners' Cup also built up the confidence of the younger team members and provided them firsthand experience collaborating with adults. "This project has taught us team work, and how to work hard and have confidence," said in unison by Aide Mohammad and Alaric Tang, both 14, from the Environmental Club at Broadrick Secondary School.
Their fellow Environmental Club member, Sri Vinayagaputri who is also 14, chimed in, "Being a part of the Singapore Garden Festival makes me very proud and excited - it is something so big! I am very happy to have worked on this Gardeners' Cup project as I feel that I have learnt new things that I can apply in my own life."
By Elizabeth Ee
The Gardeners' Cup is a friendly challenge among Community in Bloom gardening groups held as part of the Singapore Garden Festival. It is part of the wider Community in Bloom programme to engage and inspire communities to building a greener Singapore under the City in a Garden initiative.

Leading up to the Gardeners' Cup, the Community in Bloom area of the Singapore Garden Festival was a hub of activity.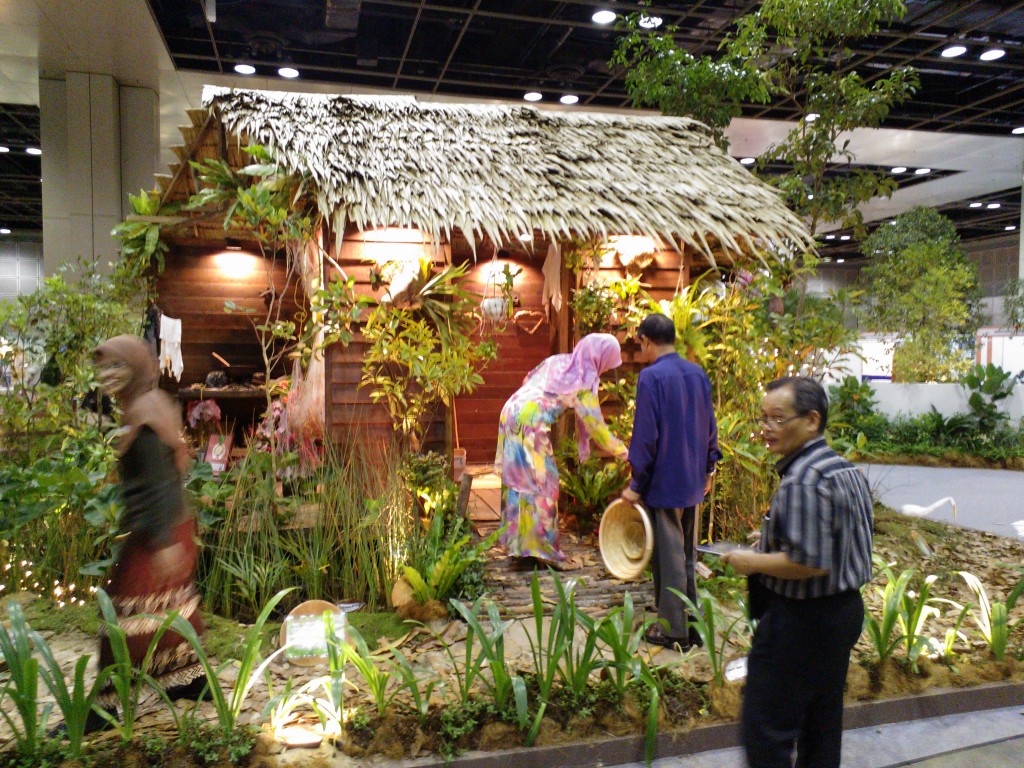 Community gardeners put the finishing touches to 'House of the Mangroves' for the Gardeners' Cup at the Singapore Garden Festival.

'The Journey' was inspired by the Malayan Railway Track and even featured a salvaged piece of track.