The Flight of the Dragonfly: Creating a Dragonfly Habitat at Ulu Pandan Park Connector
A dragonfly habitat along a park connector is not something many expect to see. But it is now a surprising reality at Ulu Pandan Park Connector.
As part of their jobs, NParks staff would walk up to 4 hours a day checking for minor works defects and other operational issues along the park connectors. That's how some staff in September 2011 discovered that some fitness equipment along the Ulu Pandan Park Connector were deteriorating. Water was also collecting in the sandpits where the equipment were installed and mosquito breeding was an issue.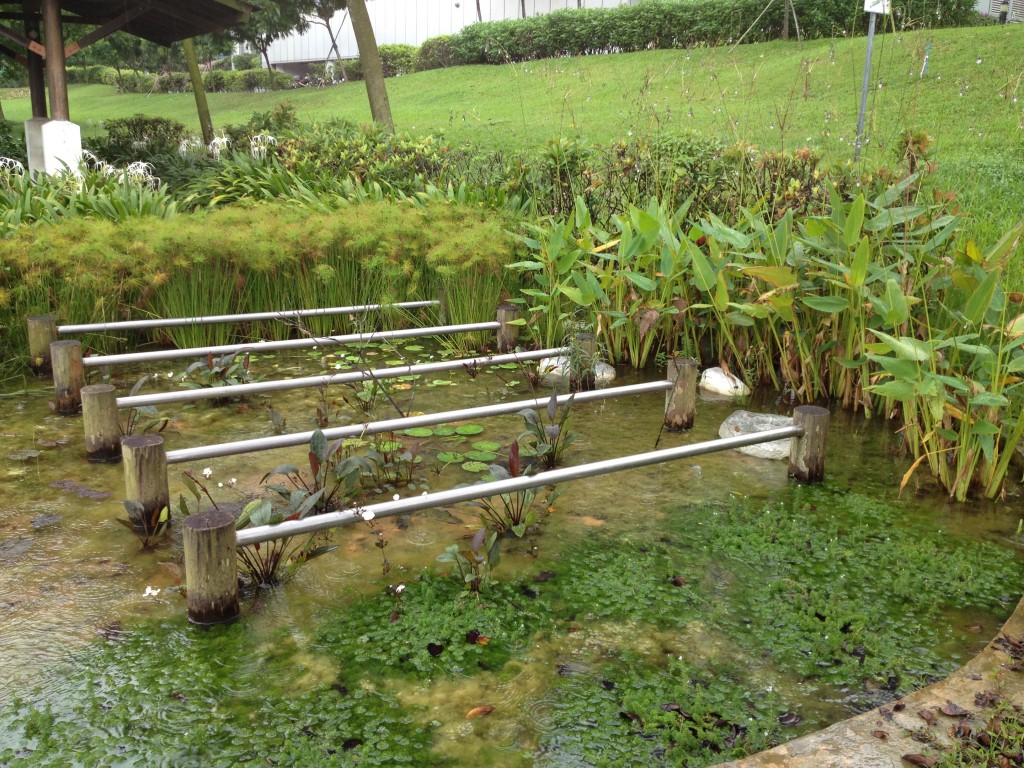 One of the little-used sandpits along Ulu Pandan Park Connector with fitness equipment deteriorating due to a lack of use.
As NParks staff had observed that the fitness equipment was hardly used, the team brainstormed for alternatives to the fitness area so that the space would be better utilised. After several site visits, it was decided that the site would be transformed into a dragonfly habitat.
Getting dragonflies to settle is a long-drawn process
White clay was mixed with the existing sand and loamy soil in the sandpits to create an impermeable layer, so as to retain water in the soon-to-be ponds. The creation of any dragonfly habitat is a long drawn process which involves encouraging dragonflies to reside by ensuring that the micro conditions, such as the amount of sunlight exposure for plant growth and the attractiveness of the location to dragonflies, remain suitable and constant.
The dragonfly habitat at Ulu Pandan Park Connector required much patience and the continuous effort due to the unpredictable bouts of rain and drought throughout the year. NParks officers took meticulous records of the conditions of the habitat weekly, so that if necessary, follow-up actions could be carried out promptly.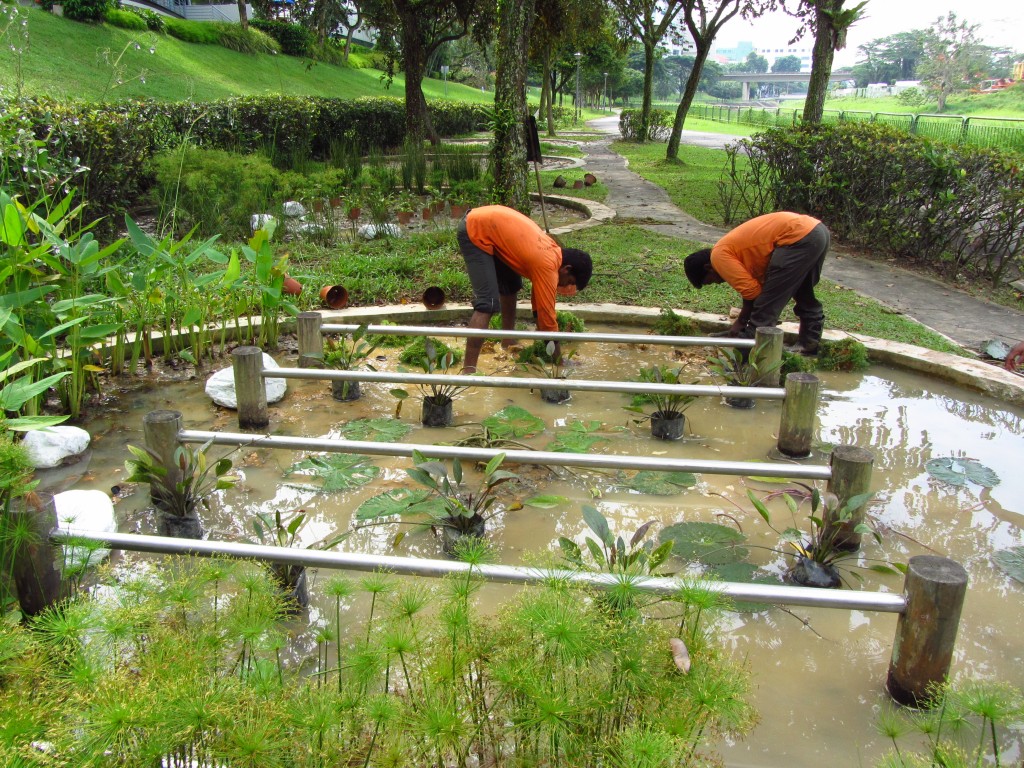 A variety of aquatic plants were cultivated to act as resting platforms for dragonflies.
Algae blooms had to be controlled, weeds had to be removed and aquatic plants such as Alligator Flag (Thalia geniculata) and Japanese Rush (Acorus gramineus 'Variegatus') were planted to provide resting platforms for the dragonflies while they warm up in the sun.Twigs were also inserted into the soil to encourage dragonfly nymphs to climb out of the water.
A wonderful reward for all the hard work
Finally, after eight months of waiting while tending to the dragonfly habitat, our first dragonfly visitor, a Crimson Marsh Glider (Trithemis aurora) was spotted resting on one of the twigs that had been inserted into the soil medium.
This was followed subsequently by several other species of dragonflies such as the Blue Percher (Diplacodes trivialis) and Common Scarlet (Crocothemis servilia). A Common Redbolt (Rhodothemis rufa) female was even observed releasing her eggs into the pond, indicating that the dragonflies were now more than just visitors but are permanent residents.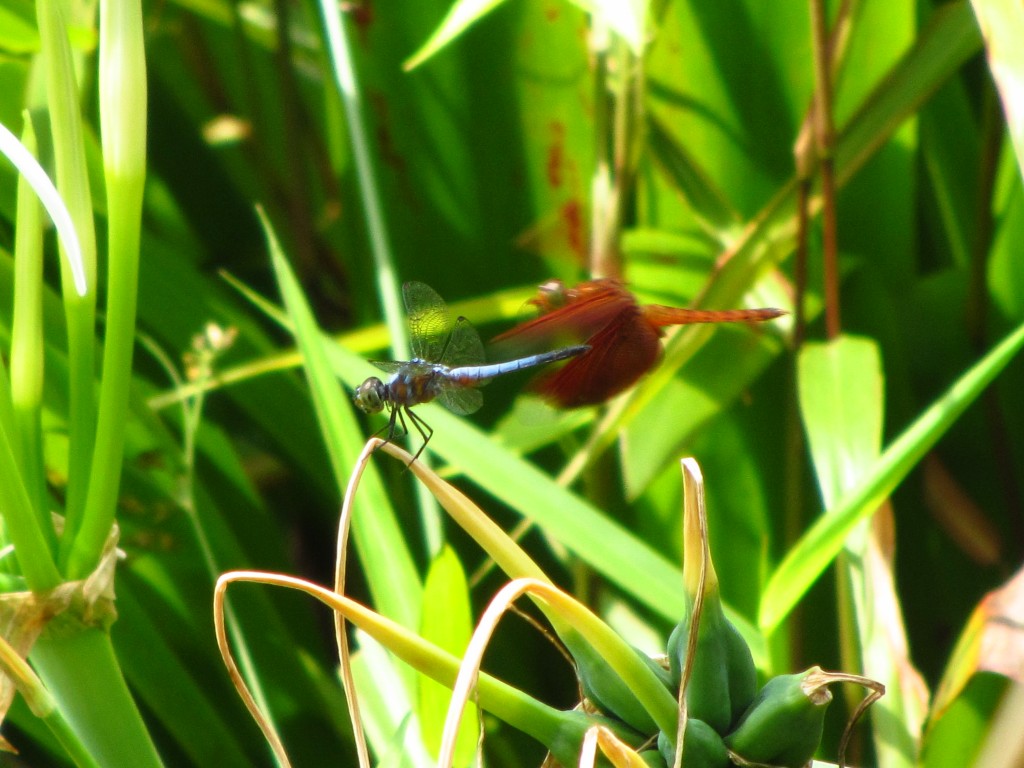 A Neurothemis fluctuans (Common Parasol) darts across the pond while a Brachydiplax chalybea (Blue Dasher) suns itself in the foreground.
Marble rocks and plants of greater variety and flowering capabilities like Brazilian Milfoil (Myriophyllum aquaticum) and Spade Leaf Sword (Echinodorus cordifolius 'Marble Queen') were planted to add colour and beauty to the habitat. The saying 'hard work pays off' definitely resonated with the officers who had laboured to create the habitat.
So, if you happen to be riding or running along Ulu Pandan Park Connector, remember to drop by the habitat for a glimpse of these interesting insects. The best times of the day to visit are late mornings and early evenings as dragonflies are sun-loving creatures.
By Lois Yong

A

uthor Notes: I am with the Park Connector Network (PCN) team and have been with NParks for over a year. My work routine comprises of site inspections about two or three times weekly, where I would spend up to 4 hours each time walking through the park connectors to ensure that the track, trees, shrubs and other facilities are in good condition.

Should there be onsite projects like the dragonfly habitat at Ulu Pandan Park Connector, I would do site surveys and ensure that the conditions are right for the dragonflies to reside. On other days, I would be working on other PCN-related projects, such as working with the Research and Conservation Branch of Singapore Botanic Gardens on planting orchids on a stretch of the park connector network. I also attend related courses conducted by CUGE (Centre for Urban Greenery and Ecology) such as 'Living Gardens: Creating Dragonfly-friendly Habitats' to hone my on-the-job skills. ..


Sandpit B before (left) and after (right) it was converted into a dragonfly habitat.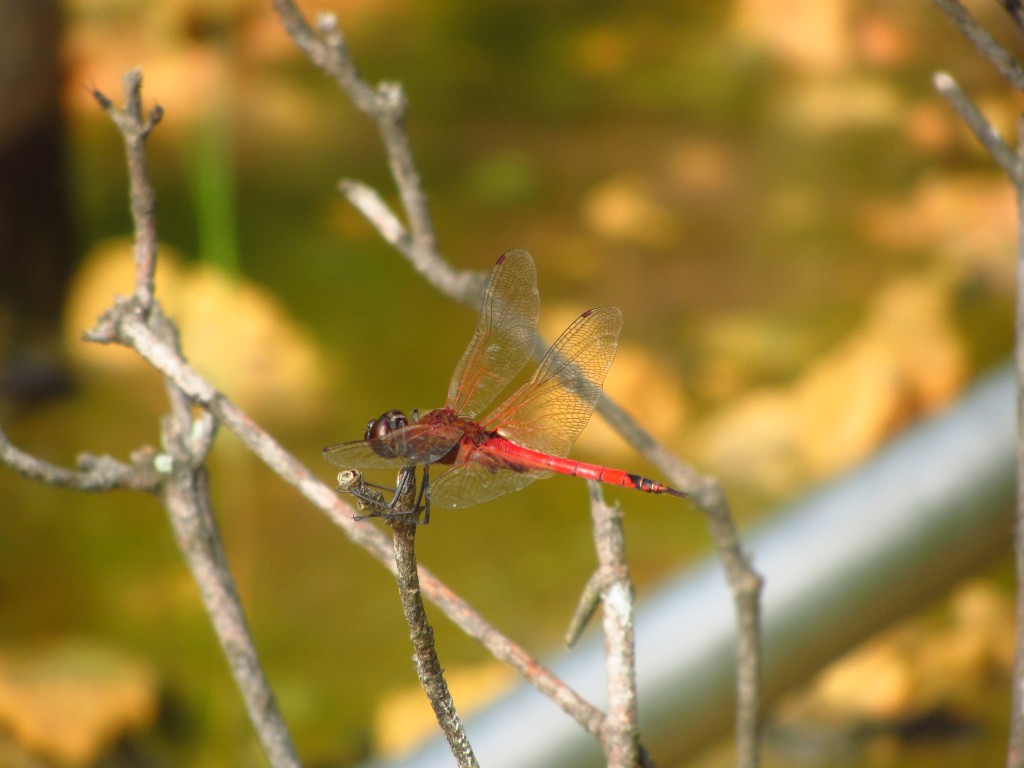 A Tramea transmarine (Saddlebag glider) male spotted on a twig placed in the pond to help dragonfly nymphs climb out of the pond.