Cool, Fun Edutainment for the Family
Wondering where to take your children to the weekend? You may have heard or read about Gardens by the Bay, which opened on 29 June this year.
Its main attractions, two cooled conservatories, Flower Dome and Cloud Forest, offer all-weather edutainment for the young and old. Both domes, which adopt cutting-edge technologies that provide energy-efficient solutions, are situated on Bay South Garden, the largest of three waterfront gardens at Marina South.
The Flower Dome
The Flower Dome, which sits on 1.2 hectares of land and is 45 metres tall, replicates the cool dry climate of the Mediterranean and semi arid regions. On display are plants and trees which face threats of habitat loss and climate change brought about by human activities, from all the continents except Antarctica. For example, the grass tree from Australia, tree aloe from South Africa, Chilean wine palm from Chile, thousand year-old olive trees from the Mediterranean and California lilacs from California.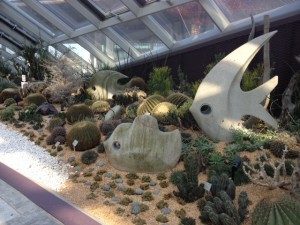 Can you see any 'coral' or 'sea urchin' in the Seascape?
Look out for the Seascape in the Succulent Garden, where cacti and succulents are landscaped in an underwater design. Spot the 'corals' and 'sea urchins' among the sea creatures.
Come up close to succulent panda plant and woolly cactus, huge trees with amazing rounded trunks such as drunken trees from Argentina and unusual-looking baobabs from Africa, Australia and Madagascar. Remember to check out the heaviest tree in this conservatory (Clue: it's an African baobab)!

Does each flower bud of this Australian native look like a kangaroo's paw?
Take delight in flower buds which resemble the paws of a kangaroo, and a Christmas tree look-alike which may puzzle a monkey attempting a climb! Not to forget the centrepiece, Flower Field, a space of changing horticultural exhibits and a popular backdrop for great photos - the displays are changed every three to four months, giving visitors more reasons to return for repeat visits!
Before leaving the Flower Dome, tap on the interactive walls to find out more about how human hands can heal as well as harm Nature. The Cloud Forest Over at the Cloud Forest, which sits on 0.8 hectares of land and is 65 metres tall, this dome replicates the cool moist climate of the Tropical Montane region that occurs between 1,000 metres and 3,500 metres above sea level.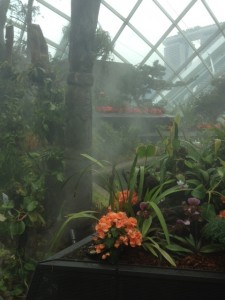 Lost World during a mist-spraying session - does it make you feel you are in a different world?
At the entrance, be greeted by a 30-metre man-made waterfall. At certain times of the opening hours, a vapour mist is created to simulate the misty environment of the cloud forest. The man-made mountain is home to plants such as bromeliads, epiphytic orchids, begonias and ferns.
At the Lost World, be awed by carnivorous pitcher plants. Look out for insect-trapping butterwort which has sticky surfaces and venus fly-catcher whose leaves close upon the pressure of insects. You can find out more about stalagmites and stalactites, how continents were formed and the importance of fossils at the Crystal Mountain, A visit to Earth Check and +5 Degrees offers you more insight into the state of Earth now and the impact of global warming.



'Crocodiles' resting in the Secret Garden, waiting to greet unsuspecting visitors!
The last pit stop, Secret Garden, brings you closer to shade-loving begonias, ferns and orchids. Just take care not wake up the 'crocodiles' and 'snails' resting near the Ravine! There's a lot to explore and learn at the two cooled conservatories. See you there this weekend!
Contributed by Magdalene Ng
The following public programmes, Kids Tour 1: Talented Plants, Kids Tour 2: How Clever ..., Kids Tour 3: I'm Special and Kids Tour 4: Save Me! are available from now to 25 November 2012, Tuesdays, Thursdays, Saturdays and Sundays, 10:30 AM, 2:00 PM.
Visit the Gardens by the Bay website for more details.
An integral part of Singapore's 'City in a Garden' vision, Gardens by the Bay spans a total of 101 hectares of prime land at the heart of Singapore's new downtown - Marina Bay. Comprising three waterfront gardens - Bay South, Bay East and Bay Central - Gardens by the Bay will be a showcase of horticulture and garden artistry that will bring the world of plants to Singapore and present Singapore to the World.
Gardens by the Bay was started as a project by the National Parks Board. It has since grown to become an independent organisation responsible for developing and managing what will be Asia's foremost garden destination.
Admission to Bay South Garden is free, but admission charges to the cooled conservatories and aerial walkway apply, with special rates for local residents. For more information, visit the website today.