Helping to Make My Neighbourhood a More Attractive Place for Wildlife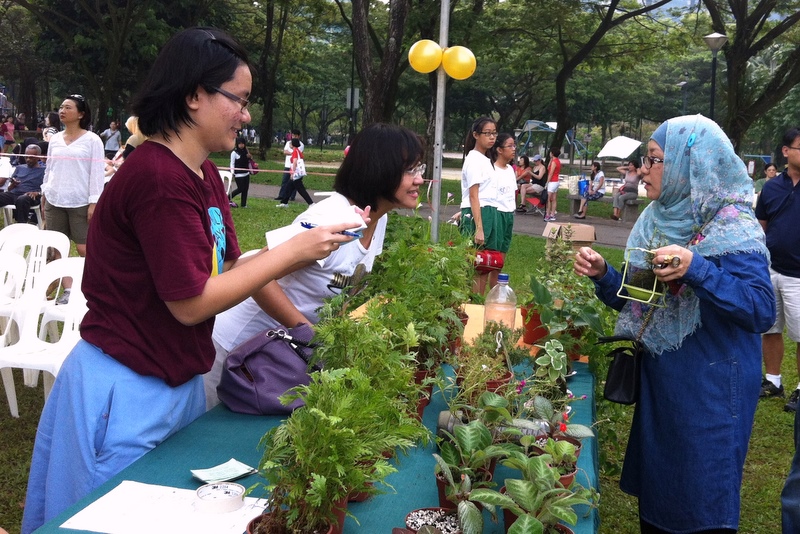 Students and staff of Singapore Chinese Girls' School sharing information with people as they sell plants at the SC Family Day.
The Community in Action for Kheam Hock initiative is a collaboration between my school, Singapore Chinese Girls' School, and NParks to enhance the biodiversity between the Central Catchment Nature Reserve and Singapore Botanic Gardens.
Residences with gardens link the nature reserve to the Gardens, thus providing an excellent opportunity to attract wildlife to our neighbourhood by growing plants that the wildlife feed on.
I live in the Kheam Hock estate. My mother grows many different plants in our garden but I have never bothered to find out the names of these plants. Since I started researching about plants as part of my involvement with the Kheam Hock project, I now know the names of some of these plants that my mother grows.
What plants attract birds and butterflies and what do not?
A suitable plant is the Heliconia. The nectar of this plant attracts the Crimson Sunbird and the Olive-Backed Sunbird. Another desirable plant is the Ixora, which is brightly coloured. It attracts various butterflies and sunbirds. Plants like the Venus Fly Trap should not be planted lest butterflies and other insects get eaten.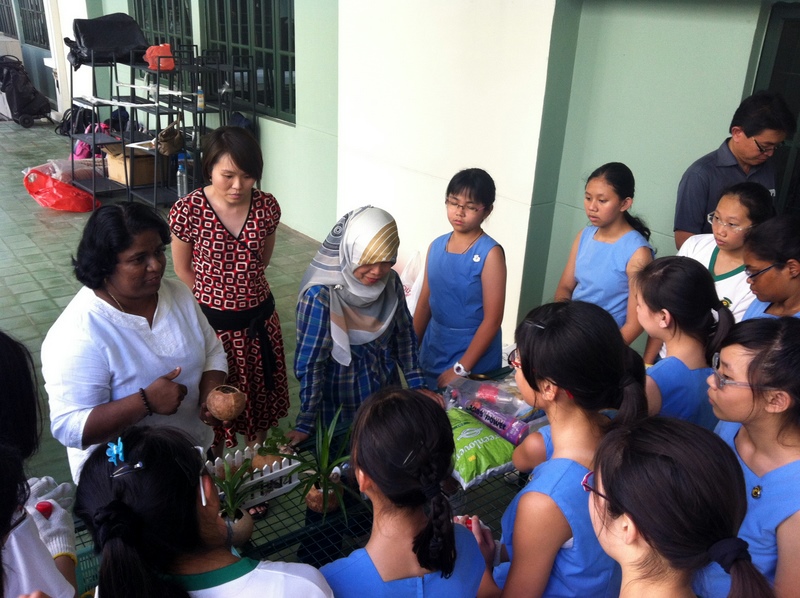 CIB Ambassadors sharing their horticulture knowledge with students from Singapore Chinese Girls' School.
Some plants not only enrich biodiversity but are also edible. One of them is the Red Leea. This woody shrub attracts the Scarlet-backed Flower Pecker, Yellow Vented Bulbul and various types of butterfly species. The ripe fruit of this shrub can be eaten. Another is the Paper Bark Tree which is often visited by sunbirds for their nectar. The cajuput oil is extracted from the leaves and has antiseptic properties.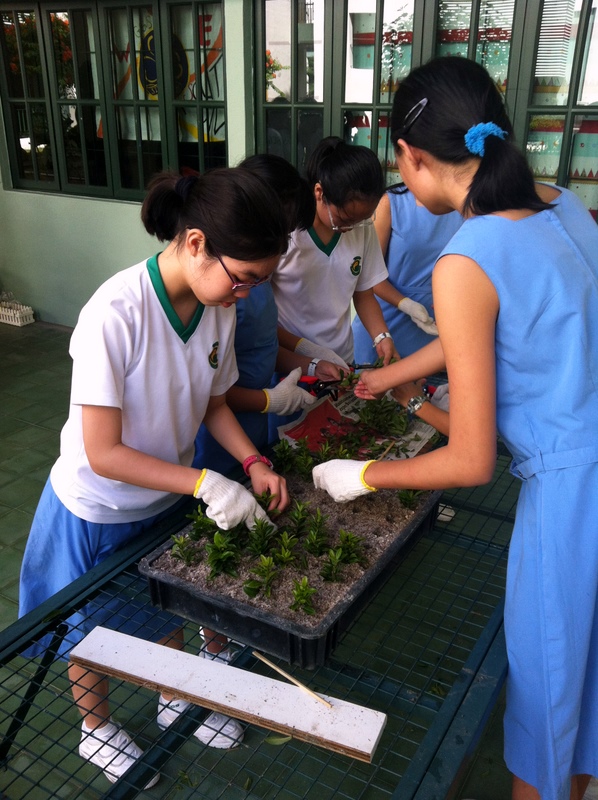 Singapore Chinese Girls' School students propagating Ixora cuttings.
Our school's initiative
We have a nursery within the school campus, which consists of many flowering plants and trees. Every recess, different groups of students help to water the plants, add fertiliser or do weeding.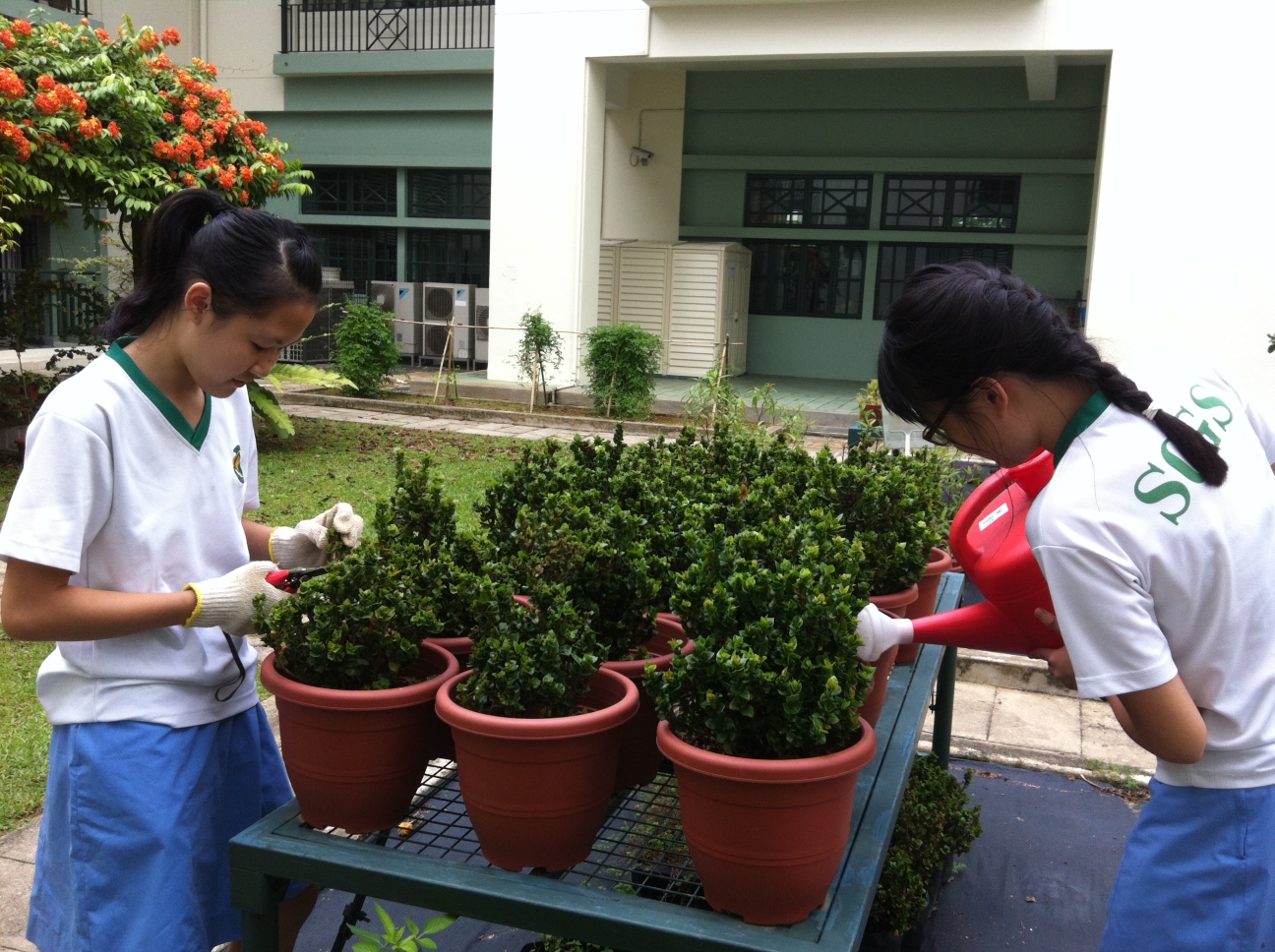 Sophia and her classmate, Lauren, caring for the plants in the school's nursery.
In April this year, our school also held a fund-raising event, "SC Family Day", at West Coast Park. Students from the Science and Environment Club took the opportunity to organise a plant sale using plants from the nursery. The three-hour sale attracted more than 50 customers, including some families living in the Kheam Hock area. Plants that sold quickly included the Rose Mrytle, Red Leea and Chinese Violet. My school intends to organise regular plant sales to promote greening among residents in the neighbourhood.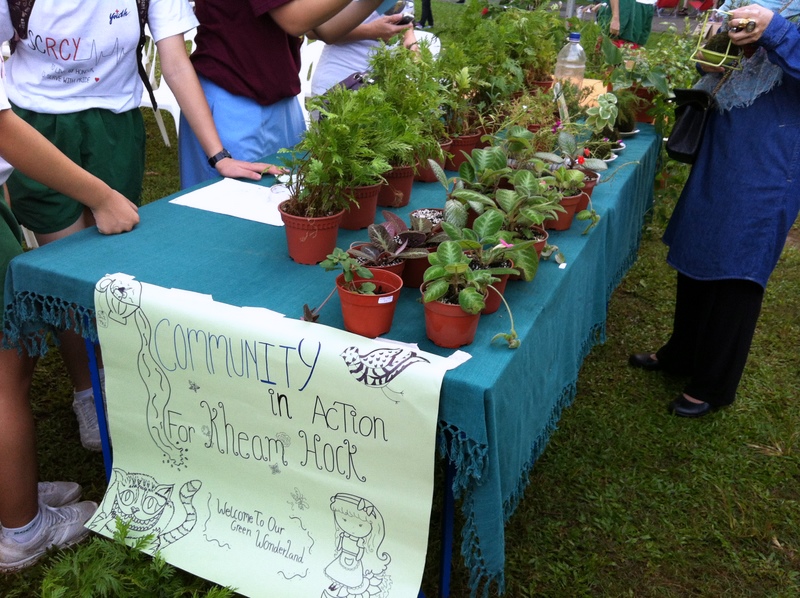 Plants for sale at SC Family Day.
We hope our gardening efforts and that of residents in the Kheam Hock estate will bring more butterflies and birds to our neighborhood and improve the biodiversity in Singapore.
As a resident of Kheam Hock and a student of Singapore Chinese Girls' School, I am proud to be part of this initiative. My mother is also glad that I am now more aware of what we have in our garden. I am now able to appreciate the practical value of plants and their aesthetic contribution to Singapore as a City in a Garden.
By Sophia Lo Sophia is a Secondary 1 student at Singapore Chinese Girls' School.
Photos of SC Family Day provided by Singapore Chinese Girls' School.