Planting Trees For A Greener Future
The first group of participants for the 1,963 Commemorative Tree Planting and NParks staff getting ready for their tree planting exercise.
It was a hot June morning as a group of more than 50 people enthusiastically dug holes and potted saplings along the North Eastern Riverine Loop.
Fifty-one trees were planted that morning at Punggol Promenade, signifying the start of the public involvement in the planting of 1,963 trees to commemorate 50 years of greening Singapore. This special tree planting exercise is part of the Garden City Fund's Plant-A-Tree (PAT) programme.
One of the participants was Teresa Quek who was there with her family. The sprightly 60-year-old was planting her fourth tree in three years. She first planted a tree in memory of her brother who passed away six years ago. But now she participates in PAT regularly because it was "good for the environment."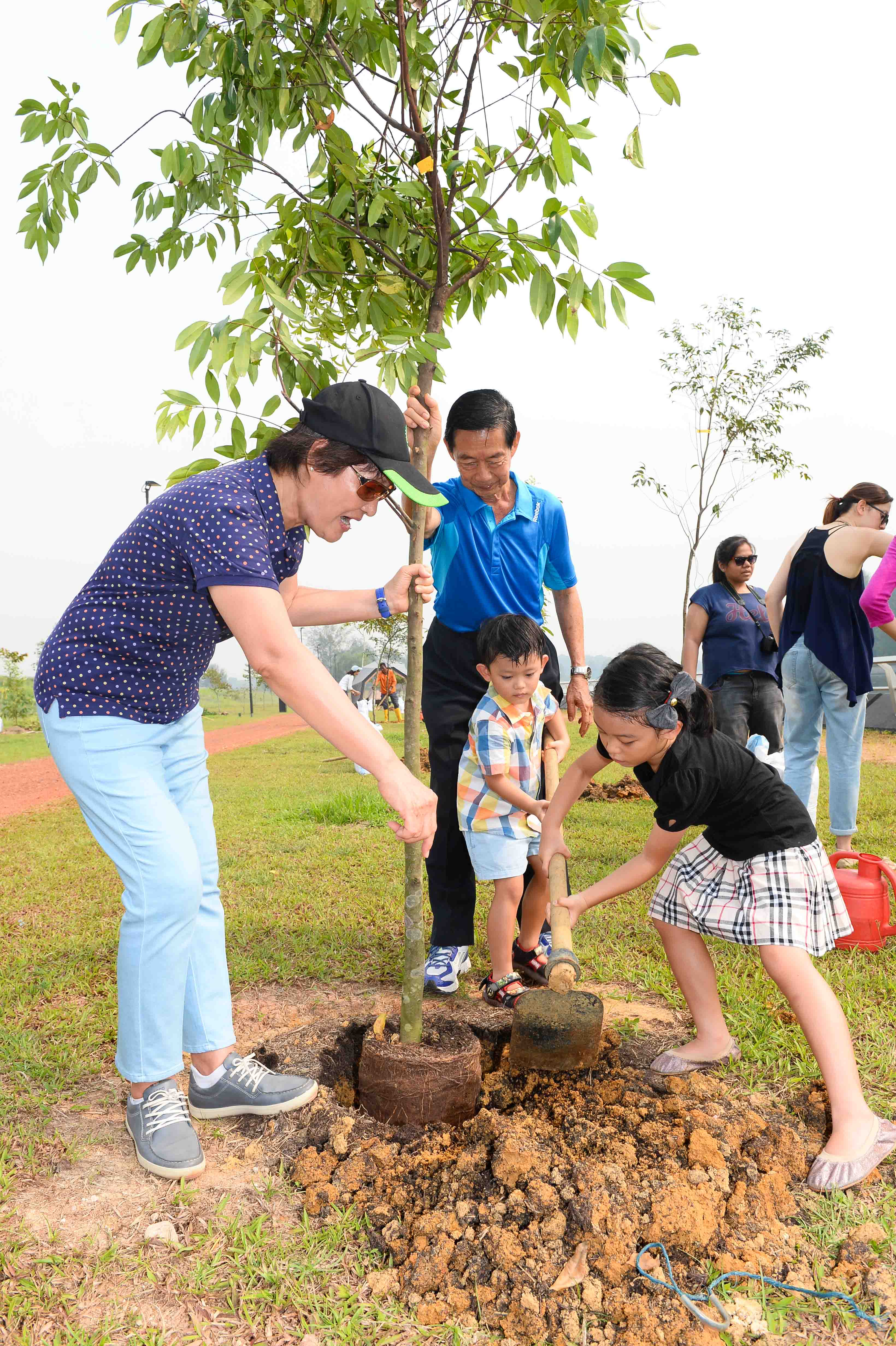 Teresa Quek (left) keeping the tree in position while other family members pour soil onto the roots.
MediaCorp current affairs presenter Tung Soo Hua was another familiar face. This was her second year of participating in PAT. She said she was planting trees because as a journalist "we use a lot of paper, so to reduce our carbon footprint, I'm planting trees."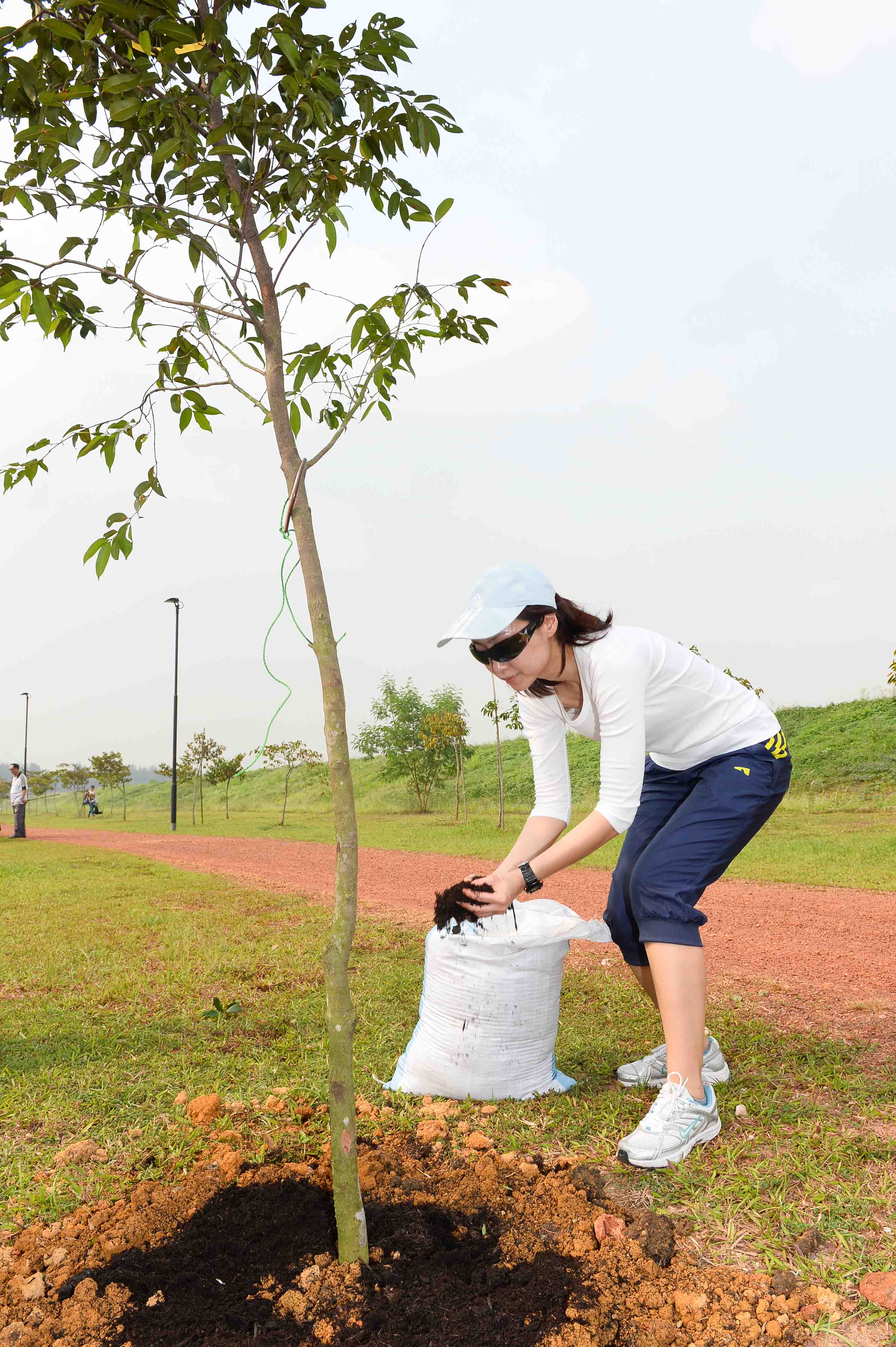 MediaCorp current affairs presenter Tung Soo Hua adding mulch to the tree she had just planted.
Student Elaine Tan was planting a tree for the first time with her banker friend, Jacqueline Tan. Elaine said, "I found the experience very enriching because I've never planted a tree before. I've done some gardening at home, but never tried planting a tree."
Friends Elaine Tan and Jacqueline Tan enjoyed planting a tree. Jacqueline even compared the experience to a "nature walk".
She also found the experience educational because she learnt interesting information from the briefing conducted before the activity. NParks staff gave participants a brief introduction to the native tree species they were planting, tips on how to plant the trees and safety instructions.
A few organisations participated in the tree planting exercise, too, such as Sumitomo Rubber Asia (Tyre) Pte Ltd, which has participated almost every year since the PAT programme started in 2007.
The team from Pomeroy Studio Pte Ltd, on the other hand, was planting for the first time. Prof Jason Pomeroy, who started the design, landscape and architecture company, explained the team's participation, "We are designers and thought leaders of sustainable built environment, and what better way to support and promote the built environment as well as preserving the natural environment than actually planting trees?"
"I think it's important for us not only to be designing greener buildings but also to be planting trees as well."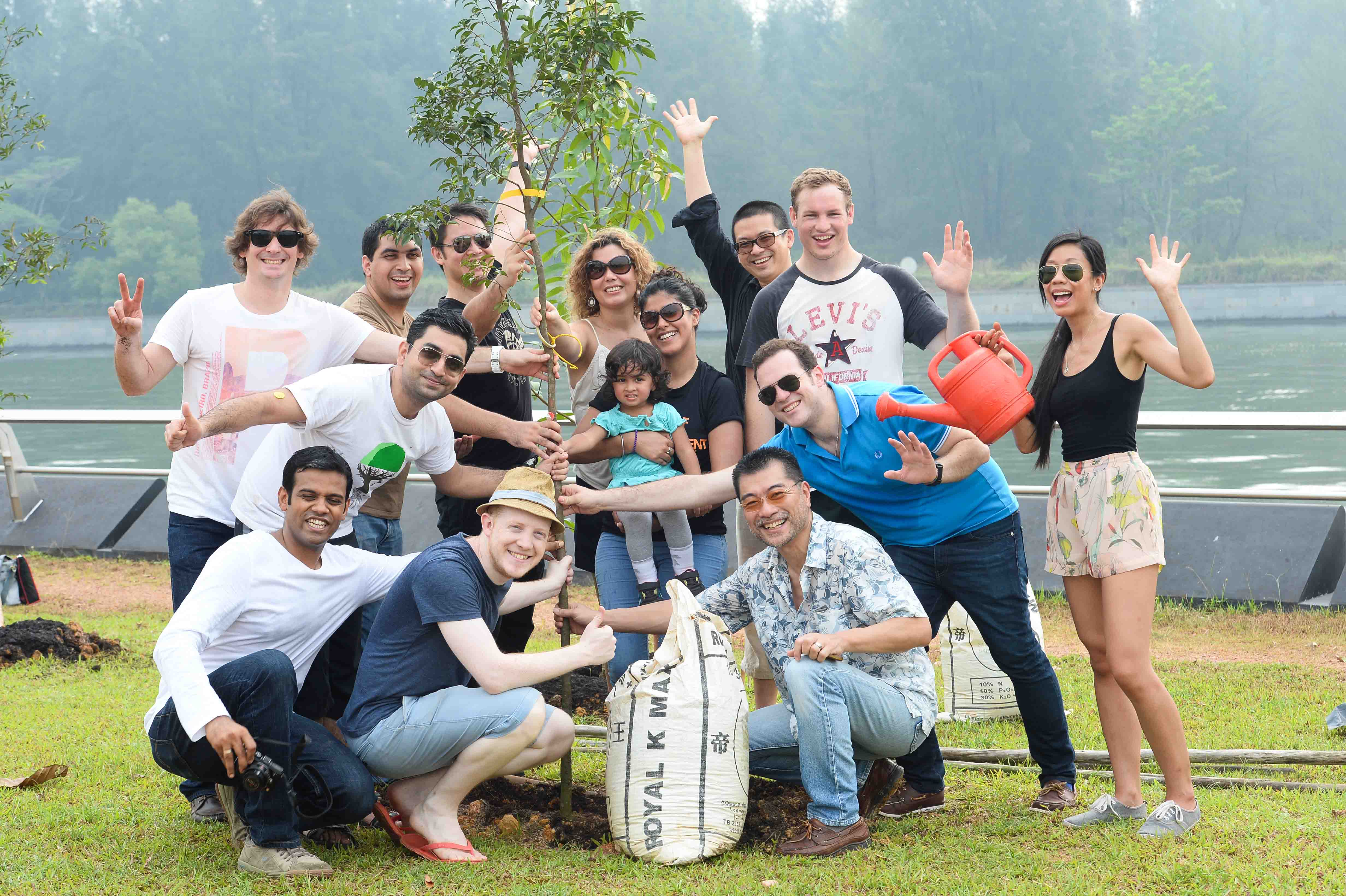 Jason Pomeroy (back row third from left), with his family and colleagues, said he and his team would definitely participate in another PAT programme.
All the participants spoken to were enthusiastic about participating in PAT again, and some were also eager to encourage their friends to join them the next round.
All the 1,963 trees for the commemorative tree planting campaign have been taken up. Should you be interested in planting trees, you can still participate in the regular PAT programme. Visit the website for more information.
By Ng Li-San