Did You Know? Little Known Facts On Singapore Botanic Gardens
The latest issue of Gardenwise magazine features two articles which shed light on the stories behind Singapore Botanic Gardens' history—the life of the man who first developed it and the reason for a set of irregularly-shaped arrows imprinted on the steps of the Plant House.
A peek into the little-known life of Lawrence Niven (adapted from "What do we know of Lawrence Niven, the man who first developed SBG?" by Nigel P. Taylor, director of the Gardens)
Lawrence Niven spent 15 years of his life developing the Singapore Botanic Gardens. He was responsible for excavating Swan Lake, laying out the Gardens' curving roads and paths, and created the band parade area. That he is responsible for the Gardens' celebrated landscape design is almost certain, but what is known about his life?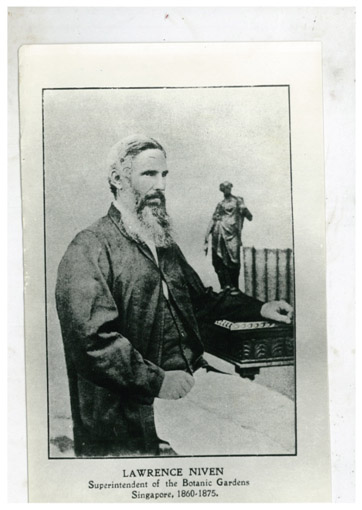 One of the few images of Lawrence Niven known to exist, first published in the Gardens Bulletin, Straits Settlements (1920, Volume 2, No. 6). Although the portrait caption identifies him as Superintendent, his actual title was Manager.
Lawrence Niven was born in Barony, Lanark, Scotland in 1826, one of 11 children. His family were gardeners by trade, and it is known that he served an apprenticeship as a gardener in Scotland. He worked in Singapore for 30 years before he died in 1876, which would put his arrival here in 1846, at the age of 20.
Nothing is known of his life in Singapore until 1855, when he married the daughter of a retired Indian Army Officer. They had at least two sons together. Both his elder brother and his younger sister were also in Singapore for a time. We also know that he managed a local nutmeg plantation in the years prior to 1860, when he was hired as Manager of the Gardens.
Niven spent the next 15 years of his life developing the Gardens. In 1876, he became ill and returned to Scotland, only to die four days after his return. His brother, who had also been living in Singapore, died only a fortnight later. The two brothers are buried side by side in a churchyard at Low Coylton, South Ayrshire, Scotland.
The significance of the irregularly-shaped arrows on the steps of the Plant House(adapted from from "Arrows of defiance" by Nigel P. Taylor and Lahiru Wijedasa)
Arrows are commonly used to mark government property and identify key survey points. On the steps of the Plant House are a number of arrows, but instead of the clean and well-shaped ones used by surveyors, they are shaped irregularly. Sharp-eyed visitors to the Gardens might ask, what do these unusual arrows signify and how did they get there?
The story came to light in 1995, when a group of eight Australian former World War II prisoners of war visited Singapore and asked to be taken to the Plant House. There, they became excited and explained that, during their captivity, they were required to make the bricks and steps.
By marking the bricks with arrows associated with government property, the prisoners, who were probably considered the 'property' of their jailers, may have acted in subtle defiance. Their Japanese captors were likely not aware of the meaning of the arrows, and if discovered, the prisoners would probably have been punished severely. Today, the arrows serve as a reminder of their bravery at a time of great hardship.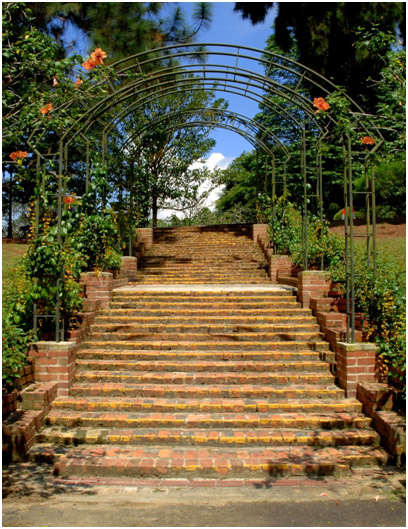 The steps of the Plant House.
Gardenwise is a bi-annual publication of Singapore Botanic Gardens. "What do we know about Lawrence Niven, the man who first developed SBG?" and "Arrows of defiance" were both featured in Volume 41, August 2013. Current and past issues of Gardenwise are available at the Singapore Botanic Gardens retail outlets – the Library Shop and the Garden Shop, and can also be found online.
By Ada Davis
Photo of the steps of the Plant House by David Lim