Growing Partnerships For A Greener Future
The year 2013 has been particularly significant for us because it marks 50 years since Singapore started on its greening journey when then Prime Minister Mr Lee Kuan Yew planted a Mempat tree at Farrer Circus on 16 June 1963. Singapore has never looked back since. Through the year, as we commemorate this significant occasion through different activities and initiatives, we have received strong support from all fronts – individuals, volunteers and organisations.
The community has come forward to support programmes such as the introduction of Nature Ways starting at Kheam Hock, where residents and community gardening volunteers came together to plant bird- and butterfly-attracting plants in their homes and along the roads. In an initiative to reach out to children, approximately 43,000 primary students across Singapore each received a planting kit that consisted of seeds, soil and pots in an attempt to cultivate in them an appreciation of nature.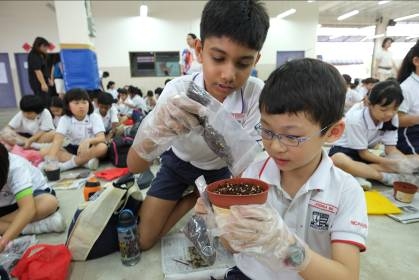 To help children gain a better appreciation of plants, a planting kit was given to Primary 3 children across Singapore.
The 1963 Commemorative Tree Planting is an activity that has received overwhelming support from both individuals and corporate organisations. More than 6,000 individuals have and will be involved in tree planting activities across the island that started in June and will end in November.
For each tree planted, a donation of $200 is made to the Garden City Fund which will support programmes at the Singapore Botanic Gardens. It was heartening to see generations of families, groups of friends, and teams of colleagues banding together to play their part in greening Singapore.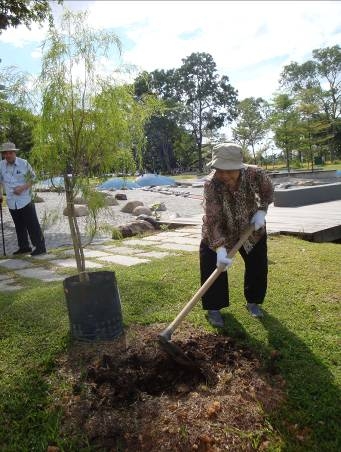 You are never too old to plant a tree, as this 90-year-old participant proves in a recent 1963 Commemorative Tree Planting event.
Many organisations have also supported our 50 years campaign in other ways. Some partners have given discounts or have planned special activities in their establishments to mark this 50-year milestone. Others specially collaborated with us in specific "green activities" as part of their corporate social responsibility programme.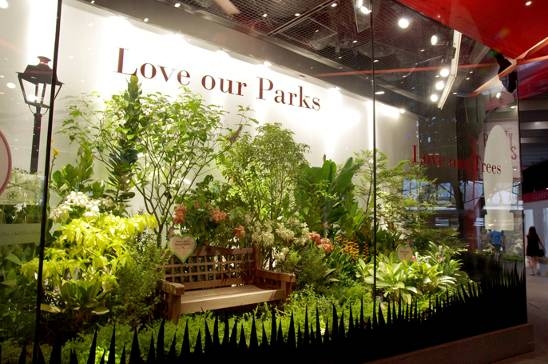 The main window at TANGS Orchard done up like a park. Various parts of TANGS Orchard was also decorated with plants as part of a tie-up between TANGS, Clarins and NParks.
Even personalities like local singer-songwriter Lorraine Tan, YouTube sensations Dr Jia Jia and Big Brother, and actress Paige Chua, threw in their weight for the campaign and were part of a special music video that commemorated 50 years of greening Singapore.
Sharing a Love of Greenery
From 29 August to 8 September 2013, TANGS Orchard was decorated with different plants and its windows showcased animals that few Singaporeans are aware exist in our island-state. The display was a collaboration between TANGS, Clarins and NParks to commemorate 50 years of greening Singapore. Clarins also collected wishes scribbled on 'leaves' by members of the public showing their support for Singapore's greening campaign: "Grow more trees to enhance our landscape!" "Everyone must play a part!" "For my kids to forever enjoy the greenery of Singapore!" "To preserve our nature and educate our future generations."


Wishes have also come in from some of our partners: "I am so happy to volunteer for filming to commemorate 50 Years of Greening Singapore. I really like the Singapore Botanic Gardens. I enjoy playing with my sisters there very much. I wish everyone will recycle, so we won't need to cut down too many trees. This is my wish for everyone. Thank you!" – Internet personality, Dr Jia Jia "I feel very honoured and happy that I can use my passion in music to help more Singaporeans appreciate what we have and love our country. I think our City in a Garden is very beautiful and think that humans need to be in touch with nature so that we have a good balance of work & play. I wish for our City in a Garden to have more greenery and colours, with more creative and fun landscaping, perhaps some waterfalls and horse rides." – Singer/Songwriter Lorraine Tan
We are very fortunate to have so many people come onboard our campaign and would like to thank each individual and organisation for the wonderful support. The complete list of activities and partners who have walked with us this year to as we remember 50 years of greening is available online. As the year draws to an end, look out for a special exhibition focusing on the history of this greening journey at the Singapore Botanic Gardens from November 2013 to June 2014. Through this, we hope that more Singaporeans will learn about the amazing journey Singapore has been on so far and to join us in making Singapore a City in a Garden for everyone to enjoy.
By Charmaine Lim