PARK At Holland Village Park
When I mention Holland Village Park, the most common response I get is a bewildered "Where?" Not many people know that there is a new green space right outside the entrance of the Holland Village Circle Line station where the newly-minted PARK, a café by day and bistro by night, sits.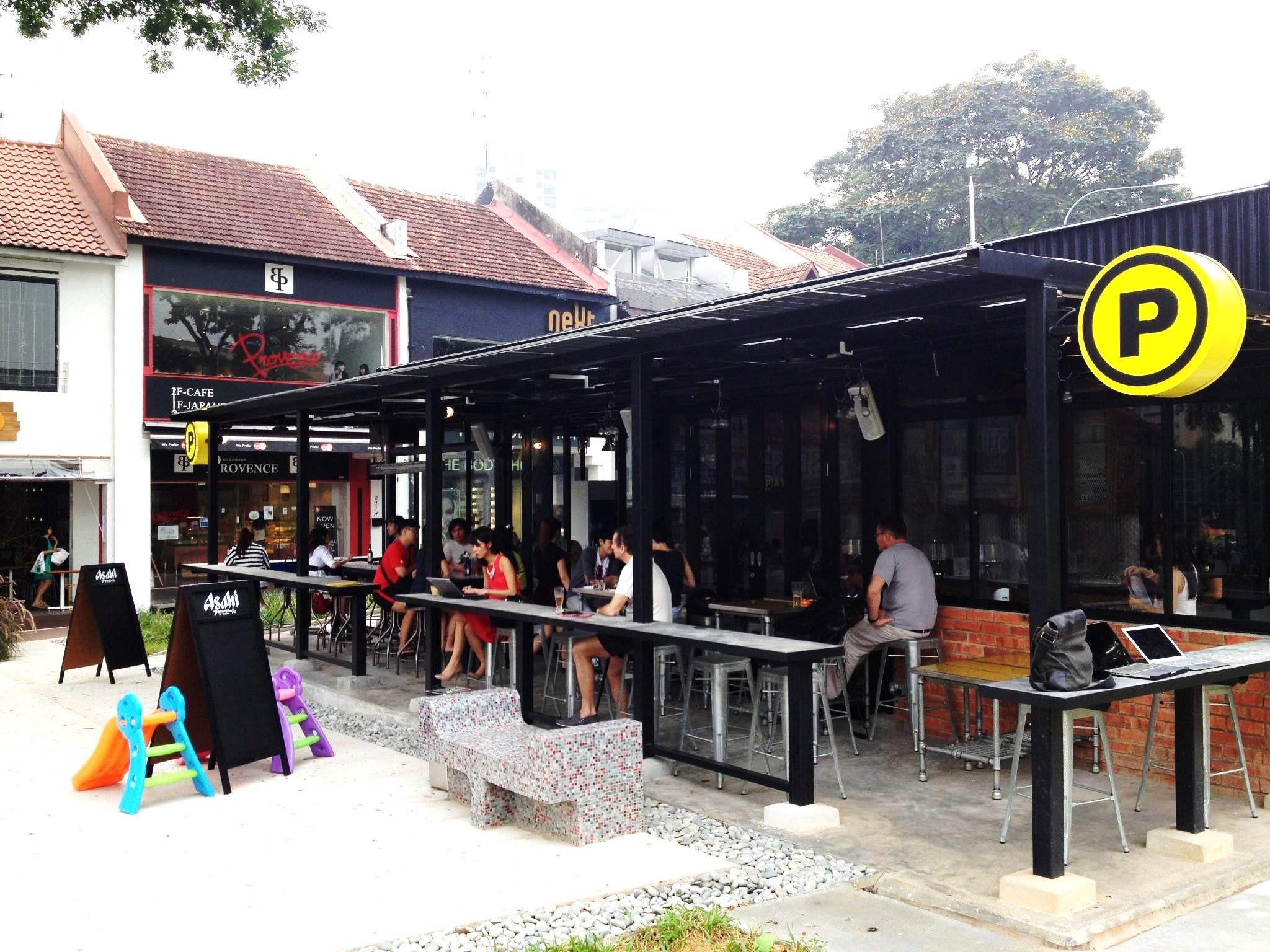 The al fresco dining area of PARK.
Located a stone's throw away from Holland Village's main food belt of restaurants and pubs, PARK's façade is unabashedly simple. But there's more to it than meets the eye. PARK incorporates a green element into its design aesthetic.
The outlet is reconstructed from three shipping containers. Take a closer look and you will also notice solar panels lining the entire surface of the roof. Patrons can choose to dine indoors or al fresco, with its view of the park's Rain Trees, one of which was just planted in June this year by Mr Lee Kuan Yew, in commemoration of the day 50 years ago when he started Singapore on its greening journey.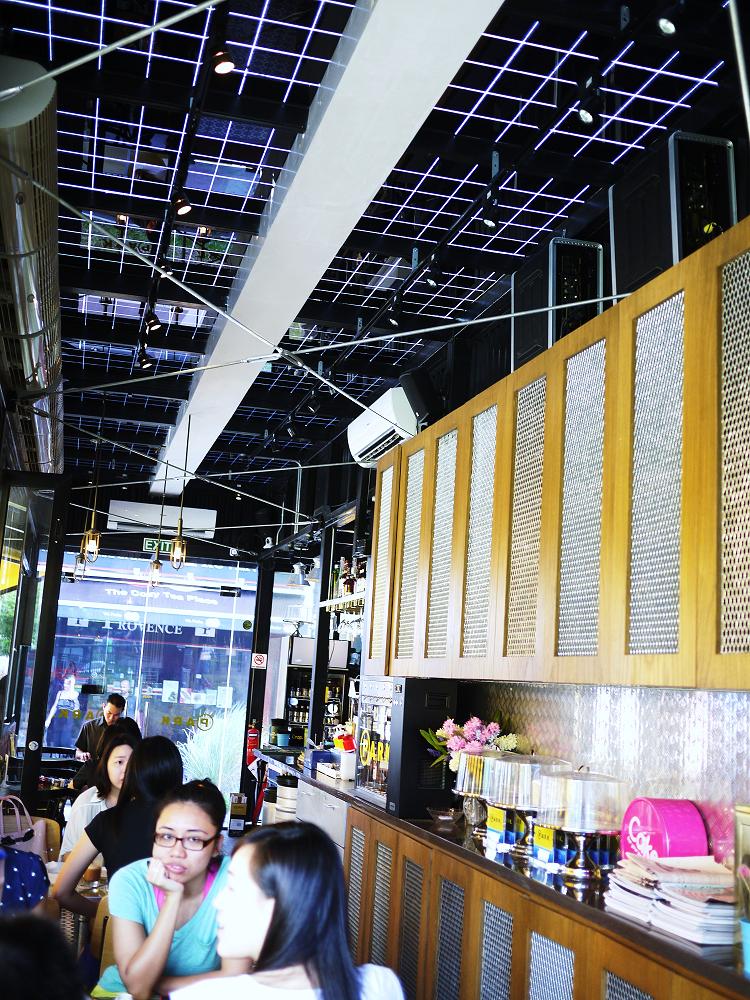 PARK's simple but cosy interior.
During the day, PARK offers salads, sandwiches and pasta. In the evening, it transforms its menu to offer hearty dishes like Lamb Shank and Herb Crusted Chicken. My fellow foodies and I chose to try out the day menu.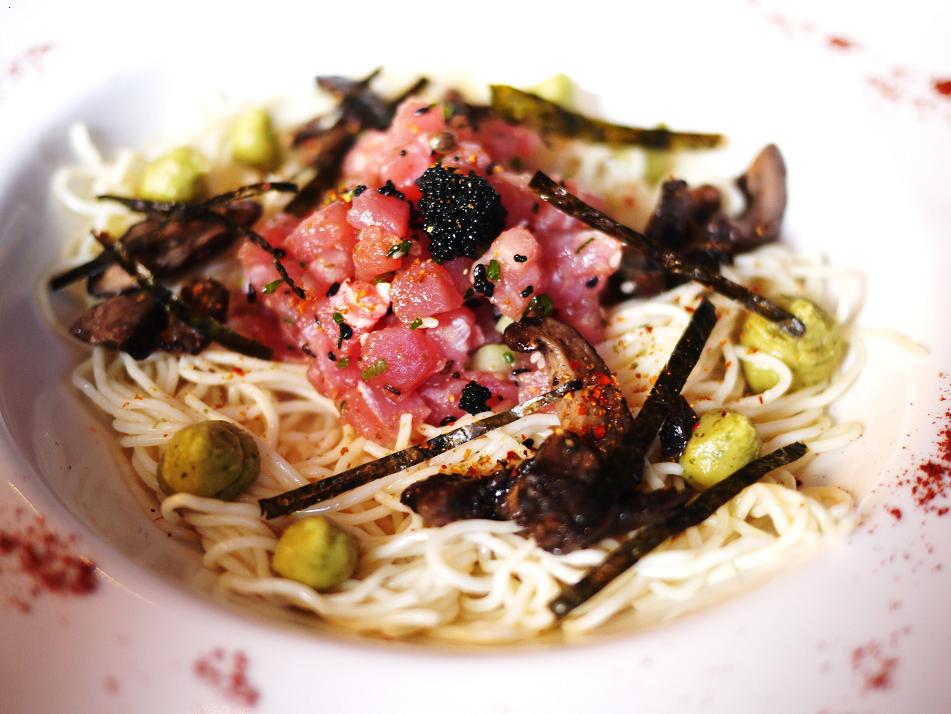 TheTuna Tartare ($16.80) was an appetiser we all enjoyed tremendously.
We started off on a high-note. If there was ever an appetiser I wished would come in larger portions, PARK's Tuna Tartare would fit the bill. Cold angel hair pasta topped off with cubes of Bluefin Tuna, avocado mousse, mushroom confit and tobiko (flying fish roe). Though a Japanese fusion dish may seem out of place in the café's predominantly Western menu, the flavours were refreshing and garnered praise all round the table.
For those in the mood for brunch, fret not. PARK's breakfast menu extends till 3pm, so you can hit that snooze button as many times as you would like. Pancakes, both sweet and savoury, are also available all day. We chose the Rise and Shine because it serves up all the best parts of breakfast – eggs of your choice, a bratwurst sausage, hash brown, pancake and mesclun salad.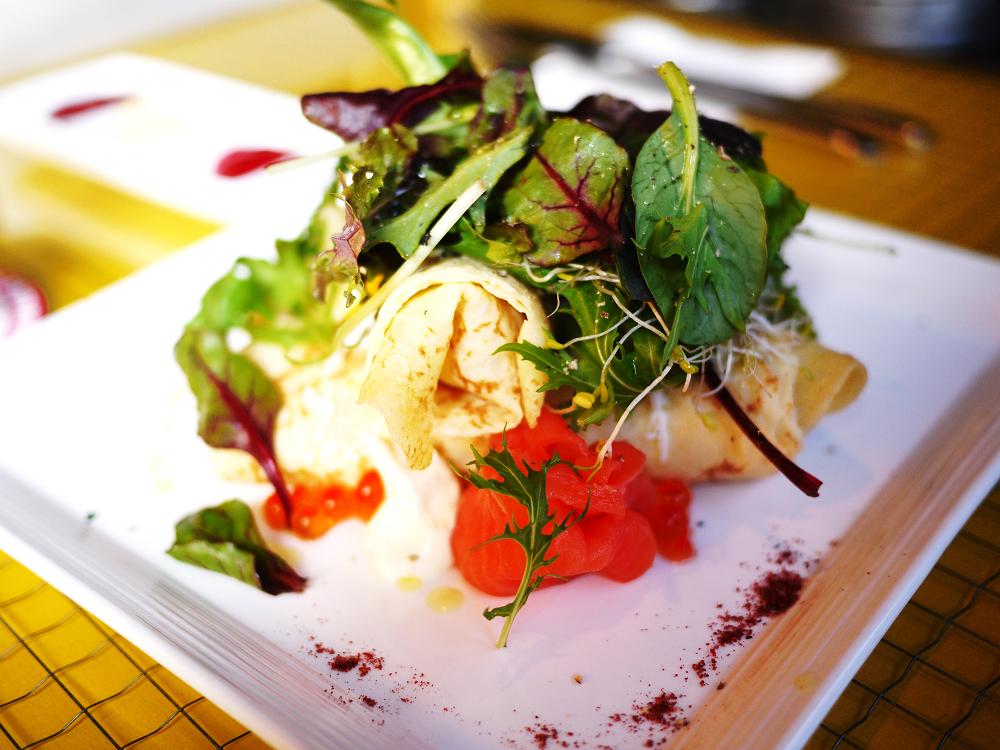 We enjoyed the Crepe with Smoked Salmon ($15.50).
One of my friends ordered the Crepe with Smoked Salmon – thin pancakes served with ribbons of smoked salmon, tobiko and mesclun salad. The crepes were well done, but we would have preferred it with less sour cream.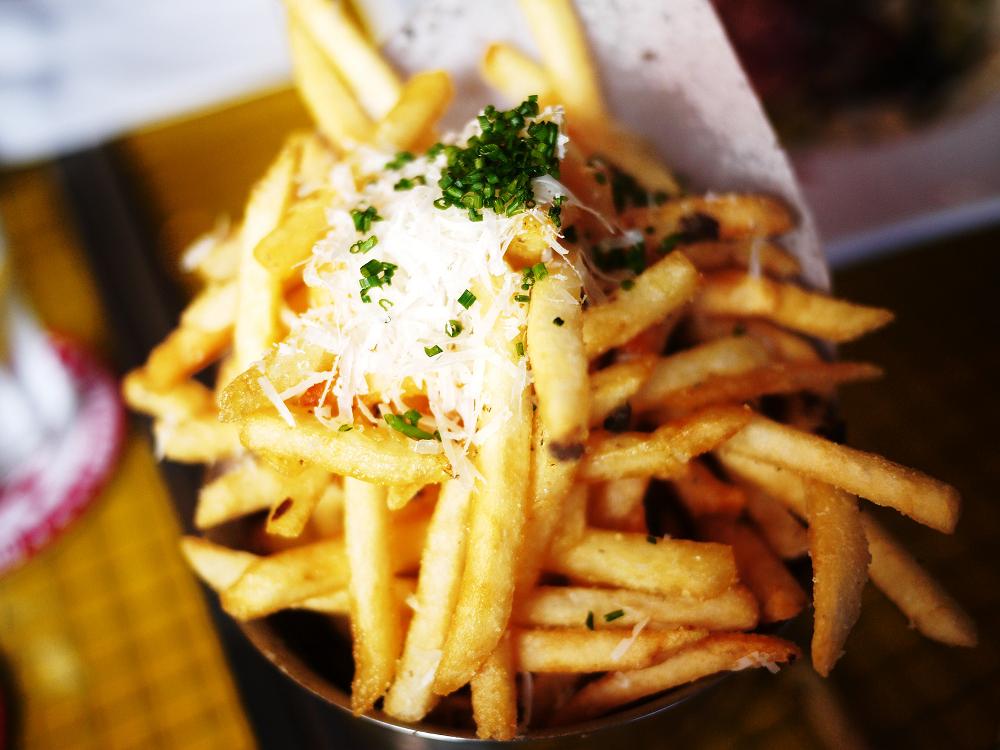 The truffle fries ($8.50) were good, just wish the bowl was big enough to hold the cheese in!
If truffle fries are on any menu, I would try it. PARK's version was good – golden-brown with a nice smoky flavour. However, I wish they had been more generous with the parmesan cheese and served the fries in a bigger bowl. The fries, which came in a tall metal bowl, had my friends and I playing a precarious game of Jenga – one wrong move and cheese would fall off the pile and onto the table!

Fans of strong-smelling cheese will enjoy the Blue Cheese Burger ($20.80).
Touted as a must-try item by the service staff, fans of stinky cheese will not be disappointed with PARK's Blue Cheese Burger. No flimsy, fast-food meat patties here. The beef patty is thick, packed with flavour and accompanied with an oozy sunny side-up and crispy bacon. All this is stacked between two toasted sesame buns slathered with a generous dollop of blue cheese mayonaise. Burgers like this are meant to be a messy affair, so ditch the cutlery!

The Lemon Meringue Cake ($9.90) with its accompaniment of old-school gem biscuits.
Finally, dessert. PARK's dessert menu is rather small – limited to ice cream and cakes on the stands. I picked the Lemon Meringue cake. It came with some old-school gem biscuits, which amused us. We felt the cake could be a little more moist and tangy. Overall, PARK is a great place for those in search of a new food haunt in Holland Village. The al fresco dining option makes it pet-friendly, and parents can let their children run free in park while enjoying a well-earned cup of tea. However, do go early, especially on weekends, as there are limited seats and the outlet can get packed during mealtimes.
By Chrystal Chua
Photo of the exterior of PARK courtesy of the café.
Located in Holland Village Park, PARK's operation hours are: Tue to Thu – 10am to midnight; Fri to Sat – 10am to 2am; and Sun – 10am to midnight.
You can find more on their Facebook page, or contact them at parkathollandv@gmail.com.