Foliage Garden – Where The Beauty Of Leaves Take Front Stage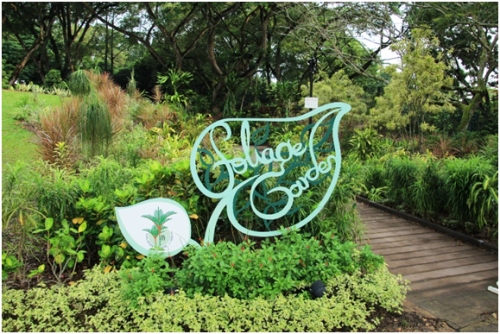 Nestled in the Bukit Timah Core of the Singapore Botanic Gardens, is a new theme garden where the beauty of leaves takes centre stage.
With its large leaf-motif signs, you won't miss the entrance to the Foliage Garden. Sited in what was once a carpark, the Foliage Garden opened in December 2013. Measuring about 0.6 hectares in size, it is an intimate garden populated with more than 300 species and cultivars of plants.
When you arrive at the Foliage Garden, you will notice the little hills surrounding its periphery and the meandering paths that add layers to the landscape. Together, these features provide a secret garden experience.
Enter a surreal world
Within the Foliage Garden is a metal-grilled walkway that allows visitors to view plants growing beneath. This contrasts against the experience of walking on a traditional boardwalk. Visitors can also take in a panoramic view of the entire landscape from a viewing deck.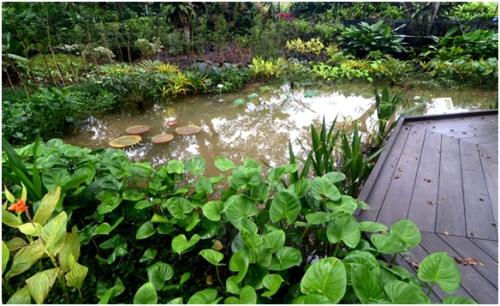 The heart of the garden that used to collect water has been transformed into a naturalised pond fed by a stream. It now attracts biodiversity such as dragonflies and White-breasted Water Hen
.


Colourful ambient lighting has also been installed in the Foliage Garden. At night, the lights give the place a surreal look and mystical feel that is quite different from its appearance during the day.
Combining for a stunning display of foliage
Chlorophyll, which is required for the food-making process called photosynthesis, is the reason most leaves are green. However, due to diverse adaptations to their growing environments, plants can exhibit an incredible diversity of sizes, shapes, colours and textures. For this theme garden, various plant combinations were carefully chosen to showcase and even enhance the beauty of each species.
On top of these features, the height, form and shape of plants were also taken into account in laying out the displays. Major groupings of plants here include those showcased according to the plant families or genera that they are botanically classified in.
For example, members of the Araceae family, which most people are familiar with, such as the Money Plant (Epipremnum aureum), a very common house plant, is displayed together with other shade-loving species from the genera Aglaonema, Dieffenbachia and Philodendron. Did you know that several species from this family such as Yam (Colocasia) and the Corpse Flower (Amorphophallus) are eaten as 'famine foods'?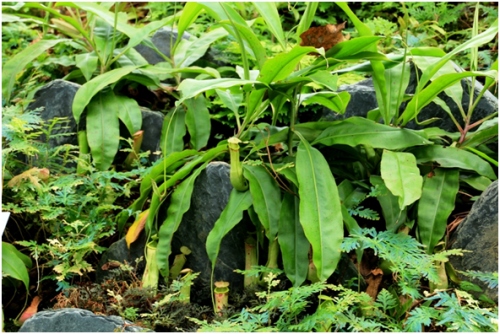 On display, too, are tropical pitcher plants belonging to the genus Nepenthes. This fascinating genus of carnivorous plants found mostly in nutrient-impoverished soils. The characteristic pitchers are the true leaves of these plants, which have modified into insect traps.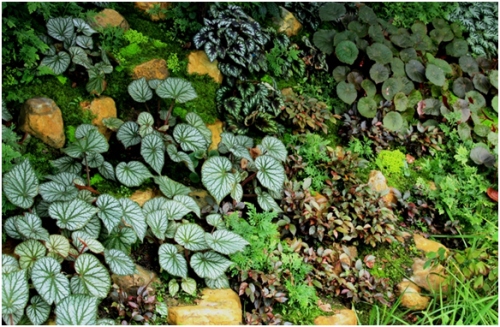 Popular ornamental plants from the genus Begonia are displayed for their colourful leaves that also come in a wide range of shapes. Their flowers can be consumed and are often added to salad for a refreshing sour taste.
Then there are plants that are displayed according to their growing habitats. Aquatic plants with diverse adaptations, foliage shapes and textures can be seen at the naturalised pond. They help to beautify an otherwise featureless water body.
A collection of epiphytes is also currently being built up. These plants grow on trees and a range of surfaces, and those at the Foliage Garden include orchids and Hoya. They may one day be used to create a green wall in the garden.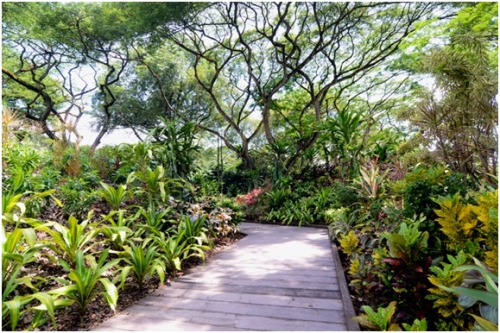 Visitors will be pleased to view a range of old school plants like Dracaena, Cordyline and Sansevieria that were popular landscaping and house plants in the 1970s to1980s.
The Foliage Garden is still a work in progress. So please be patient as the garden grows.
By Lai Simin
Photos of the pond and old school plants by Dennis Sng.
The Foliage Garden is open during the Singapore Botanic Gardens regular operation hours, from 5am to 12am daily.
It is closed on the last Wednesday of each month for maintenance.