Book Review: Gardening In Miniature By Janit Calvo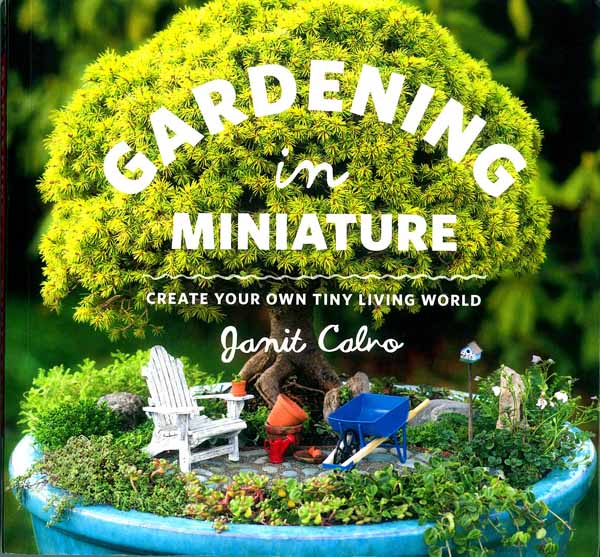 Imagine a beautiful manicured garden so small that it takes up only a corner of your work desk or shelf. In land-scarce Singapore where the majority of people live in high-rise apartments with little or no outdoor space for a garden. miniature gardens could be the answer for those of us who have an aesthetically planted green space that can fit into our living or working spaces.
My first miniature garden was created when I was still in primary school using a bonsai pot which I planted with various cacti andsucculents, and decorated with an assortment of miniature figurines and houses from my toy box. Touted to be the first book on the hobby, Gardening in Miniature by Janit Calvo is filled with pages showcasing numerous colourful examples of miniature gardens. These photos are bound to attract and inspire anyone who happen to flip through the pages. So, does anyone need a book to create miniature gardens since the task may seem simple? The answer is "Yes" if you want to make a proper miniature garde.
This means everything in it is selected with a pre-determined scale in mind and the placement of plants and hardscape follows garden design principles. This book covers very well the general topics of gardening, such as plant care and maintenance. It also has sections on miniature garden-making such as choosing suitable containers and materials that can be used to make hardscape elements such as foot paths.
However, the most important aspect of making miniature gardens is probably the scale of miniaturisation. The author introduces various common dollhouse miniature scales. For the uninitiated, this "new math" as the author termed it, will take some time to get accustomed to, but once readers get it right, they would be rewarded with a little garden scaled proportionately to resemble a regular-sized garden.
The section on miniature accessories is a visual feast for the eyes, but they can be difficult to obtain in Singapore. The author also shares the "how's, what's and when's" of using tvarious types of accessories in making one's miniature gardens. The author also touched on design elements such as texture, focal point of the display, etc. While these are useful to make miniature gardens similar to regular-sized gardens, these were only briefly touched on in this book, with a few pictures for illustration.
The book could be more useful for the novice miniature gardener if there were photos that depict the 'before' and 'after' of projects, or even provide negative examples that drive home the points highlighted in the book. It will take some practice for the novice to perfect the skill to be able to put the various design elements together nicely.
Overall, this book is easy to read. Information is presented in bite-size nuggets that are not too lengthy or technical. It also shares steps on how to create several projects, which is useful for novice miniature gardeners. However, a reader residing in the tropics will need to exercise caution as many of the plants listed in the book are more suited for a temperate climate. For Singaporeans living in the lowland tropics, we will require another list of suitable plants which is currently lacking.
By Dr Wilson Wong
Singapore Garden Festival
The Singapore Garden Festival is back for the fifth time! This year it will be held for the first time at Gardens By The Bay from 16 to 24 August 2014.
Intricately designed miniature gardens with miniature plants and furniture put together by the recent winners of the Philadelphia Flower Show will go on display for the first time.
See how the experts do it and then try your hand at it! Singapore Garden Festival tickets are now on sale online as well as at Botany Centre and Visitor Centre, Singapore Botanic Gardens; Sungei Buloh Wetland Reserve Visitor Centre; HortPark Visitor Centre; and Gardens by the Bay Ticketing Hub. Local Residents Rate È

SGF 2014 Ticket Prices(inclusive complimentary entry to Flower Dome*)

Local Residents Rate

Standard Rate

Weekdays

Weekends

All Days

Adult

$10

$14

$18

Seniors (≥60yrs)**

$5

$8

$18

Child (3-12 yrs)

$5

$8

$12

* All GB Conservatory ticket-holders will be allowed entry into SGF ** All Singaporean Seniors (≥60yrs with pink ICs) will get a 20% discount off Weekday Local Residents Rate (i.e. $4 /ticket after discount). Valid from 18 to 22 August only.
The Festival is jointly organised by NParks and Gardens by the Bay, together with its key partners, Agri-food & Veterinary Authority (AVA), Orchid Society of Southeast Asia (OSSEA), Singapore Gardening Society and Singapore Tourism Board (STB).
More information available online or visit the SGF Facebook.