A Tireless Supporter Of Nature
A love for nature, and a personal mission to create opportunities for Singaporeans to contribute to the environment led to the development of a series of green initiatives that would ultimately change the landscape of green-inspired activities in Singapore.
For this reasons, Mrs Kirtida Mekani, a professional who also sits on the board of the Garden City Fund – a charity set up by the National Parks Board to support the conservation of Singapore's natural heritage), was nominated for Singapore Woman Award 2014 earlier this year.

Mrs Mekani initiated the Plant-A-Tree Programme to encourage individuals and organisations to take greater interest in conserving Singapore's natural heritage.
A growing love for nature
Mrs Mekani spent her growing years in India, where she lived in a house with a beautiful garden. There, she got to observe the circle of life as the plants grew, flourished, before they returned to the earth.
Gradually, she developed a love for nature, especially plants. "My experience of feeling and witnessing plants' growth process nurtured my passion for nature. The joy that I gained triggered my future motivations and actions towards an environmental career," Mrs Mekani said. After moving with her husband to Singapore, Mrs Mekani was intrigued by the Garden City and the amazing natural environment found here.
Although she stays in an apartment now and does not have a garden, that hasn't reduced her love for nature.

Mrs Mekani's favourite trees are Neem Tree (left) and Tembusu, which both embody the characteristics of strength and vitality. Learn more about these trees on Flora and Fauna Web.
The roots of the Plant-A-Tree Programme
One of the initiatives closest to Mrs Mekani's heart is the Plant-A-Tree Programme, where individuals or organisations can help make Singapore greener by planting trees. Since its inception, more than 12,000 trees have been planted under this programme.
Her inspiration for this programme stemmed from meetings with other nature enthusiasts in Singapore. She saw their love for trees was apparent, but there were few opportunities for them to contribute to the growth of a green movement in Singapore. Something had to be done, but what?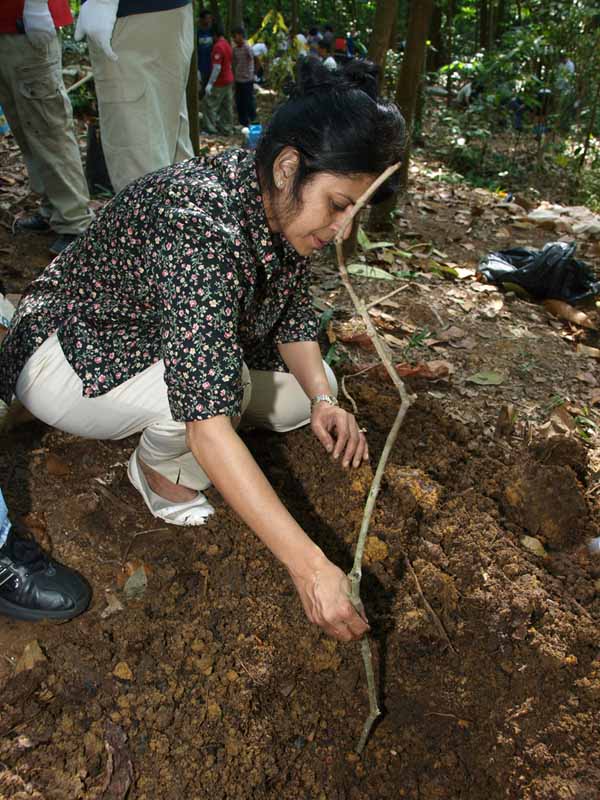 Mrs Mekani is always passionate about planting trees.
She said, "Singapore is my garden. I really enjoy the foundation laid by Mr Lee Kuan Yew and his team who had the vision to start greening Singapore 50 years ago. It was by their efforts that we now can have such a nice and beautiful environment. That made me think: 'What can we do for our future generations?'"
At that time, there was no such a programme for individuals or companies to help plant trees in public areas. Mrs Mekani thus approached NParks and proposed her idea of launching the "Plant-A-Tree" project. Two years later in 2007, it became a reality.
Nurturing the future generation
In her youth, Mrs Mekani learnt firsthand how to run campaigns: from raising money; organising people; developing leadership skills; cooperating with different people; managing logistics; handling communications; and speaking in public.
Mrs Mekani believes that we can all learn and develop our capabilities: "I would suggest young people identify their hobbies and interests, then utilise these passions to trigger the motivation of wanting to do things. During the process, you will learn many lessons from the challenges you face and internalise them automatically so that the lessons become your second nature."
Her next plan for now is to work with preschools, as well as primary and secondary schools to initiate projects that cultivate the students' observational, analytic, questioning skills and ability to resolve real problems using solutions inspired by nature. By doing so, Mrs Mekani hopes that the next generation of young people will acquire greater appreciation of nature.
Plant-A-Tree Programme
The Plant-A-Tree Programme is a platform for organisations and individuals to actively participate in the greening of our City in a Garden by planting trees. Its aim is to give you a chance to donate to the cost of a young tree and plant it yourself.
Visit the website for more information and ways to participate.
By Ivy Morong Xu
Photo of Neem Tree by Jennie Tang Yurue