A Competition That Builds Bonds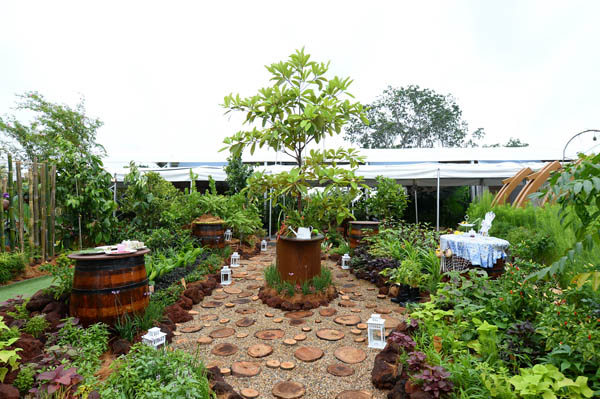 "Taste Fiesta" with its display of edible plants was the winner of the Gardeners' Cup in 2014.
For nine days in late August 2014, several community gardeners watched on proudly as hordes of visitors admired their spectacular displays for the Gardeners' Cup at the Singapore Garden Festival.
The Gardeners' Cup
For the competition, participants from various groups and organisations were grouped into five teams according to their districts in Singapore. The main theme for the competition was 'Fiesta' and each team was given the challenge to set up garden displays that evoked one of the following senses – Hearing, Sight, Taste, Touch and Smell.
This year's winning theme was 'Taste Fiesta', an impressive edible garden display that was a collaboration by residents from: Charlton Residents' Association Neighbourhood Committee (NC), Compassvale Plains Residents' Committee (RC); Coral Ris RC; Serangoon Gardens NC; Tampines Starlight RC; as well as members of the NTUC U-Live Eco Club and the students and teachers of Seng Kang Primary School.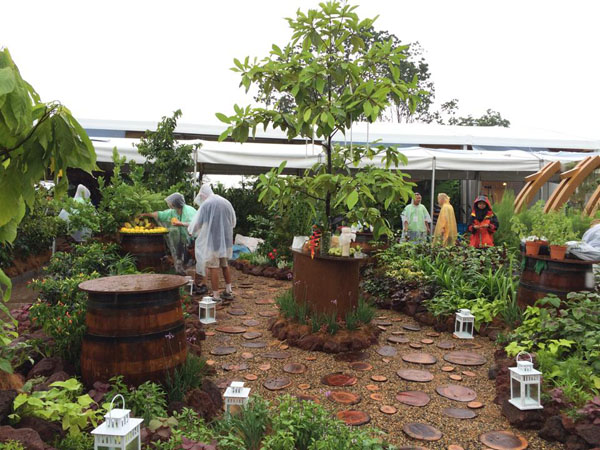 Rain or shine, the dedicated community gardeners from the 'Taste Fiesta' garden display prepared edible plants for their display at the Gardeners' Cup at the Singapore Garden Festival.
By incorporating edible plants into their design, the community gardeners created a garden where one could experience the sensation of taste through sweet, salty, sour, and pungent edibles.
Working as a team, making friends along the way Made up of five to nine gardening groups per team, the Gardeners' Cup was an opportunity for the different community gardeners to learn to work as a team. Preparations for the competition started last November and in the process, the community gardeners have forged friendships with each other.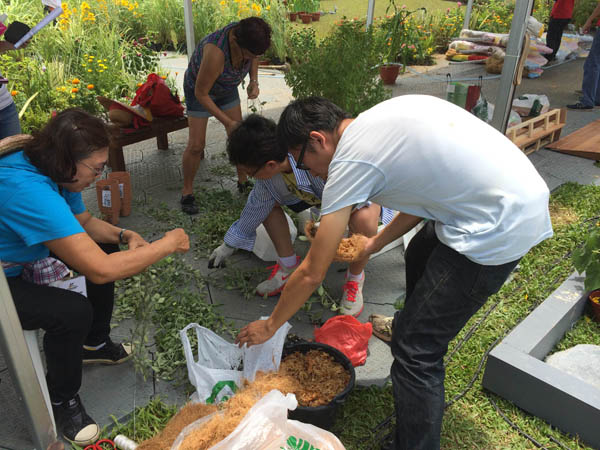 The atmosphere was filled with excitement and activity during the set up of the Gardeners' Cup garden displays.
Mr Rajamogan from Riverside Secondary School, a first time participant in the Gardeners' Cup, said, "The Gardeners' Cup provided me with an opportunity to meet people full of gardening experience and wisdom. At the end of the day, it's not about the championship award. It's the journey we took together, and despite small quarrels here and there, everyone was [committed] to the green voyage. This was motivation for me because you have good honest people, driven by their passion, guiding you on this journey."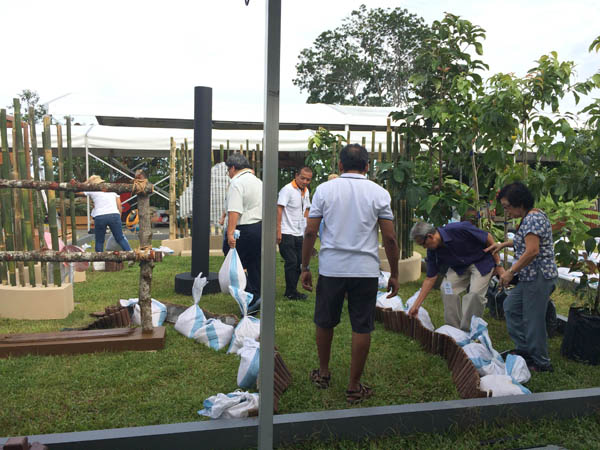 Mr Rajamogan (foreground, back to camera) from Riverside Secondary School with his team members working to lay out the path for their garden display, 'Sound of the Forest'.
Mr Rajamogan's team (comprising representatives from Khoo Teck Puat Hospital, Ngee Ann Polytechnic, Riverside Secondary School, Sembawang Zone E and Zone F RCs, Woodlands Zone 2 RC, Yishun Sapphire Condominium, and Zhenghua-Jelapang RC), was challenged to create a garden display that evoked the sense of sound.
'Sound of the Forest', which received the Gardeners' Choice award and Biodiversity award, paired elements of animal sounds with home-made sculptures and interactive musical elements.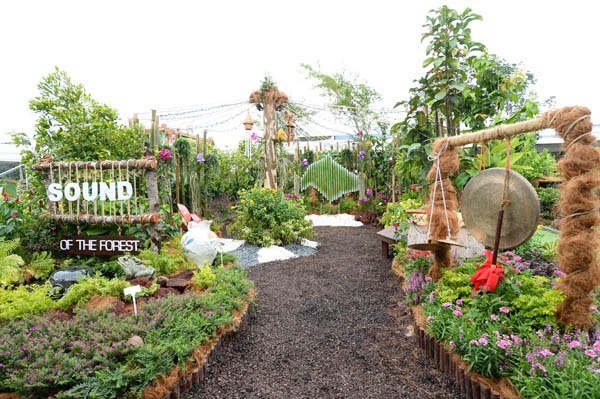 "Sound of the Forest" featured animal sounds with homemade sculptures and musical elements scattered throughout the garden.
The gardeners came from varying backgrounds and often brought different ideas to the table. But over the past nine months leading up to the competition, they bonded and worked together as a team.
During the setup, Mdm Yippy Chew, a CIB ambassador, said jokingly, referring to Mdm Shamsiah, who works with development agency URA, "Look at Shamsiah! She has transformed from [someone uninterested in greenery] into one with a soft heart for gardening." Mdm Shamsiah laughingly replied, "That's right! Now a cactus is not just a cactus, grass is not just grass. They have many different kinds!"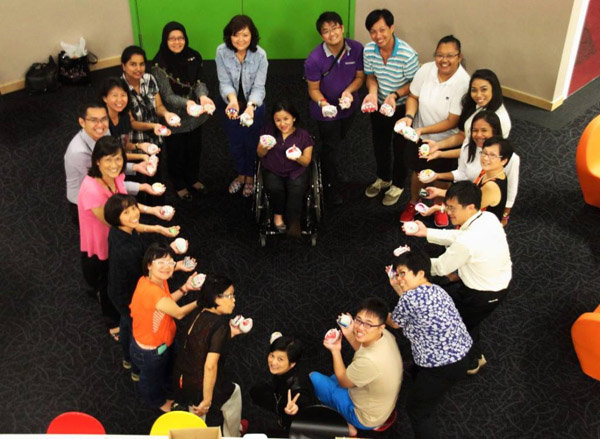 From strangers to co-workers to friends, the team behind the 'Touch our Hearts' garden display pose with pebbles hand-decorated with heartfelt messages. These pebbles were later used to decorate their garden display.
For their garden's concept, Mdm Chew and Mdm Shamsiah's team (comprising APSN Tanglin School, ITE College Central, Seletar Hills West NC, Thomson Sin Ming Garden RC and Urban Redevelopment Authority) charted Singapore's development from its olden days to where it is now. Their garden, 'Touch our Hearts', aimed to touch the hearts of their visitors by evoking the progress of Singapore. Contrasting plant textures evoked different touch senses, but the most touching element were the stones hand-decorated by team members with heartfelt messages.For their efforts, they received the Best Themed Award.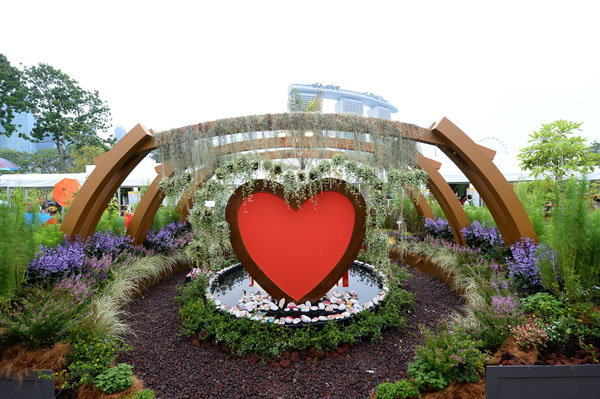 "Touch our Hearts" used different plant textures to evoke different touch senses. Its display included a large symbolic heart structure and pebbles with handwritten messages.
For these people from different walks of life, their 'green voyage' through the Gardeners' Cup competition started out as strangers working together and transformed into close friends with a love for community gardening.

"Scent-alising" showcased the aromatic qualities of plants and was developed by the team comprising Bedok View Secondary School, Tanjong Katong NC, Limau Estate NC, Temasek Secondary School, APSN Centre for Adults, Marine Crescent, Laguna Park Condominium, Broadrick Secondary School and ITE College East.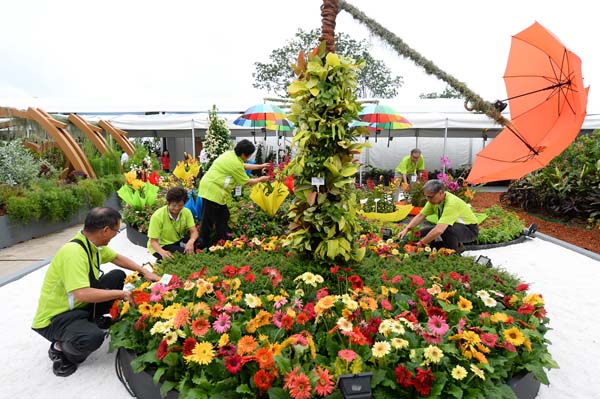 "Carnival by the Bay" featured vibrant plants and umbrellas to evoke the sense of sight. The team behind the idea was made up of community gardeners from Ivory Heights NC, Jurong Primary, Anglo-Chinese School (Independent), Telok Blangah Dover Crescent RC, ITE College West, Bukit Batok Zone 2 RC, ST Kinetics and Jurong Central Zone D.


Photos of set up and text by Lau Kai Ying
Photo of Touch Our Hearts team with pebbles by Wong Yun Hui.


The Gardeners' Cup
The Gardeners' Cup is a friendly challenge among Community In Bloom (CIB) gardening groups islandwide to collaborate and set up show gardens at the biennial Singapore Garden Festival (SGF). Each team is tasked to conceptualise and bring to life a garden theme in creative and innovative ways that showcase a high standard of plants and structures within an allocated space.
This year marks the third running of the Gardeners' Cup – the first was in 2010.
It is also part of the wider Community in Bloom programme to engage and inspire communities to build a greener Singapore under the City in a Garden initiative.
For people who wish to start a community garden or join one, visit our website for more information. Alternatively, call 1800-471 7300 or e-mail us at communityinbloom@nparks.gov.sg to find out more.