T(h)ree Passions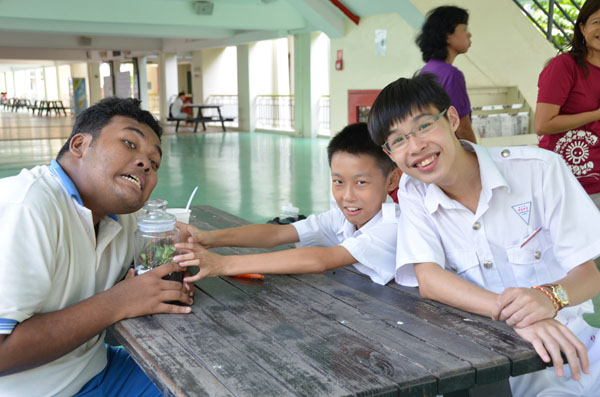 Christopher Koh's partners for the terrarium workshop strike a pose with their completed garden in a bottle.
A nature lover, trail runner and photography enthusiast, Christopher Koh finds that volunteering for the Nature Cares programme not only allows him to do his part for the community, but also provides him with the opportunity to indulge in some of his favourite pastimes.
A three-in-one programme
Nature Cares brings interested organisations and schools together to serve the needs of the community through six nature-based activities for a year. The community groups consist of a diverse range of beneficiaries, such as children with special needs and the elderly.
This means at any one time, the programme will involve three parties – a beneficiary, school and corporate organisation.
The three aims? For all participants to reap the benefits of greenery, to encourage students and working adults to volunteer, and for the corporate volunteers to serve as role models for the students.
The three partners
In 2014, eight beneficiaries were teamed up with eight schools and eight corporate organisations.
Christopher is a volunteer from Singapura Finance, a company which provides a range of financial plans and services. His company partnered with Chung Cheng High and Metta School, which offers special education to students with mild intellectual disability (MID) and/or mild autism spectrum disorders. This is the first time all three parties are involved in the Nature Cares programme.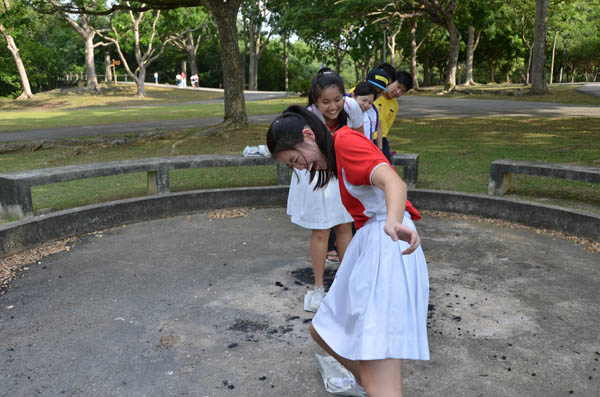 Nothing breaks the ice like a fun game of Hot Lava! Participants imagine that they need to cross a river of molten lava and must use newspapers to form a path which they can step on.
Three's not a crowd
"The one to one grouping, whereby a beneficiary, student and corporate volunteer work together during an activity, is a good change from typical volunteer programmes which only involve two parties," Christopher shared.
"I was worried that the three parties would not be able to get along with one another, but the icebreakers really helped to put everyone at ease. The students from Metta School and Chung Cheng High were so friendly that the corporate volunteers immediately felt welcomed. I was also pleasantly surprised to learn that students with MID can be very articulate!"
Three most memorable moments
"It's hard to say which session was my favourite as each had its own unique points. Off the top of my head – learning to create a terrarium, spotting a Malayan Colugo at MacRitchie and marvelling at the beautiful flower displays at the Singapore Garden Festival – rank in the top three."

Can you guess what the participants are marvelling at during the MacRitchie TreeTop walk?

It is a Malayan Colugo! Many of them had never seen one in person before.
Three reasons to volunteer
Christopher feels that there are countless reasons why everyone should contribute to the community, but there are three things he hopes the students from Chung Cheng High will remember when they grow up:
1. Volunteering is easy
"People think volunteering requires a lot of time and effort, like flying off to another country to build houses for the homeless. That's not true – volunteering comes in different forms and can be as simple as taking part in a park clean-up."
2. Volunteering cultivates empathy in us
"When the students start working, it's natural for them to focus on their careers and themselves. Volunteering encourages them to view things from someone else's perspective, which in turn will teach them to respect people who may be different from them."
3. Volunteering benefits all
What would he say to a student who doesn't see the importance in volunteering? "It's not wise to only focus on how we can benefit from our surroundings. A little goes a long way – everything we do to give back to the community plants the seeds to a brighter future, both for Mother Nature and society."
We couldn't have said it better ourselves.

Christopher Koh


Text by Denise Chen
Photos by Christopher Koh
About the Nature Cares Programme
Nature Cares is a community engagement project initiated by NParks to encourage corporations and students to serve the needs of the community together through nature-based activities.


To sign up for the programme, visit the Garden City Fund website.