Ready? Aim! 'Shoot!' – Crowdsourcing Biodiversity Sightings from the Community
Smartphones are becoming increasingly ubiquitous in our society. While many of us use them to play games, listen to music, or to find our way around using the location-based services and tracking functions, mobile apps on the phones also provide an avenue for members of the community to contribute towards biodiversity monitoring and conservation!
In late 2015, NParks recently launched SGBioAtlas, a new mobile app to encourage members of the public to become citizen scientists. These are amateur or non-professional scientists who participate in, and contribute towards, organised research endeavours. SGBioAtlas provides a platform to encourage users to take an interest in the rich biodiversity within our City in a Garden and collect useful data to help manage and conserve wildlife in Singapore.
Geo-tagging Biodiversity Sightings
When you spot an unfamiliar animal or insect within our parks and gardens, just use your camera phone to snap a picture. Then submit this picture to SGBioAtlas. The date, time and GPS coordinates of the location where you took the photo are immediately captured by the mobile app. Hence, the app is able to geo-tag biodiversity sightings.
SGBioAtlas uses crowd-sourced information to map the distribution of flora and fauna throughout Singapore. All uploaded sightings are plotted out on the SGBioAtlas map via an online database, known as BIOME. The Record function allows users to submit sightings to the BIOME database. In addition, the app has various interactive functions that make biodiversity exploration more fun. For example, users are able to view other recently submitted sightings near their current location.
Everyone Can Do It!
New to distinguishing plants and animals? No worries, the app comes with easy-to-use identification guides. Currently, it offers extensive species guides covering over 380 birds, more than 300 butterflies, 100 dragonflies and 29 amphibians. The guides include photographs, species descriptions and a filtering function that helps narrow options based on the characteristics of the species in question.
The app also allows users to participate in biodiversity monitoring projects that are organised by other members of the public. These public projects typically target specific animal or plant species, or are focused on collecting data in a particular area. Regular users are even rewarded with achievement badges for their contributions.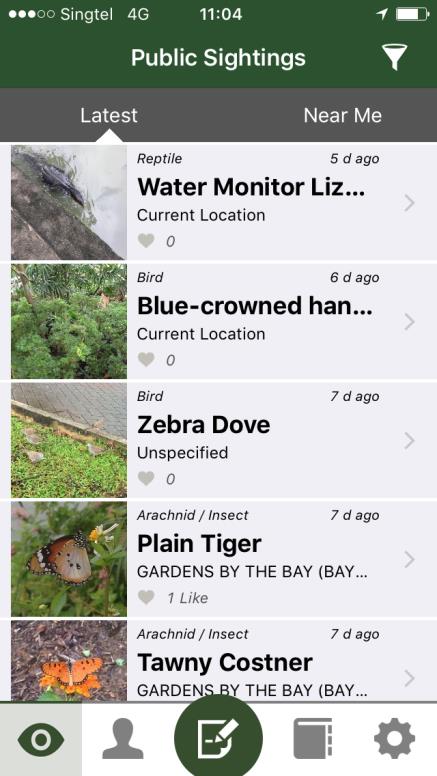 The Latest and Near Me functions allow users to see what species have been spotted recently and in the vicinity.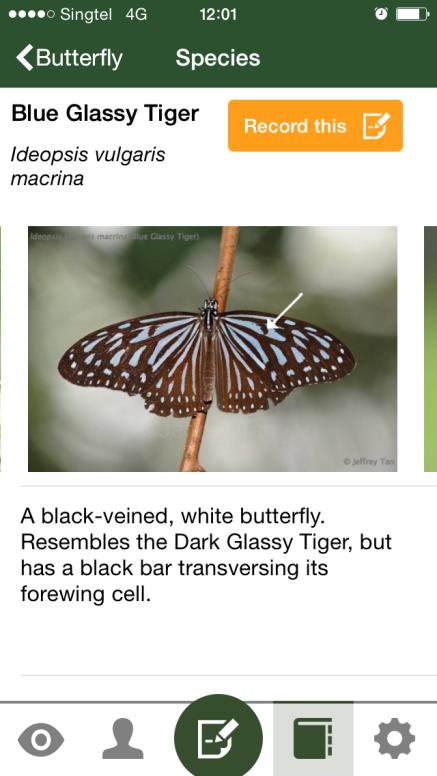 Don't know what you saw? Users can refer to the identification guides to determine the species spotted.
An Atlas of Singapore's biodiversity
The data collected through the app goes into BIOME, Singapore's national biodiversity database. This database serves as a single repository of biodiversity and environment-related data, contributed by government agencies, educational institutions and Non-Governmental Organisations (NGOs) among others. One of its key aims is to inform policy-makers about matters relating to biodiversity and the environment, to develop long-term management strategies.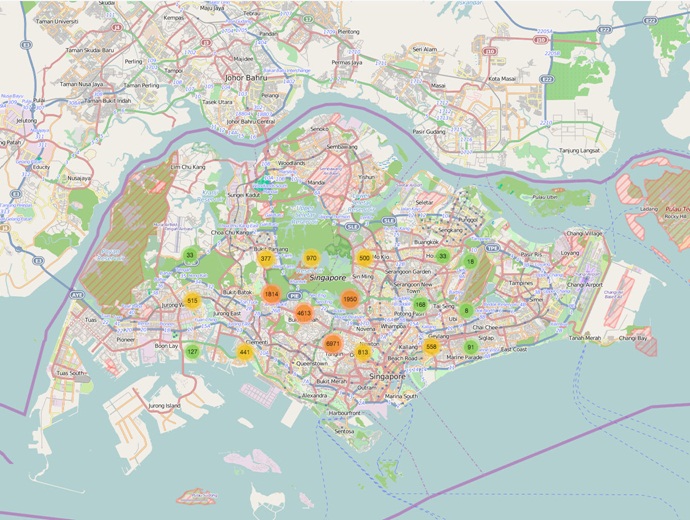 Users are able to view the records they contribute through the SGBioAtlas in the BIOME database.
With the SGBioAtlas app, citizen scientists can contribute biodiversity occurrence data directly to the database, allowing government agencies and the community to view the distribution of flora and fauna within Singapore.
The app not only facilitates the compilation of important scientific data, but also serves as a bridge to the community, engaging the public about our native biodiversity and enlisting their support for conservation efforts. To date, over 200 users have contributed more than 1,200 sightings, with a range of public projects on the horizon.
So become a citizen scientist and download the SGBioAtlas app if you have not done so! And if you enjoy spotting wildlife in our parks, come join us for a Butterfly Watch, organised as part of the NParks Community in Nature Biodiversity Watch series, and held from 14 to 22 May 2016.
Sign up at www.nparks.gov.sg/butterflywatchregister or email CIN@NParks.gov.sg for more information.
I Spy With My Little Eye
What have some eagle-eyed park visitors spotted and submitted via the SGBioAtlas? Here are two interesting finds!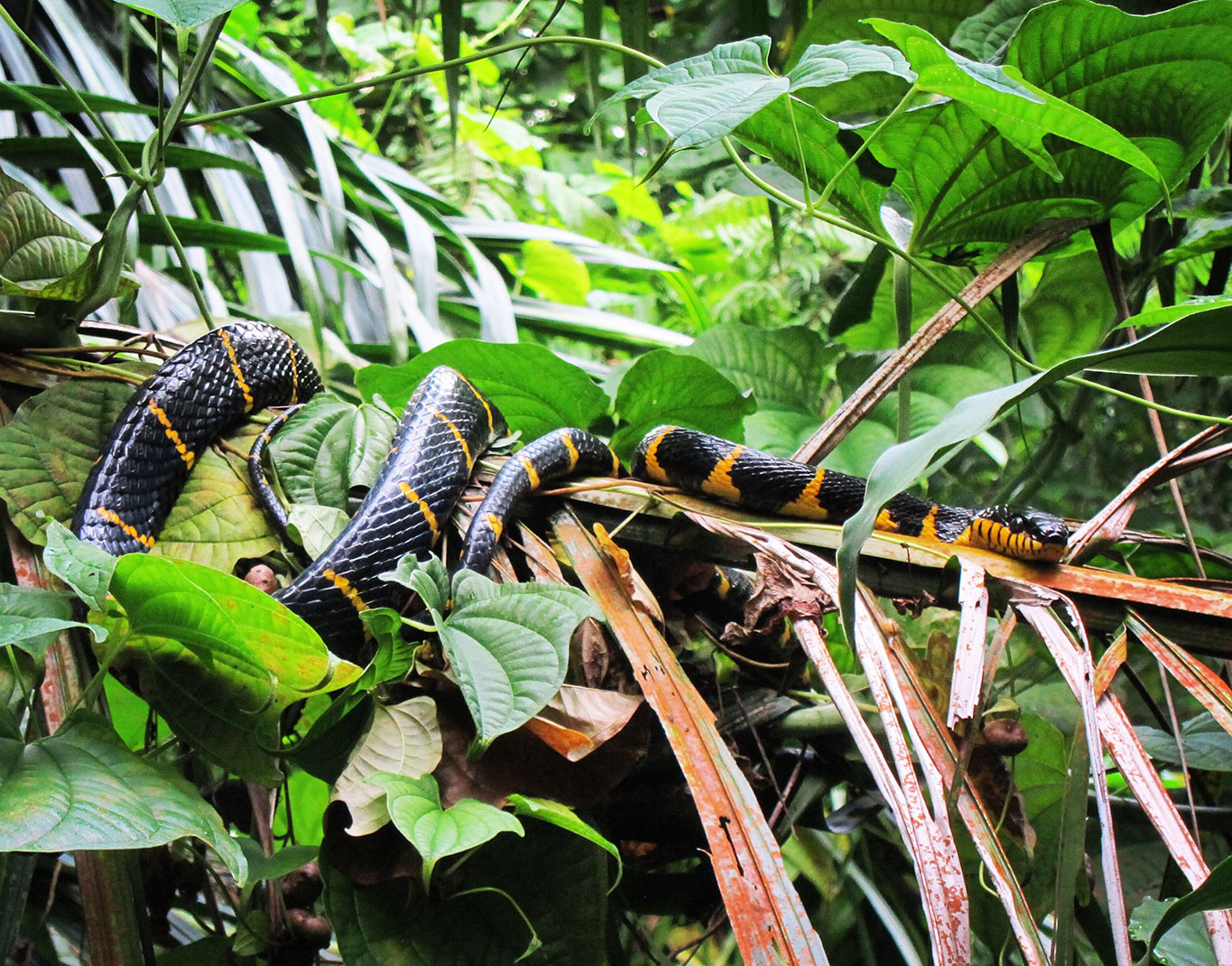 Photo credit: Mr Lim Xuan Hong
"I chanced upon the Gold-ringed Cat Snake while on a walk with my family at Venus Loop on 14 February 2016. The snake was coiled among the vegetation in a dense, shaded and humid part of the forest. When we realised it was a snake, we were all very excited and took care to approach the reptile slowly, and stopped to observe it from a safe distance. It was very pretty with the prominent colouration that is characteristic of a Cat Snake. While snakes are perceived to be dangerous, they usually do not harm people unless provoked. They are important in our natural ecosystem and can play an important role in pest control in our urban environment. This was our most exciting find of the day and we were glad to have seen it!"
– Mr Lim Xuan Hong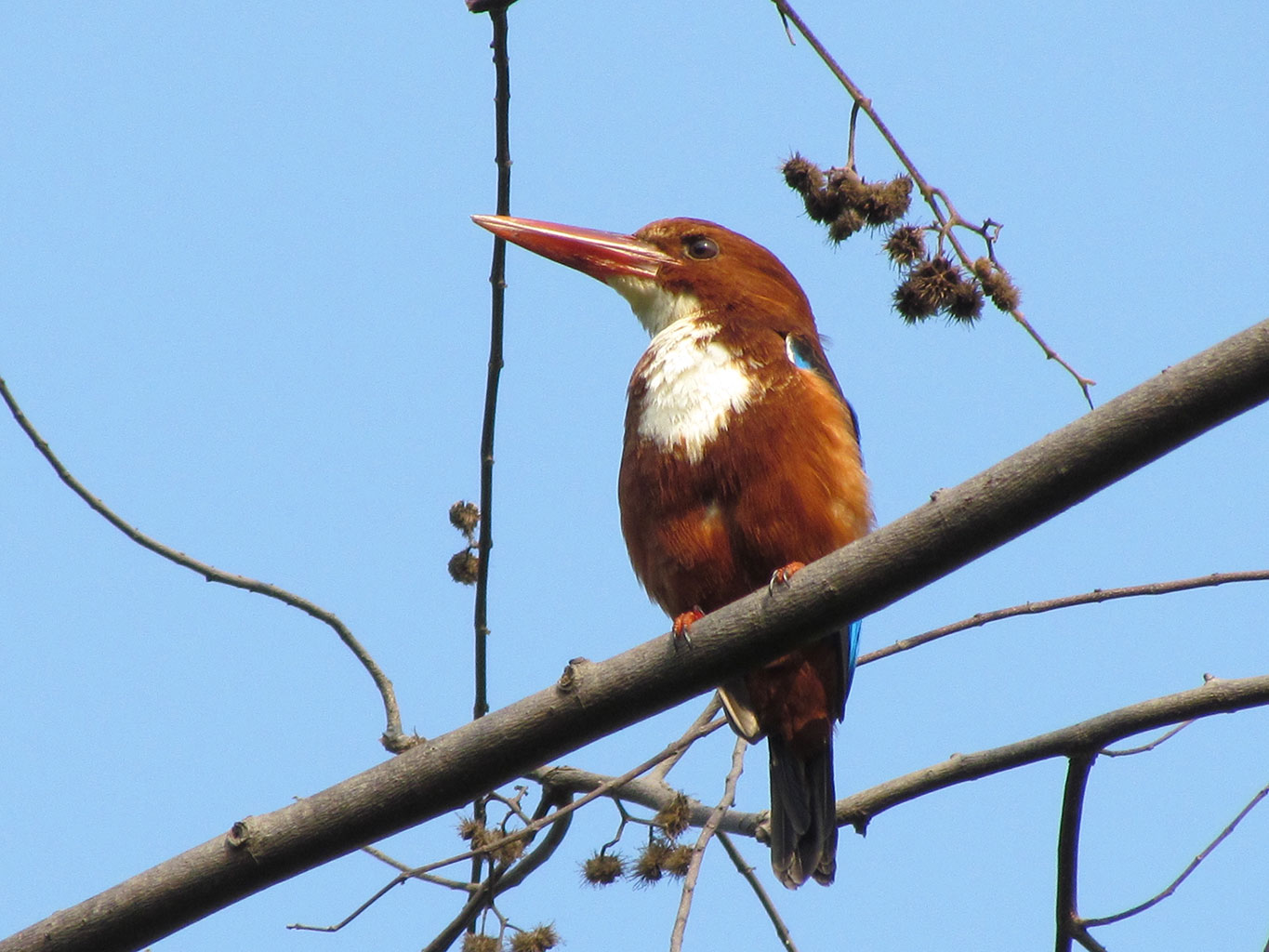 Photo credit: Ms Tan En En
"I came across this White-Throated Kingfisher one early evening in Bukit Batok Nature Park. It was sitting regally on a high branch and looked completely unperturbed even while I inched closer to photograph it. Looking at its beautiful plumage, one might think that this bird is a gem rarely found in Singapore. However, this species is actually classified as being relatively common in Singapore. I will certainly be keeping an eye out for more wildlife living in our midst and hope to see more of these lovely creatures."
– Ms Tan En En
Text by Zhou Boyi