Sunny Days at the Gardens Shop
The sun is out!  Time to throw on a pair of shorts and your favourite sunnies to head out for some outdoor fun! And there is no better place to enjoy fresh air and greenery, than at the Singapore Botanic Gardens.
Stroll through the verdant surroundings, have a family picnic, or go for a morning jog – the Singapore Botanic Gardens is the perfect place to relax and unwind. One of the must-dos when you are at the Gardens is a stopover at the cosy Gardens Shop, an ideal place to pick up gifts for loved ones, or a memento of the wonderful time spent at the Gardens.
This season, infuse the beauty and calm of nature into your everyday life with these unique and tasteful nature-inspired gifts and home decorations from the Gardens Shop.

Floral Cushion Covers Add a touch of summer fun to your living spaces with these vibrant coloured orchid-print cushion covers. Kick back in style with these comfy and irresistibly soft covers; perfect for lounging around on a lazy afternoon.

Orchid Tea and Renanthera Mug Gift Set Start your day off with a perfect cup of tea to invigorate and awaken your senses. The Orchid Red Tea does just that, while the delicate Orchid White Tea is an excellent blend for winding down after a long day.
A thoughtful gift for any occasion, these delicate and sophisticated teas are blended with the finest tea leaves and orchid petals, and infused with the luscious flavours of blueberry and cream. Paired with a beautiful Renanthera print mug, this gift is sure to brighten your day.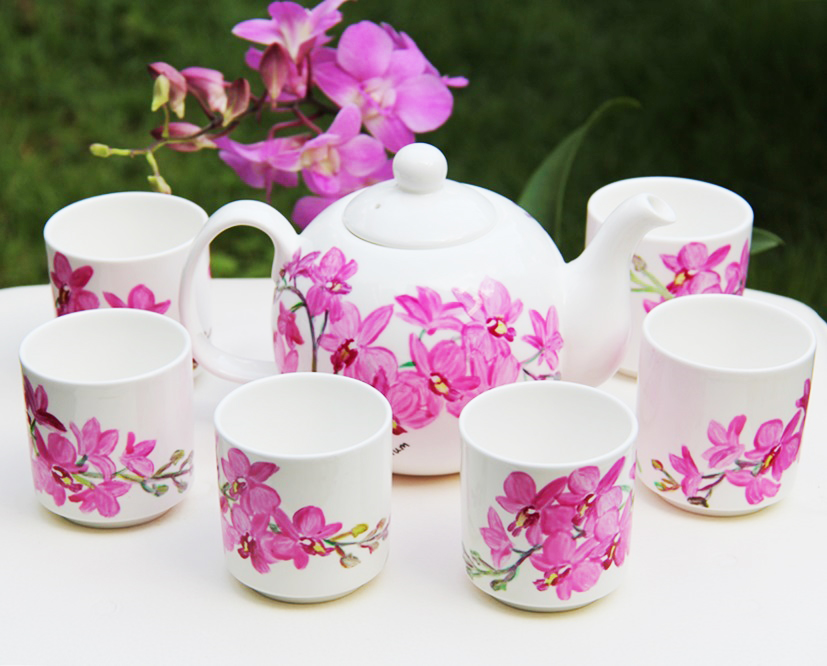 Orchid Porcelain Tea Set
Enhance your tea-drinking experience with this stylish and modern Chinese Tea Set. Pretty orchids are hand-painted on each delicate piece, capturing each detail of these beloved blooms. Enjoy the calm and zen of the Gardens from the comfort of your home when you take this beautifully handcrafted porcelain Tea Set home.