NParks Portraits: Why I Love Gardening!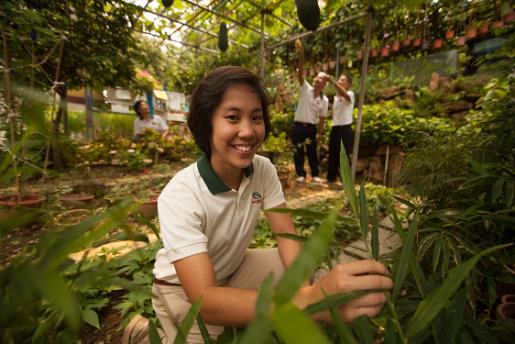 Anyone can be a good gardener, says Natalie Cheong. "One gardening myth is that you need green fingers to grow something, but this is totally untrue." She goes on to explain that after buying a plant, you should study the conditions the plant will grow best in and follow them. Natalie adds, "Trust me, it will flourish!"
And Natalie speaks from experience; she has spent many hours assisting groups of aspiring gardeners and enthusiasts in setting up community gardens across Singapore as a Community in Bloom (CIB) Manager. Her mission is to share the joys of gardening and to encourage residents to work together to create beautiful community gardens. Sometimes this involves thinking out of the box, Natalie says. She works with colleagues and gardeners to experiment and develop ingenious methods to make gardening in land-scarce urban Singapore attractive. For instance, she is working to re-introduce marcotting to gardeners as a means of propagation, and has developed effective and environmentally-friendly ways to do composting in high-rise apartments.

Natalie works closely with aspiring gardeners and enthusiasts to set up community gardens across Singapore, helping them to form a relationship with nature.
Natalie's passion for gardening reflects her belief that there is an intrinsic link between Man and Nature. "I think that having a garden in your home or a park nearby really helps you understand different aspects of what it means to be, to exist!" she says. Want to find out more about Natalie? Check out her clip in our video series, NParks Portraits!
Text by Wong Yeang Cherng
Video produced by Jasper Ku Wei, Pedro Shiu and Wong Yeang Cherng