Where the 'Wild' Ones Are
With the sun out, children will want to play! For a fun family day out, we recommend these five great playgrounds, with special and whimsically-designed play equipment.
Sembawang Park
Located along the northern shoreline of Singapore, this playground has a naval-battleship design with features mimicking a ship complete with gun-turret, smoke-chimney, propellers and rudder. Children may 'board' the ship using a rope-ladder before exploring the many sloping decks. To 'disembark', kids can zip down to the soft sand beneath via slides disguised as escape hatches. Such ingenious design features help to further stimulate the imaginations of the little ones.
This maritime-themed playground does not simply reflect its seaside location. During the British colonial administration, hundreds of seamen worked in the nearby Sembawang Naval Base. Walk beyond the playground area today, and you can still find many of the unique colonial buildings the sailors used to live in then.
Pasir Ris Park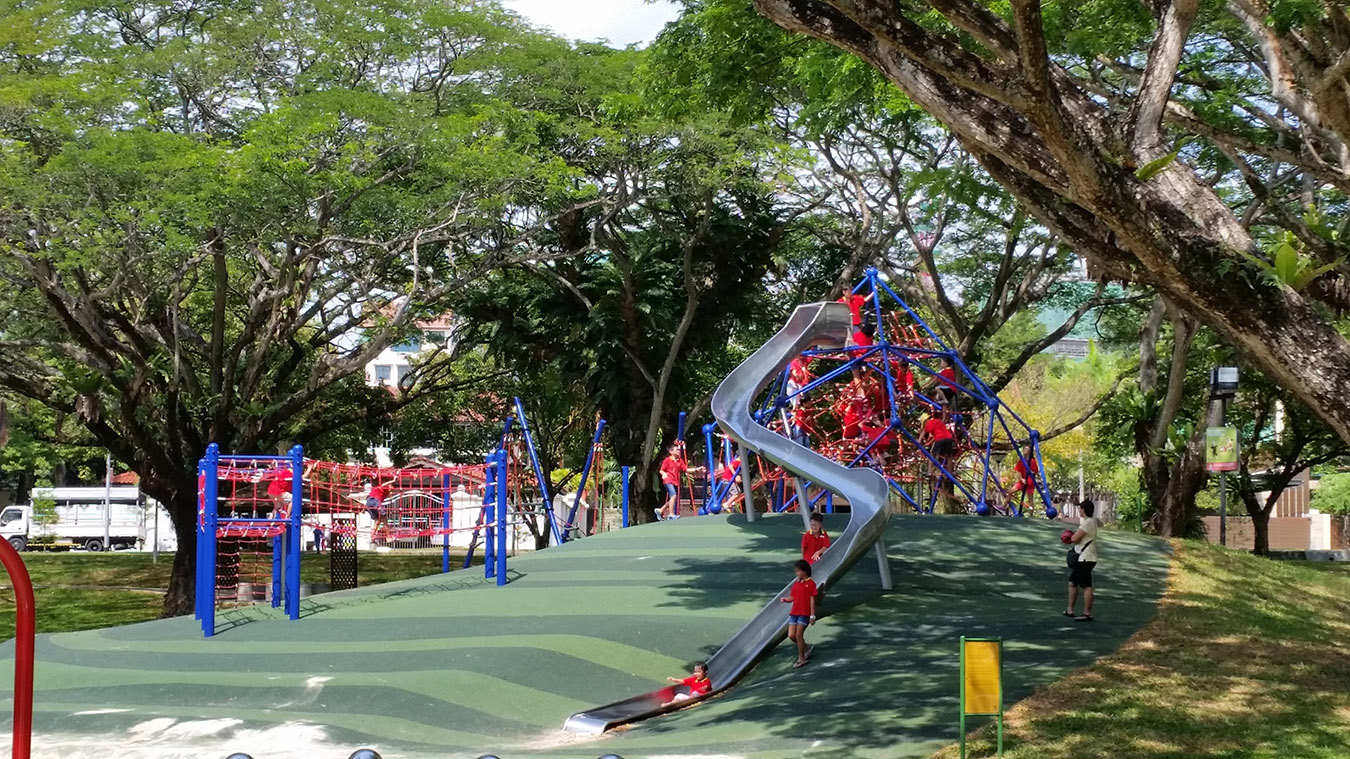 Looking for space? At about 9,000 m2, Pasir Ris Park playground is one of the biggest in Singapore and is sure to satisfy the most energetic child around!
The sprawling play-area hugs the beach that overlooks Pulau Ubin and are well-shaded by many majestic trees. Among its many fun features is a 'flying-fox' zipline where children can 'fly' across the playground. The more sure-footed children can perfect their balance on a wobbly suspension bridge and scamper up gentle slopes that encourage rock climbing with strategically-placed hand- and foot-holds.
And for kids who want to 'fly' like Superman, the safest alternative is to 'conquer' a rope-climbing structure that rises like a pyramid above the playground. They can then come down safely via a 16 metre-long slide. This is a great opportunity for children to build up their confidence while having fun. And while you are there, do not forget to visit the mangrove boardwalk located just a few minutes' walk away; a bird-watching tower awaits for more hours of nature-related fun!
West Coast Park
The playground is not just concentrated in one area; several play-facilities are spread out across the tranquil park. For the younger ones, they can explore equipment designed as a Viking ship and a fire engine, as well as enjoy the swings. As for the older more active ones, they can try climbing the rope-pyramid before descending on two long slides. If that is not challenging enough for them, why not get them to try the 'flying-fox' zipline? With facilities catering to all age groups, this playground has something for everyone!
Tiong Bahru Park



The Tiong Bahru Park playground is popularly known as the 'train playground' because the main structure is in the shape of, obviously, a steam train! Children who love train sets can pretend to be a train captain for the day as they 'board' the main cabin and 'drive' the locomotive.
Children who prefer to be passengers can climb into one of the three carriages, but take care because these are positioned 'off-centred', as if they are about to derail! Inside these carriages, kids can explore a rope-bridge and exit through slides that are disguised as train-doors. If they are not already tired out, there are still swings and a merry-go-round to try out.
Bishan-Ang Mo Kio Park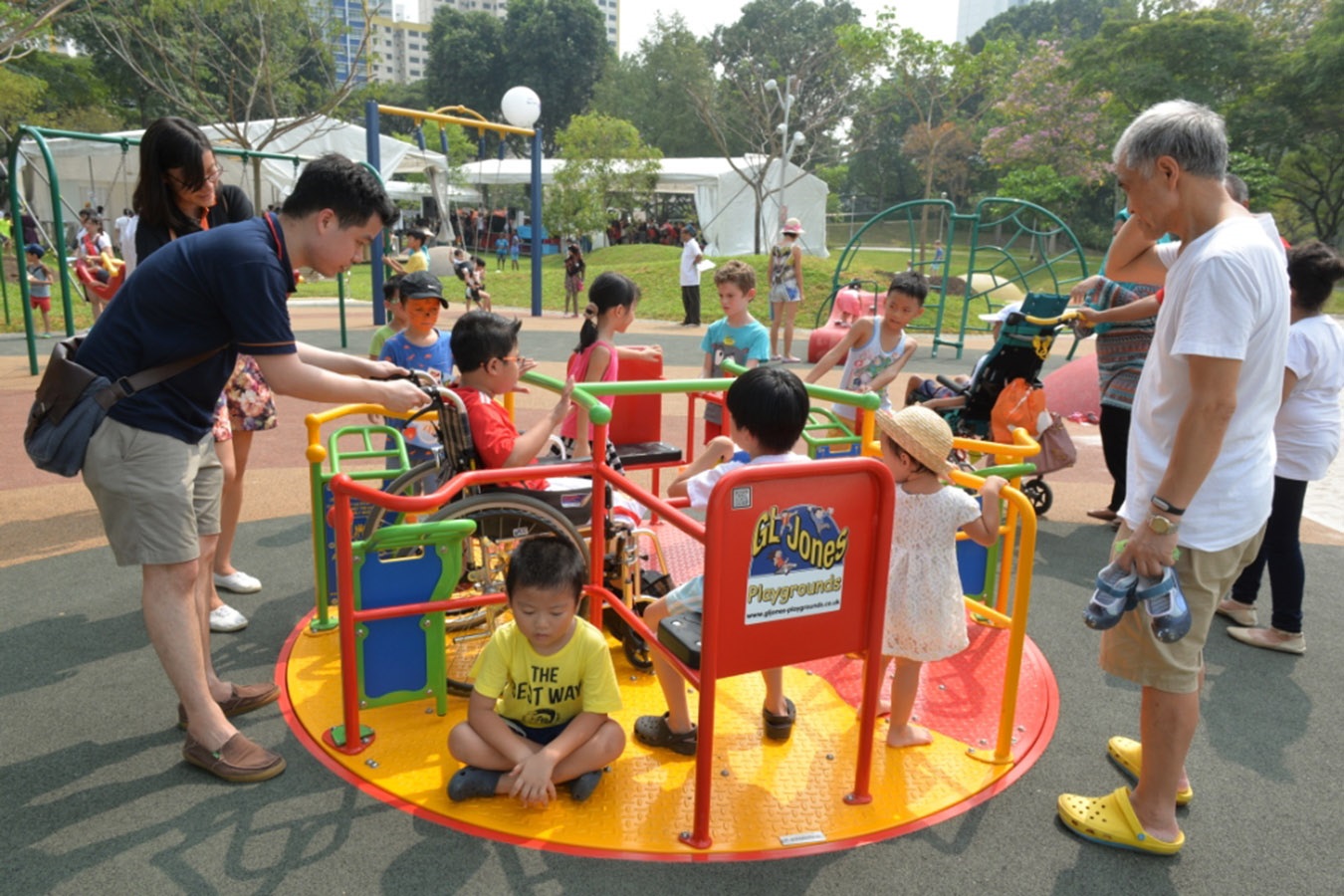 For the first time in Singapore, wheelchair users can now mount a swing to experience the joy and feeling of 'flying' at the Bishan-Ang Mo Kio Park inclusive playground. There is also an inclusive merry-go-round that allows wheelchair users to enjoy the thrills of spinning with their peers. Other inclusive play features include an accessible sand table and a slide that provides additional tactile stimulations using rollers.
This is the first of five inclusive playgrounds to be built around Singapore, to help increase the general public awareness, acceptance, and understanding of persons with special needs and inculcate the value of social inclusion from a young age.
Find out more about the inclusive playground at Bishan-Ang Mo Kio Park here.
Text by Danny Tan