Let's Go 'Wild' at Kranji Marshes
Along the north-western shore of Kranji Reservoir, to the south of Sungei Buloh Wetland Reserve, lies Kranji Marshes, a unique freshwater marshland in Singapore. It spans 56.8 hectares, which is around the size of 60 football fields! Its range of natural habitats, namely freshwater marsh, woodland and grassland, hosts a large variety of flora and fauna, including more than 170 species of birds, 54 species of butterflies, and 33 species of dragonflies.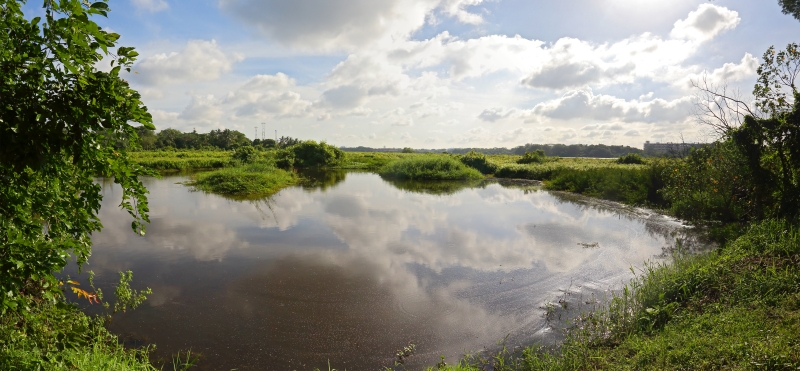 Kranji Marshes is a unique spot in Singapore, where marsh, woodland and grass habitats meet.
Important Role in Conservation
The Urban Redevelopment Authority (URA) and NParks worked together on this project and Kranji Marshes plays an important role in biodiversity conservation, especially marsh birds. The Marshes was enhanced sensitively to meet the needs of its wild residents. For instance, aquatic plants were maintained and native plant species were added to provide food, protective cover and nesting material, while nest boxes were installed for hole-nesting birds.


Get up close with nature by peeking at wildlife from one of the many blinds and hides in the Marshes.
URA and NParks' efforts have paid off, as more resident and migratory bird species, including nationally threatened species such as the Purple Swamphen, have been spotted in the area.
Get Closer to Nature
Climb the Raptor Tower for a 360-degree view of the surrounding area. If you want to get up close with nature, duck into one of the two blinds or six hides to peek at birds such as the Intermediate Egret.

Be patient and you may spot the Intermediate Egret looking for food.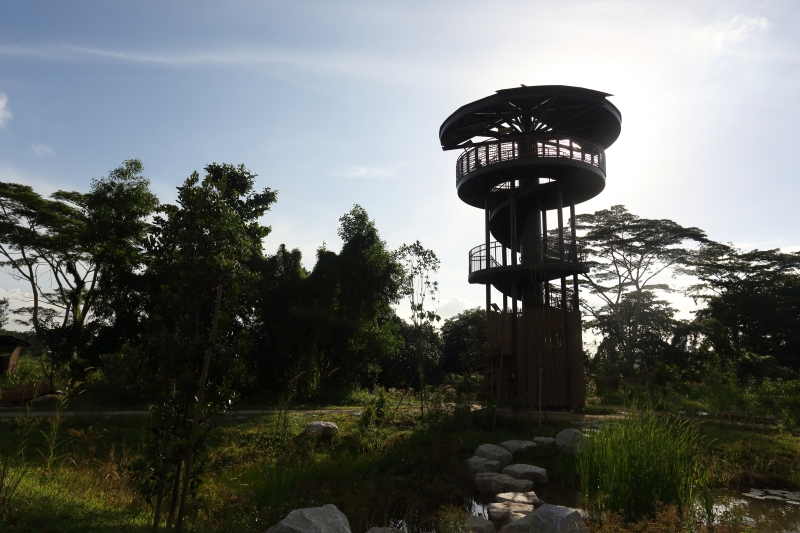 Get a bird's eye view of the Marshes from the Raptor Tower.
Depending on the season, you may also see visiting bird species such as the Black-browed Reed Warbler. And as you wander in Kranji Marshes, learn all about its denizens through the informational interpretive signs placed at strategic points in the nature area.
All facilities and amenities in the nature area were designed to blend in with the environment. Most structures were pre-fabricated off-site and carefully assembled on-site to minimise impact in the area. Moreover, they are intentionally located away from the core conservation area to minimise disturbance to the wildlife.
Want to check Kranji Marshes out for yourself? Watch this short clip for details on how to get there:
Nature Spotting
As Kranji Marshes comprises a good mix of habitats, do keep your eyes peeled for these species and more!

Red-wattled Lapwing (Vanellus indicus)

This bird employs the art of distraction to protect its nest and young. When a predator is spotted, the parent bird moves close to it before retreating into the vegetation, thus diverting the
Malayan Water Monitor (Varanus salvator)predator's attention and keeping its nest and nestlings safe.
A good swimmer and diver that tends to stay close to water bodies, this lizard can also climb trees.
Lesser Whistling Duck (Dendrocygna javanica)

The Lesser Whistling Duck is named after the whistling sound it makes while in flight.