Marine Cove Rediscovered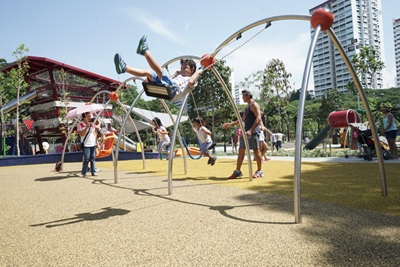 Marine Cove is back, with a large open-air playground for kids to enjoy.
Located nearly smack in the middle of East Coast Park, Marine Cove has always been a hotspot for those planning to laze by the beach or cycle in the park. Today, you can enjoy vistas of the sea in between sips and bites at a modern glass-and-steel structure, with the happy sounds of children from the open-air playground ringing in the air.
Previously known as East Coast Recreation Centre in the 1980s, Marine Cove only got its current name in 2002. Then, the building complex housed a bowling alley, an arcade and eateries with the replica facades of the historic Lido and Odeon cinemas, among other things. There was also a 24-hour McDonald's outlet, one of the largest in Singapore. It was hugely popular among park-goers, who would stop by to recharge after cycling and skating – it was the first McDonald's in the world to have a skate-through facility.
When Marine Cove was closed in 2012 for redevelopment, many wondered how this iconic place would change. And changed it has, for the better! Reopened end June 2016, Marine Cove now boasts a fresh contemporary look, and enhanced facilities that promise greater fun and convenience for one and all.
Indulge in Simple Pleasures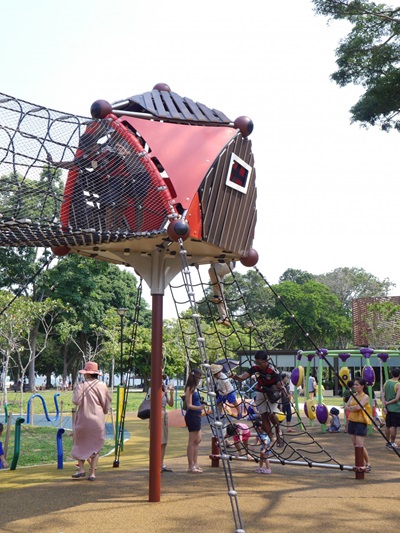 Adventurous five to 12-year-olds will love the play equipment that include a rope bridge, climbing net courses and a rock-climbing wall.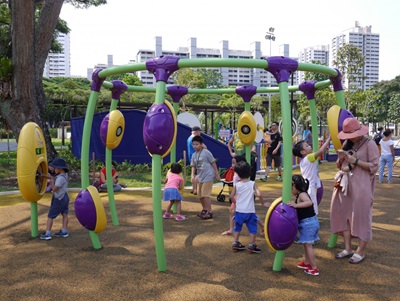 This interactive play equipment for children engages their senses and encourages healthy competition.
Apart from the simple joys of flying kites, making sandcastles, cycling and skating in East Coast Park, children will be thrilled with the huge playground at Marine Cove.
Spread across 3,500 sqm, it is packed with play equipment suitable for different ages, including swings, an 8 m lighthouse-like tower with slides and a rope bridge, as well as a colourful rock-climbing wall. When tummies rumble, parents and little ones alike can fuel up on the diverse range of family-friendly fare here — tangy Peranakan dishes, traditional kopi and kaya toast, and scrumptious Indian-Muslim food, just to name a few.
Find out more about Marine Cove's F&B establishments here.
Macs Is Back
McDonald's returns, bigger and better than before! It has a spacious dessert booth area for cyclists and rollerbladers to make a quick stop for refreshments, and even offers new food items and high-tech touches.
Cyclists and rollerbladers can once again zip into McDonald's to get a cool treat. At this outlet, customers can pick from the salad bar (the first McDonald's in Singapore to offer this) and a selection of unique gourmet burgers, place their orders using touchscreen menus, and charge their phones at the tables as they eat.
Visit with Ease
Visitors driving to Marine Cove will have no problem finding parking spaces here, as the number of lots in the two carparks has been upped from about 300 to its current 430-odd.
Going around Marine Cove is also much easier, as its well-connected network of footpaths leads you readily to the F&B outlets, the playground, and the rest of East Coast Park. These footpaths are wheelchair-friendly and accessible for parents with baby strollers. After a day of fun under the sun, cleaning up is a breeze too, with the new stand-alone public toilet facility that has toilets, sinks and shower amenities for young children.
Explore Nearby Novelties

Become an expert operator of mini excavators at Diggersite in Raintree Cove.
Beyond Marine Cove, you can discover even more fun activities to do! In neighbouring Raintree Cove, it's not just the children who will be delighted to operate small-scale construction machinery at Diggersite, which opened in February 2016. Teens and adults can have a blast, too, working mini excavators and log loaders to dig holes and pick up items. Just a stone's throw away, Parkland Green has a laser tag arena for engaging in virtual gunfights.
It's also a nice, quiet chill-out spot to grab a few cool drinks and dine on hearty international dishes, away from Marine Cove's hustle and bustle.
Read more about what to do at Parkland Green in our article, Five great ways to spend your weekend at Parkland Green in East Coast Park!
Getting to Marine Cove
Marine Cove is located at East Coast Park Area C. Drive: Access Marine Cove via East Coast Park Service Road, and park at carpark C2 or C3.
Walk: Walk 5 minutes through the underpass linking Marine Terrace to carpark C3.
Bus: Take SBS bus service 401, which only operates on weekends and public holidays, from Bedok bus interchange.

Text by Victoria Cheong

Photos by Victoria Cheong and Chong Woon Ray