Supersized Civic District Tree Trail
The Civic District Tree Trail is known for grand government buildings and museums, beautiful greenery, as well as the places and landmarks of historical importance that can be found along this 3-km long walk. Indeed, this Tree Trail is a really pleasant way to learn about the majestic trees carefully cultivated within the Civic District, and a great means to relive memories of Singapore's history. It also allows you to reflect on how far we've come as a nation.
Download the Do-It-Yourself (DIY) guide and take a journey into the heart of Singapore's historical core. But look past the obvious stops and you will discover even more interesting features, beyond what's found in the guide. Here are five perfect features for side-trip explorations and Insta-worthy photo-taking!
Going up, up, up!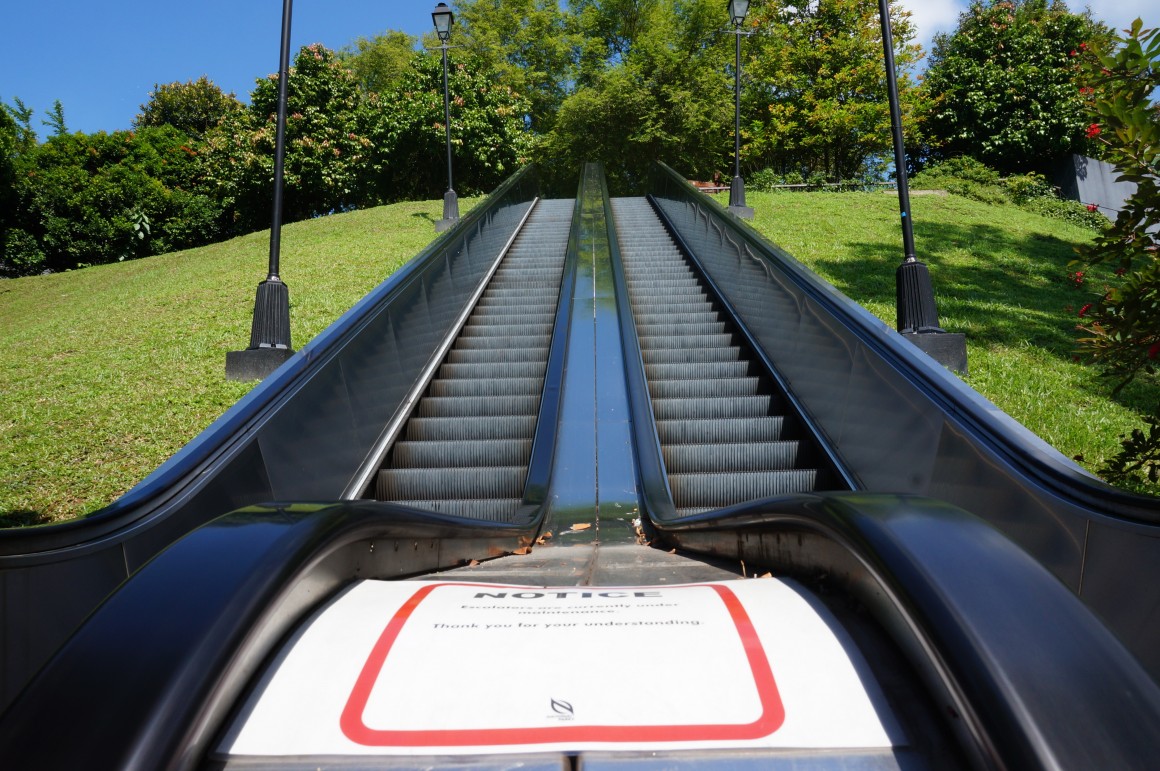 Photo Credit: Chen Yuan Yi Carissa
Where does this set of escalators lead to?
Halfway through the Tree Trail walk, you can take a small detour and head behind the National Museum of Singapore where you will find a set of outdoor escalators that lead up. Where exactly? To the historical Fort Canning Park, of course! Send a few hours exploring the historical Fort Canning Park, located behind the National Museum of Singapore. To really explore Fort Canning Park, a key site for the British during Singapore's colonial days, can take several hours.
Key sights here include a nine-pound cannon that dates back to the 19th century, along with an underground bunker beneath Fort Canning Hill, in which the fateful decision to surrender Singapore to the Japanese in 1942 was made. Of particular significance is the Spice Garden. In 1822, Sir Stamford Raffles set up our first experimental and botanical garden on Government Hill, also known as present-day Fort Canning Park. Raffles was a keen naturalist and had great ambitions to develop agriculture in Singapore. The Spice Garden started out with various plants of economic value, due to the fervour for spices at the time, along with 450 clove trees, 125 nutmeg trees and 1,000 nutmeg seeds.
Want to spend more time exploring Fort Canning Park? Check out these DIY guides: Fort Canning Park - Colonial History Trail Fort Canning Park - Ancient History Trail Fort Canning Park - Spice Garden Fort Canning Park - Trees of the Fort Trail Fort Canning Park - Sculpture Trail

Look where you're going
As you make your way down Stamford Road towards Queen Street, you will walk past a bus stop outside the Singapore Management University's School of Accountancy and School of Law. Look down before rounding the bend, and you cannot help but notice curious brass circles embedded in the sidewalk, each containing the logo for SG50, part of the nationwide effort to celebrate Singapore's 50th birthday in 2015.
NParks certainly didn't miss out on the fun; a yearlong series of events was launched to celebrate Singapore's identity as the City in a Garden. This included a SG50 Mass Tree Planting activity, where 5,000 trees were planted over the span of a month in 50 locations island-wide; a SG50 Community in Bloom Gardens, which was co-created with 50 community gardening groups and can now be found at HortPark; and the free Concert Series in the Park, an event that takes place in various parks and gardens.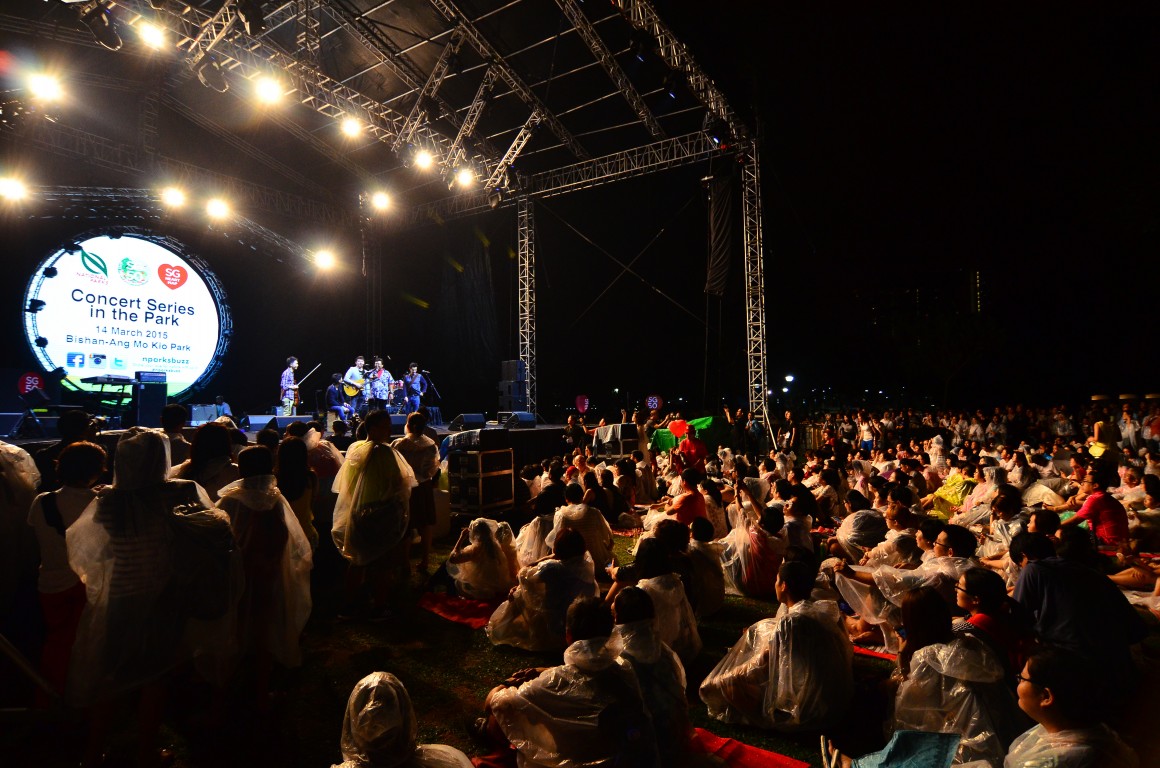 The free yearlong Concert Series in the Park attracted large crowds celebrating Singapore's 50th birthday in 2015.
Want to attend a concert in a park? Look for upcoming concert here!
A Gothic romance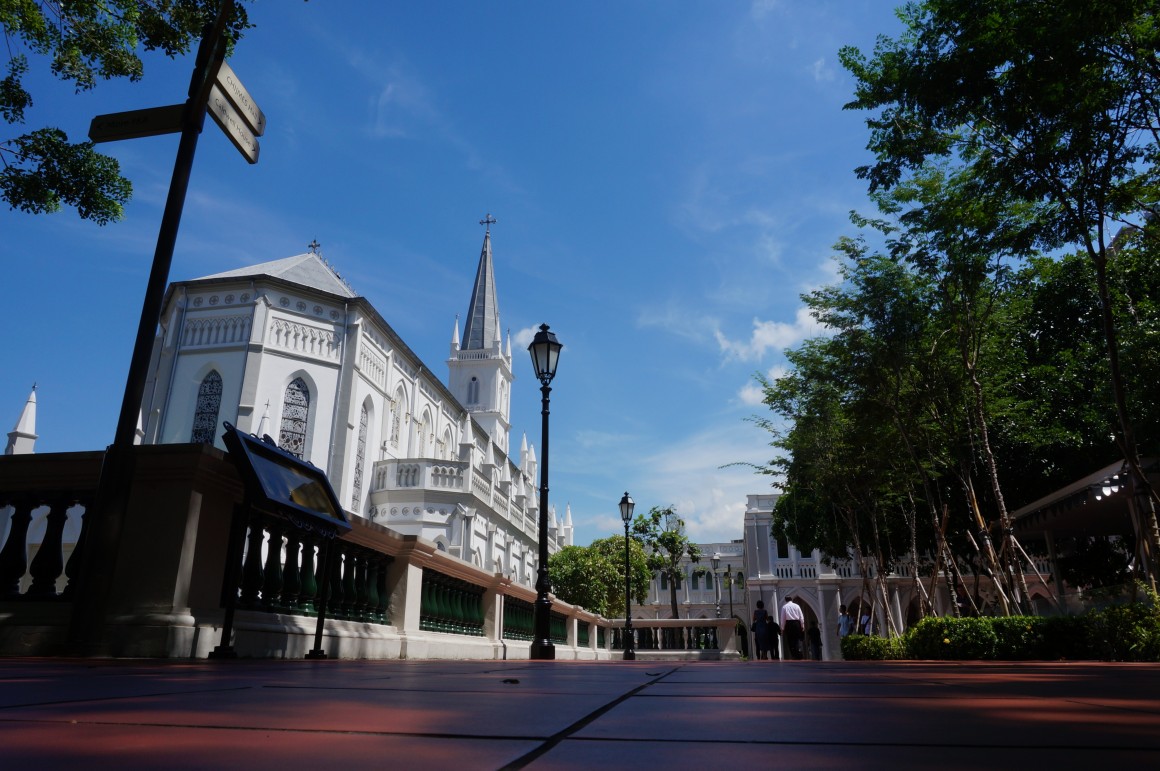 Photo credit: Chen Yuanyi Carissa
Stop and admire the Gothic architecture of CHIJMES. CHIJMES is a good place to take a short breather from all the walking.It has many dining options, beautifully-landscaped gardens and eye-popping architecture! The CHIJMES Hall will definitely be one building to catch your eye in the inner courtyard: this Gothic-styled 19th century chapel had been gazetted as a national monument in 1990, and has now been converted into a multi-purpose hall for all to explore.
While you are there, you will notice a lovely grove of Tamalan Trees that is part of the Tree Trail. A graceful tree that can grow to about 20 m in height, you will find nothing but cool shade under its spreading crown of delicate, feathery-looking foliage. Take a breather underneath a shady tree in the inner courtyard of CHIJMES.
Say cheese!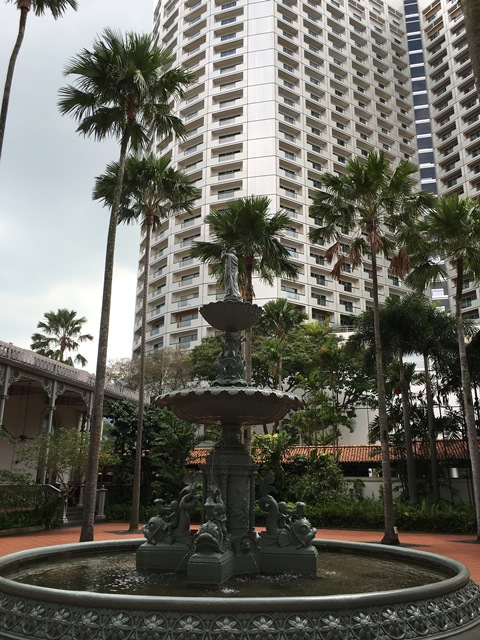 The 73-story Swissôtel The Stamford is so high, it can't fit within this photo!
Before you cross the road from the street corner near Raffles Hotel – where the iconic Traveller's Palm and attractive Chinese Fan Palms of the Tree Trail can be found – there is still much to admire, including the dazzlingly tall Swissôtel The Stamford.
Formerly named the Westin Stamford, it was the world's tallest hotel building at the time of completion in 1986; today it remains the tallest hotel in Singapore. Swissôtel The Stamford also has the country's highest floor count to boot, clocking in at 73 floors in total!
Gazing up at the way the palms and buildings reach for the clear blue skies together really draws attention to the perfect balance between Singapore's natural environment and its modern structures – definitely worth taking a couple of cool shots here for Instagram!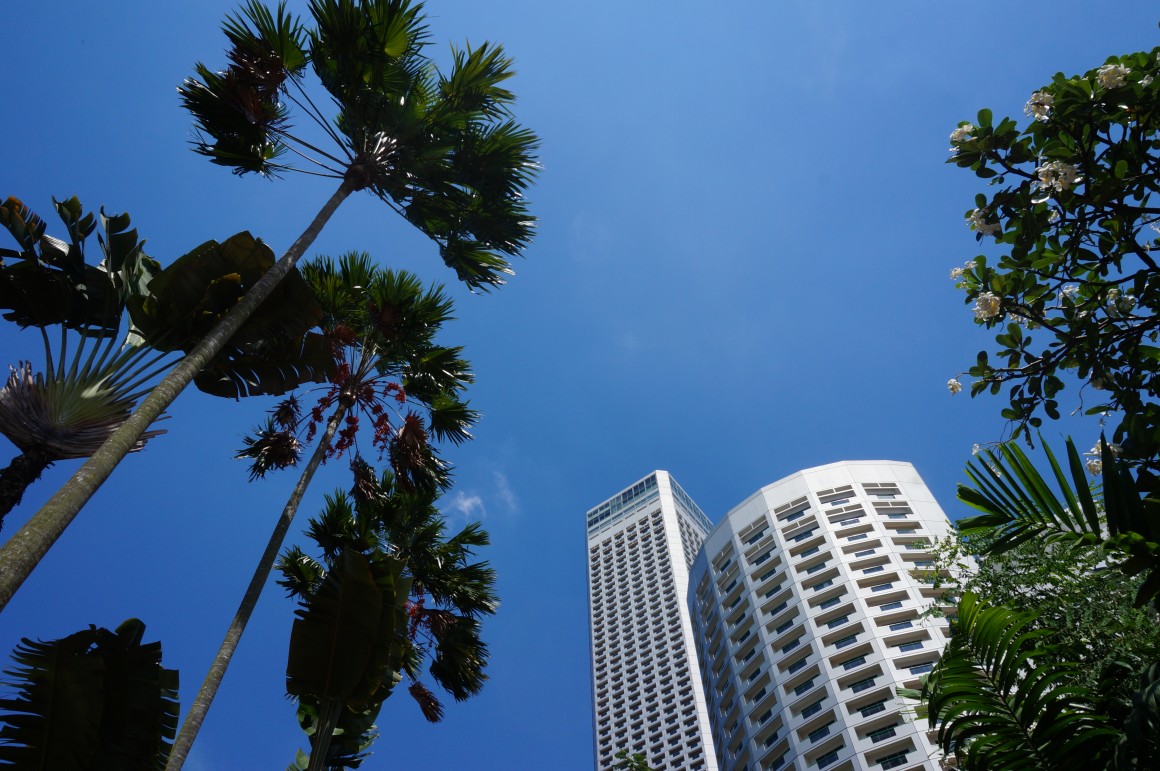 Photo credit: Chen Yuanyi Carissa
Such perfect blue skies create an Insta-perfect shot!
The heart of historic Singapore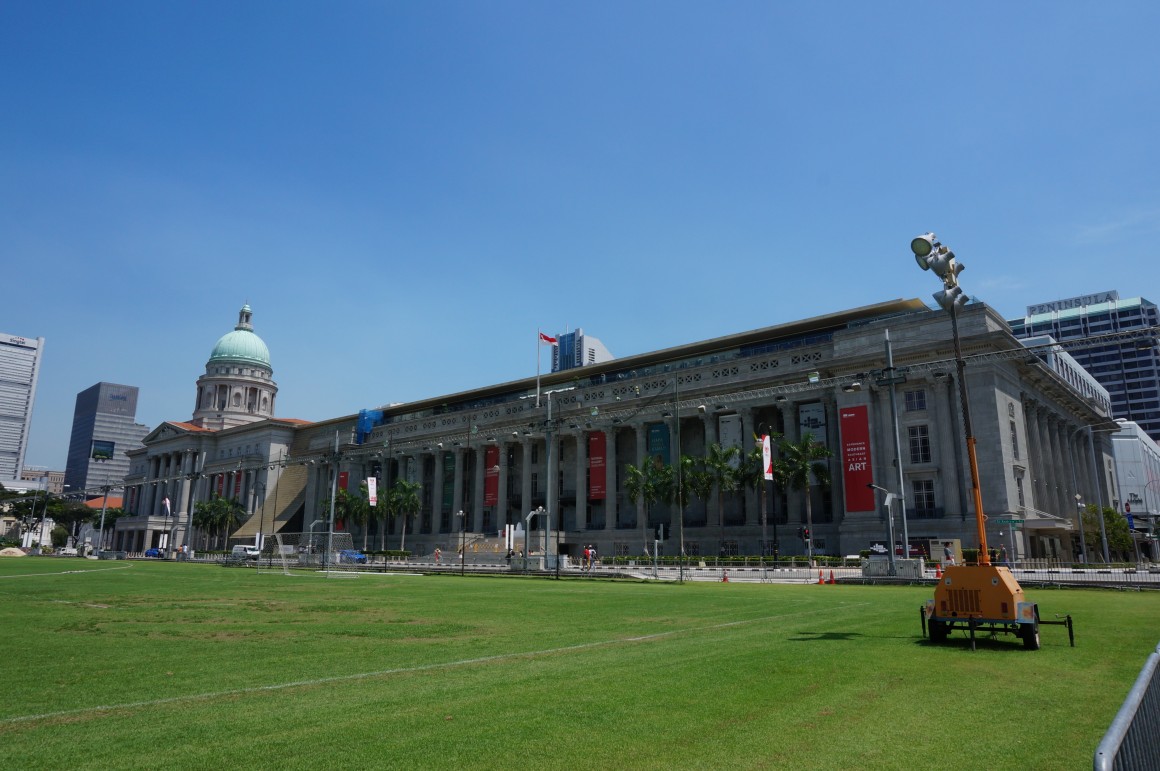 Photo credit: Chen Yuanyi Carissa
The Padang in front of the National Gallery Singapore, was the site of our very first National Day Parade in 1966.
Right in front of the National Gallery Singapore is a very famous open playing field called the Padang. The very first National Day Parade was held here in 1966, and ever since 1995 it was decided that the Padang would be used as the venue for this annual event once every five years. If you are exploring the Tree Trail on a weekend, you may catch a glimpse of soccer, cricket or rugby matches as you pass by.
On the opposite side of the National Gallery Singapore is Connaught Drive, which is lined with a total of 22 heritage Rain Trees – the largest number of trees recognised under the NParks Heritage Tree Scheme, in a single avenue!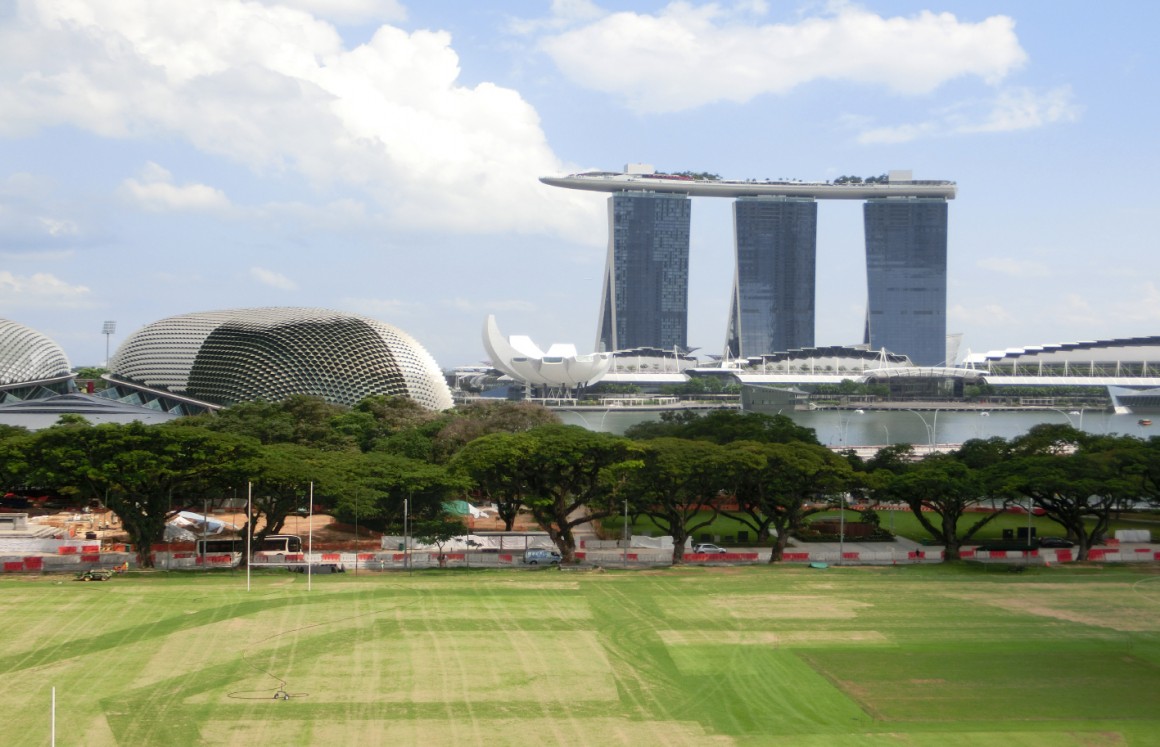 The avenue of majestic Rain Trees along Connaught Drive is a lovely sight.
In 1887, several rain tree saplings were planted along the New Esplanade Road; it was later renamed Connaught Drive in 1907 to commemorate the visit of Prince Arthur, Duke of Connaught. As the years went by, the umbrella-shaped crowns of the rain trees created a 'green tunnel' effect that enhanced the cityscape beautifully. Take a walk along this tree tunnel to see for yourself – it truly is a lovely sight to behold.
You can also explore the neighbouring Empress Place, Esplanade Park and the War Memorial Park using this guide.
Sign up for free guided tours of the Civic District Tree Trail!
More details can be found on the NParks website.
Before you set out, please remember these tips for a safe and comfortable journey:
Be comfortably dressed and put on suitable footwear

Wear a hat, put on sunglasses and apply sunscreen to shield yourself from the sun

Drink ample fluids throughout the walk to stay hydrated

Take care when crossing roads and watch out for oncoming traffic


Text by Chen Yuanyi Carissa