Celebrating Singapore's Native Orchids
The Vanda Miss Joaquim (Papilionanthe Miss Joaquim) is probably the orchid that most of us recognise; this hybrid orchid was selected as Singapore's national flower in 1981.
But perhaps less known, but no less significant, is the fact that Singapore used to be home to more than 220 species of native orchids. Over time, the natural habitats of many of these species of orchids have been replaced by buildings, roads and other infrastructure. For the past two decades, the Singapore Botanic Gardens has been propagating 'lost' species, and reintroducing them to the local landscape.
Today, it is estimated that about 60 native species can still be found growing in Singapore, mainly in the primary and secondary forests of the Central Catchment Nature Reserve. Learn more about eight of these native beauties, and see if you can identify them the next time you are out exploring our green spaces.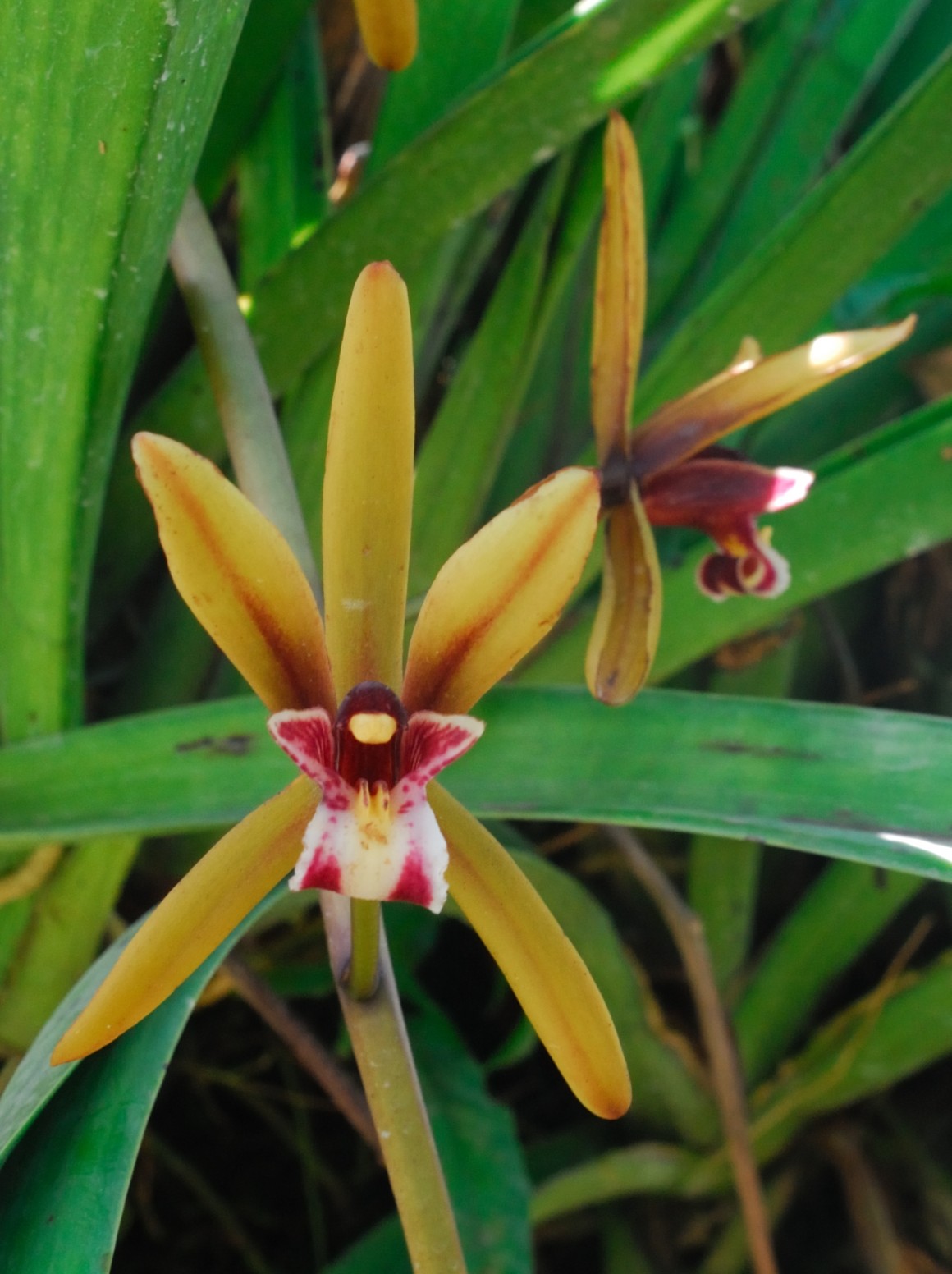 Cymbidium finlaysonianum
This epiphytic plant is highly adaptive and can thrive even in a low-nutrient environment. It obtains nutrients from decaying leaf litter shed by its host tree, and produces delicate flowers that are of an unusual olive colour, complemented by an intense purple lip with a yellow tinge.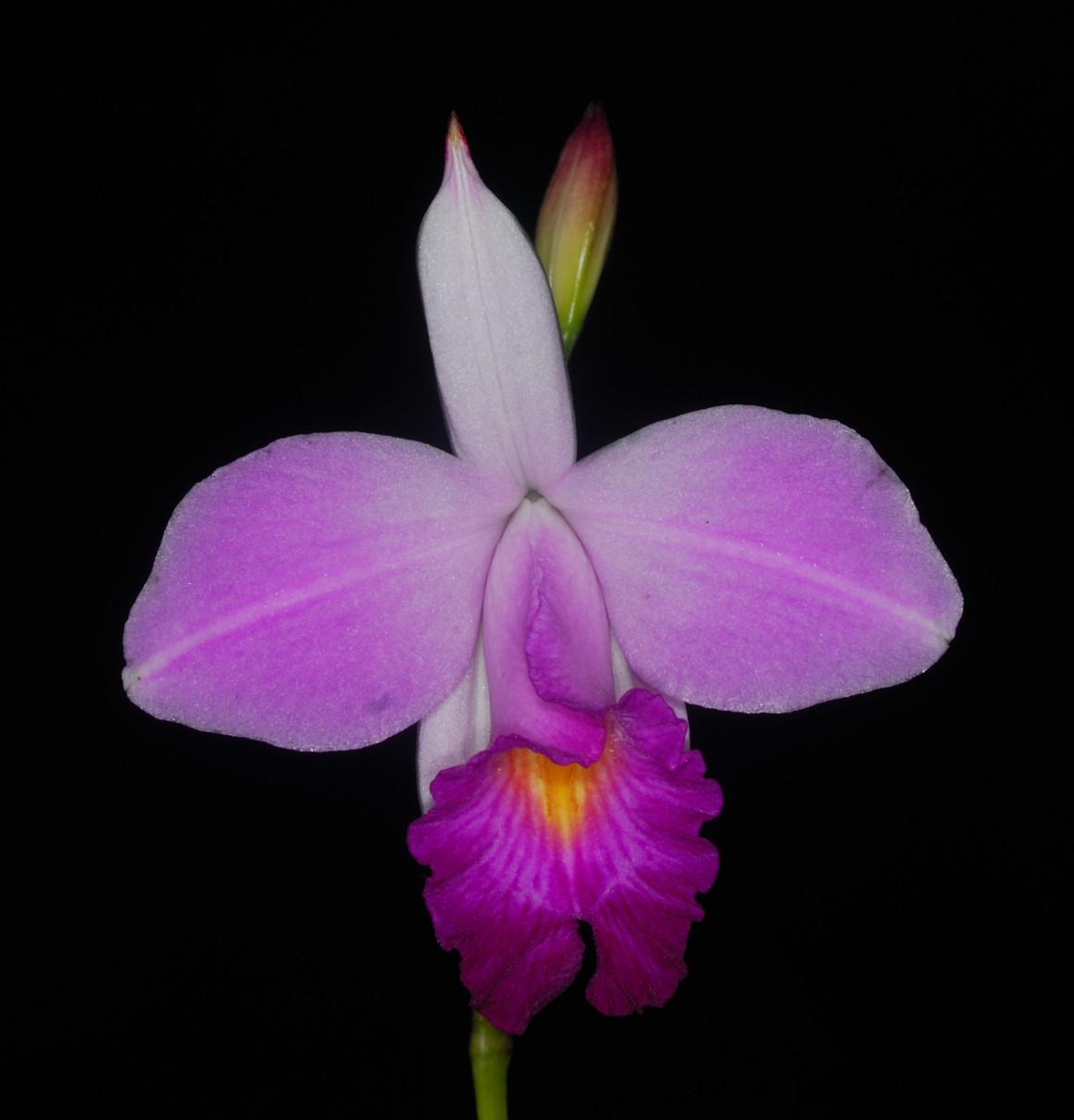 Bamboo Orchid (Arundina graminifolia)
With stems that can grow to more than 1.5 m, it is no wonder that people refer to this as the Bamboo Orchid. Found in open grasslands, it produces flowers that are a striking mix of white and lavender or a deep violet-pink combination, with a hint of yellow in the throat.


Bulbophyllum flabellum-veneris
This orchid is characterised by its fan-shaped flower cluster, also known as an umbel, which is formed by about 10 flowers. Measuring about 2.5 cm long and nearly 1 cm across, each flower is yellow with flushed red and purple highlights at the base of its petals.
Pigeon Orchid (Dendrobium crumenatum)
Bearing a strong resemblance to a flying pigeon, this orchid grows freely in lowland forests and woodlands. Approximately nine days after heavy rainstorms, it gives bloom to sweet scented white flowers, each measuring about 4 to 5 cm across.
Phalaenopsis cornu-cervi
This striking orchid is characterised by its beautiful star-shaped flowers. Yellow with specks of deep maroon, the flowers measure about 3 to 4 cm in diameter and can last a prolonged period of time. The flowers are usually found growing on trees in exposed lowland areas.
Coelogyne rochussenii
Look for the blooms in the morning – this orchid has pale yellowish-green flowers with sidelobes of its white lip containing brown pigments. They are lemon-scented, measuring about 5 cm in diameter. Each flower spray grows to about 70 cm in length with more than 30 flowers.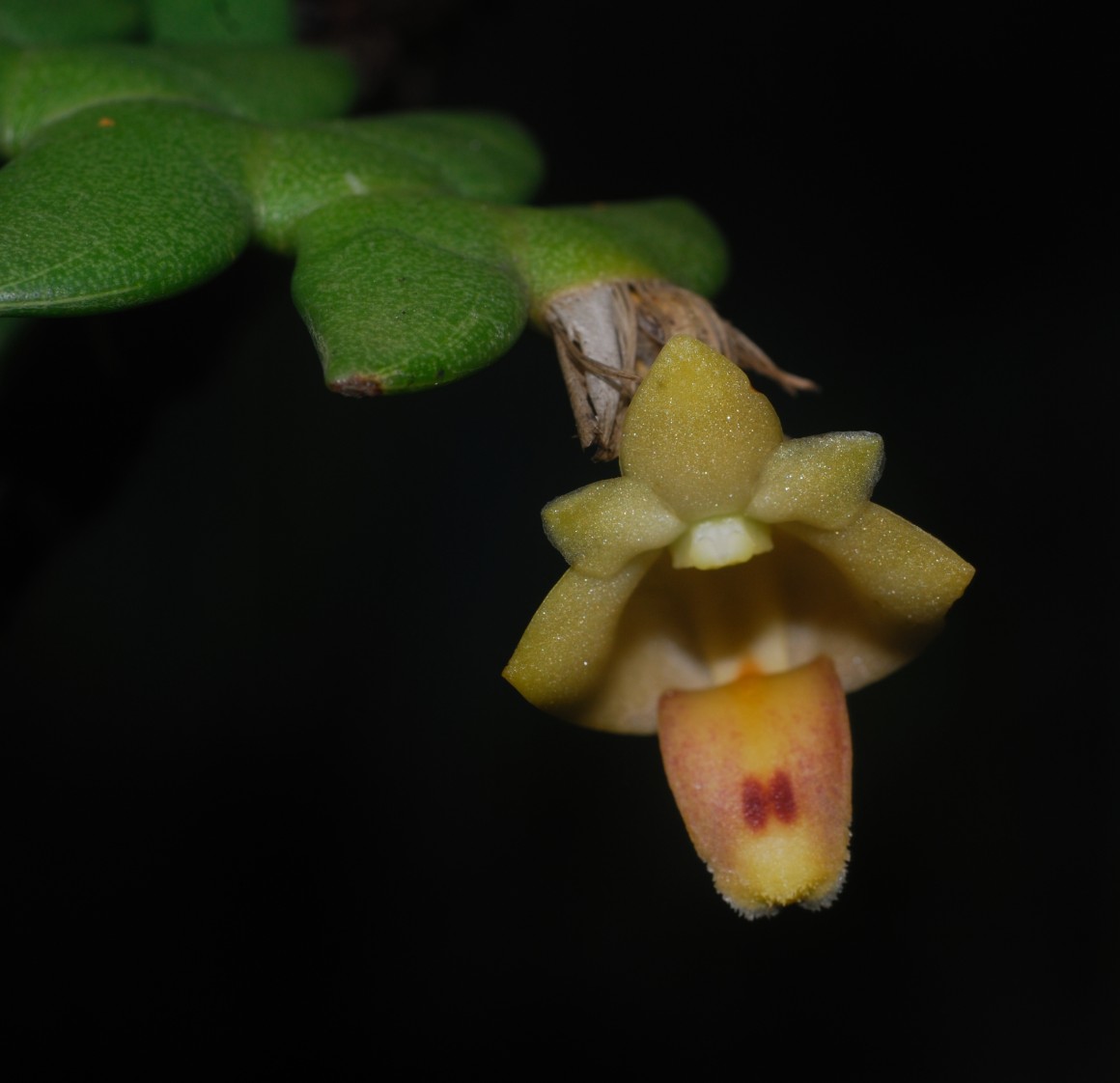 The Lion-like Dendrobium (Dendrobium leonis)
This orchid has creamy yellow petals with a hint of red and a protruding broad lip. The flowers smell like vanilla and measure about 1.5 cm in diameter. Each orchid bears many sprays of stems with thick, flattened, triangular leaves arranged in alternating rows.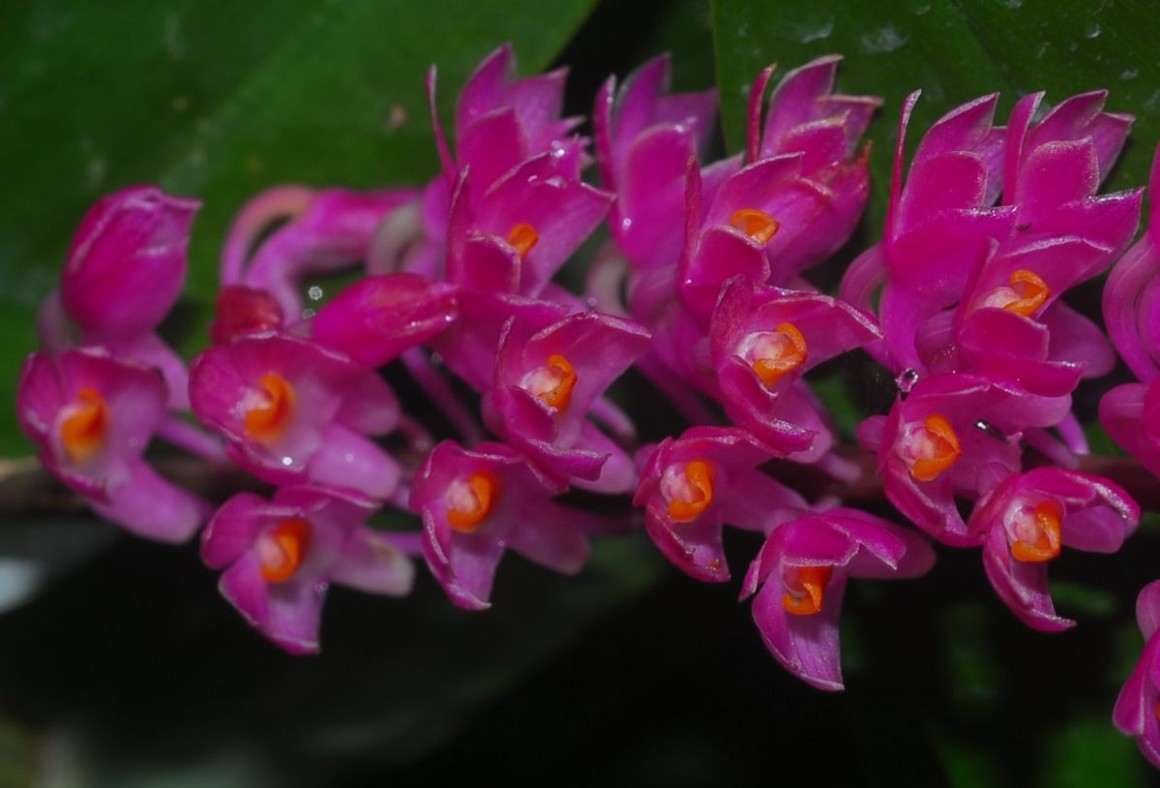 Toothbrush Orchid (Dendrobium secundum)
Densely packed with purplish-pink flowers with a contrasting orange lip, this orchid is also known as the Toothbrush Orchid. Its individual flowers are uni-directional, arranged in neat rows, not unlike a toothbrush. Each individual flower measures 1.8 cm long and 0.6 cm wide.
Keep an Orchid in your Pocket
The beautiful colours of the Cymbidium finlaysonianum are captured on the Silver Proof coin (left), one in a set of 10 native orchids coins issued by the Monetary Authority of Singapore (right). To celebrate the beauty of these flowers, the Monetary Authority of Singapore (MAS) launched The Splendour of Native Orchids Series coin set in May 2016.
The set comprises 10 Silver Proof coins, each with an orchid featured in full colour and set against a sandblasted background to accentuate its brilliance. The name of each orchid is minted on the shiny circumference of the coin and the obverse of the coins bears the Singapore Coat of Arms with the year, 2016.
Click here to find out how you can purchase these coins. Native Orchids of Singapore outlines the work done by the Singapore Botanic Gardens to conserve our native orchids. This book is available at The Garden Shop at the Singapore Botanic Gardens or online for S$8.50 (inclusive of GST).
Finally, come visit the National Orchid Garden to admire the beauty of orchids firsthand, and learn how they function as goodwill ambassadors of Singapore to the rest of the world.
Click here for information on the National Orchid Garden.
Text by Felix Siew
Photos by Dr Yam Tim Wing and courtesy of the Singapore Mint