Head East for Great Eats
Foodies, Marine Cove at East Coast Park is now open – bigger and better than before. After extensive renovations, Marine Cove, with its spectacular vista of the sea, is ready to reclaim its reputation as one of Singapore's premiere family-friendly locations.
Aside from a large playground with unique features to entertain children, eateries of different cuisines and styles have also opened to suit different taste buds. So ask for a table and a napkin and see what some of these dining establishments have to offer for the whole family.
Babalicious
The food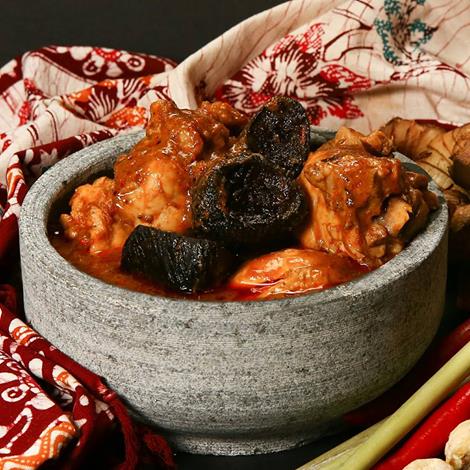 Enjoy authentic Peranakan cuisine, like the Ayam Buah Keluak, at Babalicious.
Authentic Peranakan dishes matched with everyone's favourite Hainanese chicken rice, means happiness for every palate. The tender boneless chicken meat with fragrant rice is served by the Tong Fong Fatt Enterprise, and is both delicious and very satisfying. There are also dishes like Rendang and Ngoh Hiang to satisfy your hunger pangs.
The pride of the restaurant is its great delicacy, the Ayam Buah Keluak. It takes special skill to prepare this traditional Nonya dish of chicken braised in a thick, spicy tamarind gravy with the buah keluak nuts. Served with rice, you eat the chicken, gravy and get to use a spoon to scoop out a tangy mixture stuffed into the nuts. Your taste buds will agree that all the effort is worthwhile.
Suitable for
Large families and gatherings of friends will appreciate the 'lazy Susans' as they mean the next delicious bite is a mere spin away. A specially designed kid's corner will also keep the young ones busy while the adults can tuck into their meals. An area has been specially set aside for the young ones to play under the watchful eye of the adults who can enjoy their meals at the same time.
Hill Street Coffee Shop
The food


Enjoy local delights like the Steamed Kaya Butter Set or Hokkien Mee at Hill Street Coffee Shop.
Hill Street Coffee Shop's prized gem is the Steamed Kaya Butter Set. No hard crusts and dry bread, instead, bite into the sweet kaya and melted butter spread generously over the pillow-soft texture of the steamed bread.
Be sure to enjoy other signature local delights such as Kampong Rendang Chicken Nasi Lemak and Hokkien Mee as well. The rice was fluffy and flavourful, complementing the juicy fried chicken and crunchy vegetables. As for the Hokkien Mee, be sure to add a dash of sweet chilli for the extra kick!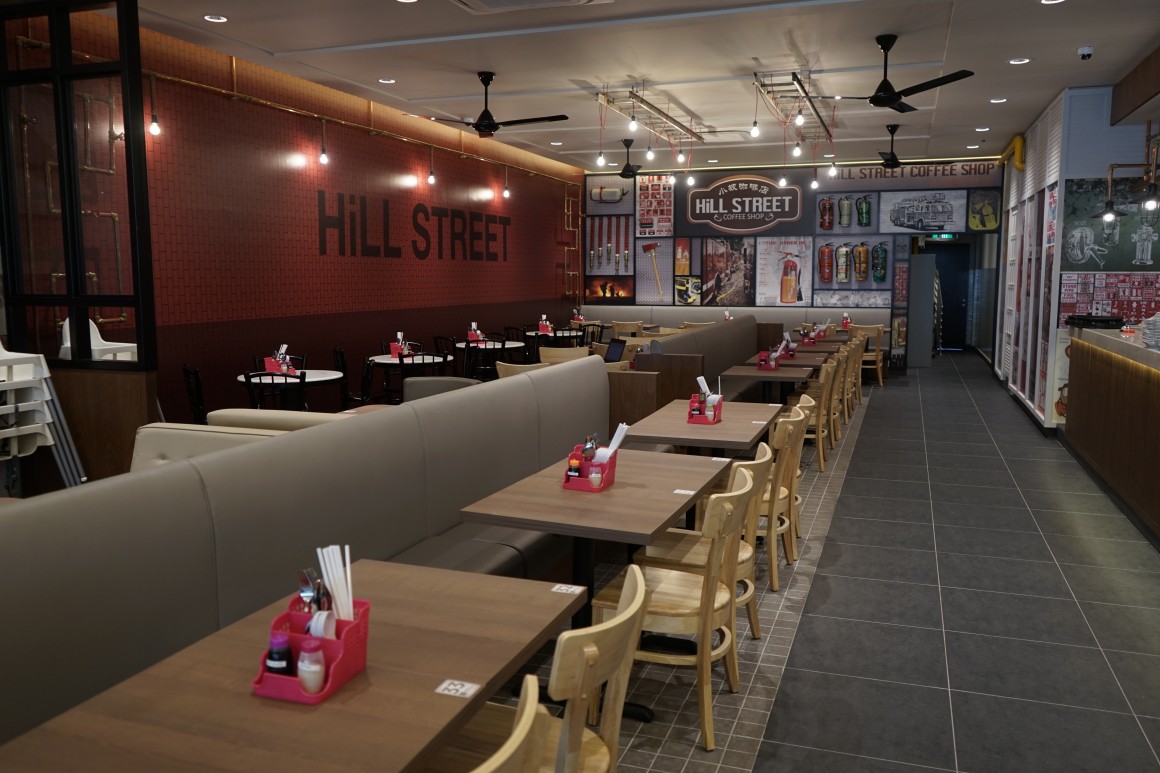 Spend a lazy afternoon enjoying great coffee in a modern café setting.
Looking for a dose of nostalgia with your meal? Diners will be brought back to the 1920s, surrounded by the aroma of freshly brewed coffee and the sounds of the hustle and bustle of days gone by. Chit-chat over a cup of 'kopi', reminisce about childhood days or plan for your next adventure.
The little ones are also well taken care of – a kids' menu with finger food is available. Children can also enjoy cool drinks and ice creams, perfect treats for warm afternoons!
Briyani House
The food


Spice up your life with tasty Indian-Muslim cuisine such as this curry fish-head with prata.
A Halal certified restaurant, you can find all your favourite Indian-Muslim food here – goreng, thosai, Nasi Briyani and curry fish-head! Also, be sure to make some space on the table for prata! I had mine served fish curry where the light sour tinge of asam in the curry complements the hot and crusty prata.
Enjoy your meal with teh tarik or kopi tarik, a satisfying thirst quencher whatever time of the day.
Suitable for
Families looking for a hearty meal to spice up their tummies will enjoy the wide spread Briyani House has to offer. The eatery has also set aside a dining area with low seats and a television for children. But the sloping tables of varying heights also mean parents can sit with their children for their meals.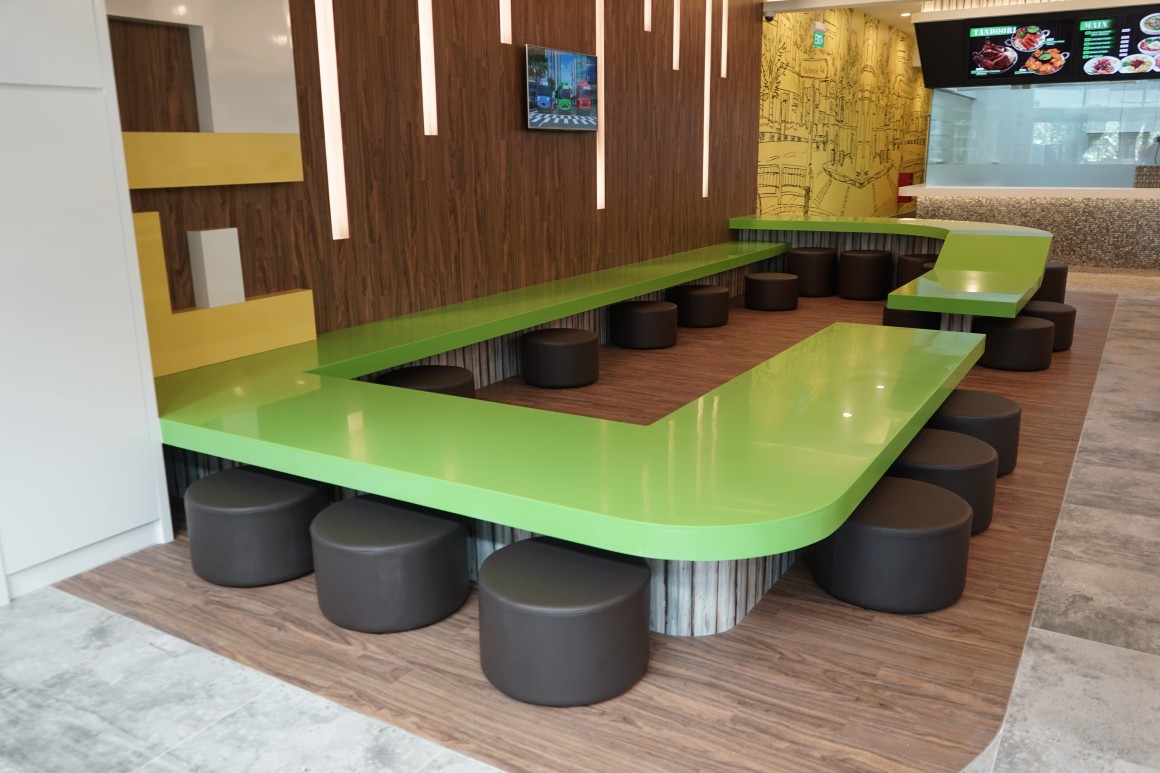 Dynamic seating allows for children and their parents to eat together at the kids' corner.
The Coffee Bean & Tea Leaf
The Food

Sleepyheads need not wake up early to enjoy the all-day breakfast and a hot cuppa served at the Coffee Bean & Tea Leaf.
Serving 'breakfast all day', you can also choose from a wide selection of western-styled dishes such as cakes, sandwiches, muffins and pastas for teatime or for a full meal. Be sure to save space for the pancakes! Soft and perfectly fluffy, they come topped with whipped cream and a generous portion of strawberries covered in blueberry sauce. And you must have a cup of freshly brewed coffee to complete your meal.
This outlet also has a special frozen yogurt section, welcoming you to chill out with friends after a fun day in the sun.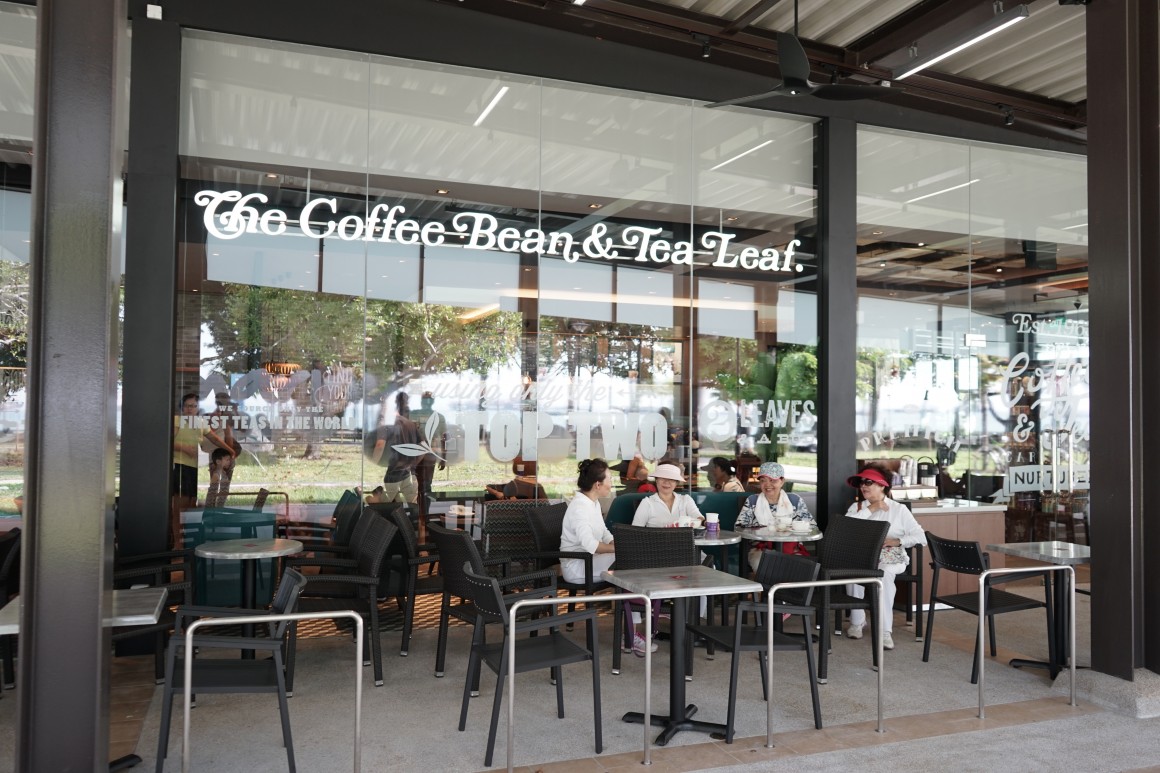 Choose to sit outdoors to see the world going by as you sip your cool ice-blended coffee drinks.
With its sleek interior and soft lighting indoors and a bright and breezy outdoor seating area, the Coffee Bean & Tea Leaf appeals to youths enjoying coffee culture. However, families are equally welcomed, particularly for adults looking for a refreshing iced cuppa after some time in the sun.
With a dedicated kid's corner and kids menu, this coffee joint is also suitable for the young.
Text by Chong Woon Ray
Photos by Chong Woon Ray, Victoria Cheong and courtesy of Babalicious and the Coffee Bean & Tea Leaf