Relaxing Greenery in the City
Workers in the Central Business District (CBD) tend to move at a hurried pace. Lunch hour feels shorter while meetings seem to drag longer. But respite is literally steps away. There are parks and pockets of precious green spaces that exist between the towering skyscrapers, and are perfect spots to unwind and distress. Explore these six spots to admire the greenery before heading back to the office feeling refreshed to take on those deadlines.
Ann Siang Hill Park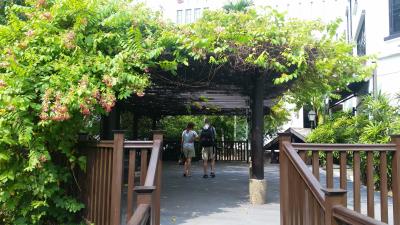 Ann Siang Hill Park is a hidden gem, often forgotten due to its small size and its location, sandwiched between shop houses in bustling Chinatown.
The Ann Siang Hill area is rich in history and culture – one of Singapore's earliest Cantonese Chinese burial grounds was once located at the foot of the hill and young members of Malayan royalty once attended a Malay school on the hill.
Today, Ann Siang Hill Park is surrounded by restored shophouses but the area remains a treasured green spot. See if you can identify the Tamarind (Tamarindus indica) – just look for its fruits that are long, brown, thick velvety pods scattered around it. The pods contain sweet-sour pulp known as tamarind or asam jawa that is used in local cuisine!
Make time to check out an old well in the park as well. In the 1800s, residents came here to collect fresh water in bullock-drawn carts.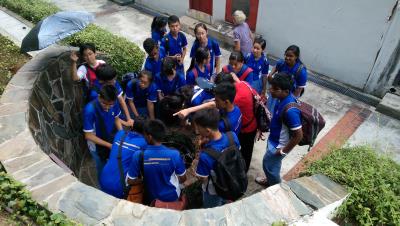 Did you know that this is an old well where residents used to collect fresh water from in the 1800s?
Photo credit: Lee Pei Li

After work you may want to go on the Pioneers Trail in Ann Siang Hill Park and Telok Ayer Green (https://www.nparks.gov.sg/~/media/nparks-real-content/gardens-parks-and-nature/diy-walk/diy-walk-pdf-files/pioneers-trail-ann-siang-hill-park-and-telok-ayer-green.pdf?la=en) for learn more about this culturally-rich area.

Pearl Hill City Park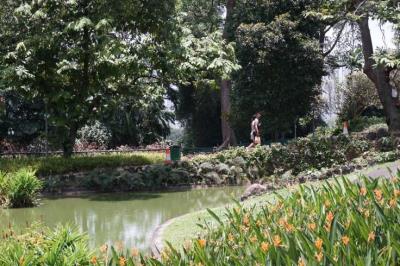 This is a secluded spot in the heart of Chinatown where you can escape from the hustle of city life. Located next to residential buildings, and just behind the Outram MRT Station, Pearl Hill City Park is a surprisingly large space of about 6 ha.
It has a good variety of beautiful plant and tree species including the mature Tembusu (Fagraea fragrans), one of Singapore's most distinctive trees, and the Frangipani with its pretty pinkish white flowers (Plumeria 'Espinda').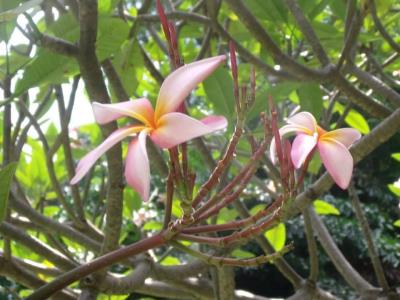 Admire the pretty Frangipanis at Pearl Hill City Park.
Photo credit: Felix Siew

Frenzied executives working in nearby New Bridge Road and Tiong Bahru will find this park a peaceful place to enjoy.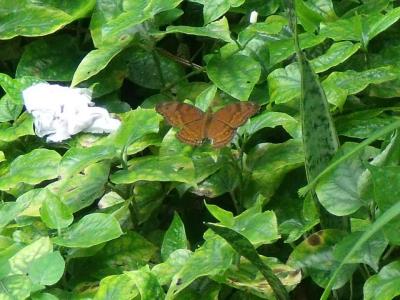 Keep your eyes peeled for the rich wildlife that call this place home too!
Photos credit: Felix Siew

Hong Lim Park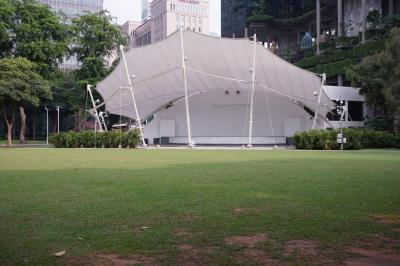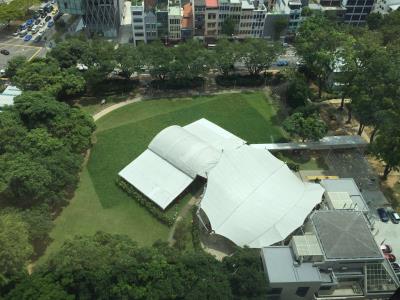 Surrounded by tall office buildings, the park is frequented by office workers looking to take a break from work.
Photo credit: Tan Yong Hui

Did you know that this green space was named after Cheang Hong Lim, a wealthy businessman in the 1870s who donated the land, making it Singapore's first privately-owned public garden. In the 1950s and 1960s, it was used as a cricket ground and in the 1960s and 1970s, residents from nearby Chinatown would flock to the field to enjoy Chinese operas performances.

These days, Hong Lim Park is the venue for Speakers' Corner, a timely reminder of the park's historical importance as a site of many of Singapore's first political rallies.

This is a great open space flanked by hotels and office buildings on two sides. You can find the Trumpet Tree (Tabebuia rosea) in this park, and when their flowers fall, they retain their colour for a couple of days, forming a beautiful carpet of flowers around the trees.

Empress Place Park
Empress Place Park probably has some of the most picturesque views in the CBD. Located just in front of the Victoria Theatre and Concert Hall, it overlooks the Singapore River and Boat Quay, once the focal point of Singapore's trade and economy.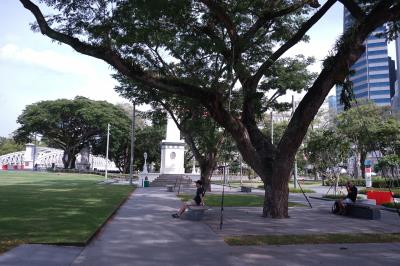 As you sit on a bench under a large shady Rain Tree (Samanea saman), think about the effort it took to conserve these trees during the realignment of Fullerton Road! It was a challenging feat to transplant the tree as each had a root ball measuring up to 6 m in diameter and weighed more than 70 tonnes!
A stone's throw away, at the Raffles Landing Site, you can admire the Singapore White Frangipani (Plumeria obtusa 'Singapore White') planted around the statue of Sir Stamford Raffles to add greenery to the area. This variety of Frangipani with white flowers was specially chosen for this site to complement the white statue of Raffles.
Esplanade Park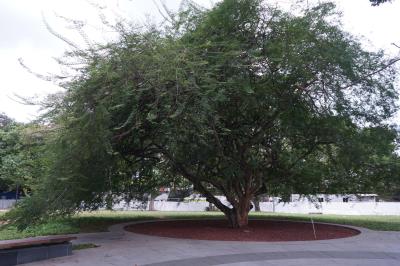 Esplanade Park is one of the oldest among Singapore's heritage parks. Built in 1943, the park showcases many historical landmarks such as Queen Elizabeth Walk, the Indian National Army Monument, Tan Kim Seng Fountain, Lim Bo Seng Memorial and the Cenotaph.
Named in honour of Queen Elizabeth II's coronation in 1953, Queen Elizabeth Walk lies along the shoreline of the Singapore River, and is lined with colourful Bougainvillea along the promenade.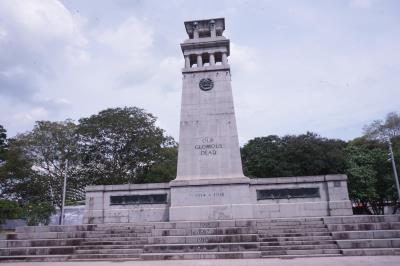 The Cenotaph is a war memorial that honours the brave men who sacrificed their lives in the line of duty during World War I and II. Take time to read the inscription at the base of a National Monument – "They died so we might live" – and to reflect on the sacrifices of our forefathers.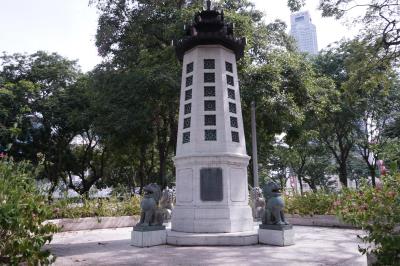 The Lim Bo Seng War Memorial is another National Monument dedicated to Major-General Lim Bo Seng (1902-1944), a local war hero who died leading the anti-Japanese resistance in World War II. An interesting feature of the Pagoda is the four bronze plagues describing his life in four different languages.
Youth Olympic Park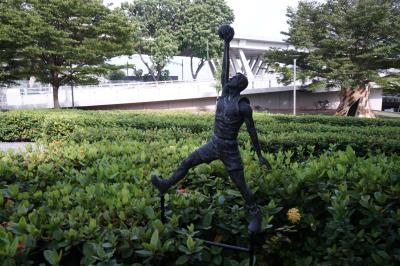 The Youth Olympic Park is the first Art Park in Singapore, opened in April 2010. It was developed to foster a greater sense of community ownership and connection with Marina Bay, and also to commemorate the inaugural Youth Olympic Games hosted by Singapore later that year.
Before heading back to the office, admire the 18 drawings from youth depicting Singapore's most famous icons such as the Merlion, Esplanade Theatres on the Bay and housing estates, along a rock wall in this park.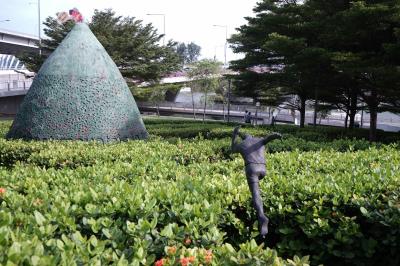 If you have more time, how about getting 'lost' in a landscaped maze created with bushes and trees. In the centre of the maze, you will see a 4.5m high "mountain", inspired by a drawing by an 11-year-old.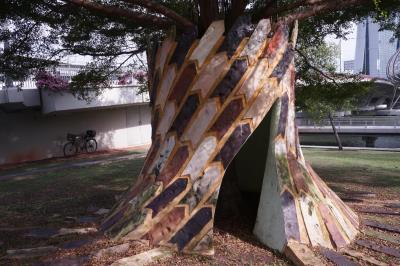 And why not locate the large Madagascar Almond (Terminalia mantaly) that is housed within 205 ceramic slabs. Look closely at these slabs which are dotted with finger and footprints, representing the 205 National Olympic Committees that took part in the games. The ceramic slabs represent armour, shielding the tree from pollution and harm.
So should you ever need a break from your work, remember to head down to take a scenic walk through the greenery of a park near you.
Text by Tan Yong Hui