Sweet Delight at the Providore
In the heart of the busy Central Business District (CBD) at Raffles Place lies The Providore, a cafe that welcomes customers seeking some respite from the hustle and bustle of Singapore's urban life.
Rustic and cosy ambience
While it resembles a greenhouse from the outside, the café has a simple yet stylish interior giving it a rustic and cosy ambience. If you prefer to enjoy some sun, outdoor seating is also available on a patio surrounded by greenery.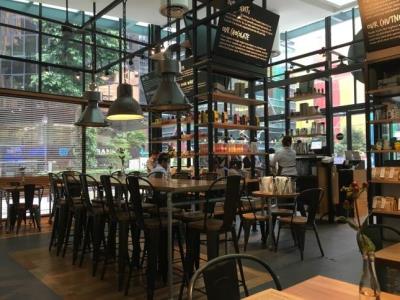 The cosy atmosphere inside the café is ideal for a good cuppa.

In a rush? Order takeaway from a counter located at the front of the store. The counter is open from 7:30 am to 4:30 pm, and the takeaway menu offers fresh rolls, pastries, sandwiches and salads, as well as cakes and tarts. Customers can also grab a coffee, tea or hot chocolate on the go.


Customers can pick up a snack or sandwich at a takeaway counter conveniently located outside the cafe.

Overall, this is a great place to enjoy lazy afternoon teas, quick coffee breaks or maybe even romantic post-office hour dinners with your partner!

You Are What Your Grow

Before dining, check out the kitchen garden at the back of the cafe where staff members maintain a small vertical garden. Besides adding greenery to the café, this garden also has a functional role – herbs, some of which are used in the dishes served, are loving grown here.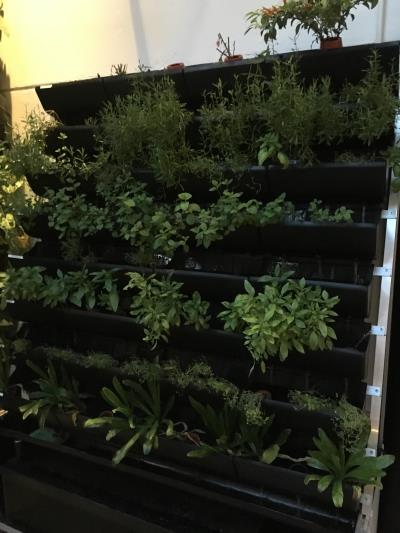 If you come in the morning, the café offers an excellent choice of breakfast platters, fresh rolls and pastries as well as pancakes, for you to start your day right.
For lunch, it serves a different menu of salads, sandwiches, pasta and rice, or meat and seafood. I opted for the gluten-free Bomba Paella Rice ($28.50) which was served promptly by the friendly waitress who took my order. This mainly seafood dish had a diverse range of ingredients consisting generous slices of iberico chorizo sausage, succulent pieces of squid, tender chunks of ahi tuna, and topped off with juicy prawns.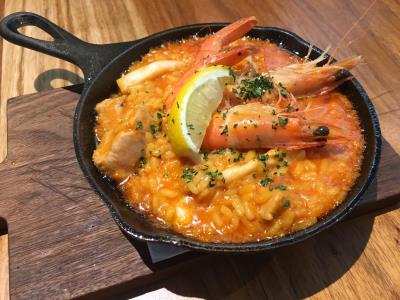 The combination of the smoky flavour of the dry-cured iberico chorizo, a common ingredient of paella, and the saffron flavoured rice was delicious. Although I found the sauce a little too creamy for my palate, this dish was nonetheless a tasty and fulfilling meal.
Sweet memories
A good display of mouth-watering dessert treats catches your eye as you enter the café, and I was keen to see if they tasted as good as they looked. I pondered over the wide selection of tarts and cakes available before settling on a Key Lime Tart ($8.50), which drew me in with its light and fluffy caramalised meringue on the top.
There is a good selection of desserts to choose from.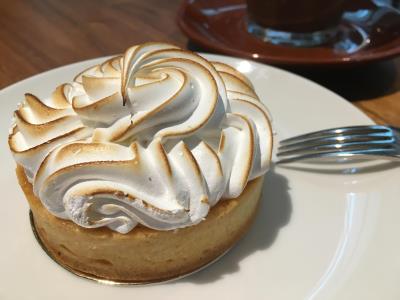 The tart base was a perfect texture – soft but not too crumbly, and the sweetness of the meringue complemented the tangy key lime filling perfectly. Needless to say, this tart was extremely delicious! Yum!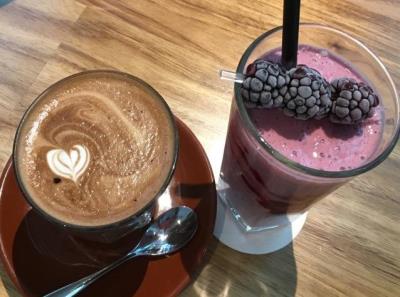 The Mochaccino (left) and Fresh Fruit Smoothie (right) are sweet treats to complete your meal.

The Providore also boasts a large choice of beverages. As a coffee lover, I could not resist getting my caffine kick and I ordered a large Mocacchino ($6.50). This was the perfect choice! The mocacchino was a nice blend of chocolate and coffee, and it was smooth and fragrant. Taken together, this cuppa complemented my Key Lime Tart, where the chocolatey flavoured drink wonderfully balanced the zesty dessert.

Besides the coffee, I could not resist trying the Deep Berry Fresh Fruit Smoothie ($9.50). This drink was refreshing and creamy, and I loved the tangy flavours of the berries.

The café also sells a range of products including a wide selection of custom- blended tea leaves and premium blends of coffee beans, perfect for gifts or just to enjoy a steaming cup of tea or coffee at home!

Overall, I had a great meal at The Providore. The café's fabulous quality of desserts and beverages matched with its green inviting ambience will definitely beckon me for repeat trips back.

Text and photos by Ashley Tan