Five 'Wild' Facts about Our Sunny Island
On the surface, Singapore may seem like a small and modern city-state of concrete and steel, but on closer look, one will come to realise our little island is actually lush with greenery and rich in biodiversity – in fact, almost 400 species of birds and at least 2,100 native plants have been recorded here, for starters.
But that's not all; be wowed by these five 'wild' facts you probably didn't know about Singapore!
You can experience rich coral reef life around Singapore's shores.

Singapore has coral reefs, which are located mainly in the islands south of the mainland. You can find a wide variety of marine life – more than 250 species of hard corals, over 120 species of sponges, 120 species of reef fish, and much more! And it is within our waters that the Neptune's Cup sponge (Cliona patera) was rediscovered relatively recently (check out our story on its rediscovery here). You can go on a dive trail near Sisters' Island Marine Park, which is Singapore's first marine park, or join one of the National Park Board's (NParks) free intertidal guided walks in the Marine Park to experience what marine biodiversity you can find at our shores.


Go on a dive trail or intertidal guided walk at Sisters' Island Marine Park to see native marine biodiversity!

Sungei Buloh Wetland Reserve is the "Changi Airport" for migratory birds in the region.

In September to March each year, birds from Russia, Mongolia, northern China, Japan and Korea come over to stay or rest in Singapore as part of the East Asian Australasian Flyway migratory route. Our avian visitors favour the 202-ha Sungei Buloh Wetland Reserve as their wintering or resting point, as it comprises mangroves, mudflats, ponds and forests. Opened in 1993, this Reserve, which is also Singapore's first ASEAN Heritage Park, annually welcomes more than 2,000 Arctic migratory birds of more than 30 different species, including the Lesser Sand Plover (Charadrius mongolus).


At Sungei Buloh Wetland Reserve, you can spot arctic migratory birds, such as the Lesser Sand Plover (Charadrius mongolus).

In Bukit Timah Nature Reserve alone, you can find at least 40% of Singapore's native flora and fauna!

Established in 1883, Bukit Timah Nature Reserve was one of the first forest reserves to be created in Singapore. As such, it retains one of the few pristine primary tropical rainforest in our little country, and it's just 12 km away from the bustling city centre! Even though the Reserve is only 163 hectares in size (about 223 football fields!), it is home to many rare species and species potentially new to science. It is no wonder that the Reserve was declared as an ASEAN Heritage Park on 18 October 2011.

On another note, Bukit Timah Hill, which is in the Reserve, is also Singapore's highest point at 163 m!


Bukit Timah Nature Reserve is where you can find one of the few primary tropical forests in Singapore.

We have a special bridge for wildlife to cross the road safely.

The Eco-Link@BKE is the first ecological bridge in Southeast Asia, meant to help conserve Singapore's biodiversity in an urban landscape. This 62 m bridge across the Bukit Timah Expressway aims to restore the ecological connection between Bukit Timah Nature Reserve and Central Catchment Nature Reserve, as both nature reserves are home to over 1,000 native animal and plant species. The bridge allows wildlife to cross over the Reserves safely, thus effectively expanding their habitat and survival chances.


The first ecological bridge in Southeast Asia, the Eco-link@BKE connects the Bukit Timah and Central Catchment Nature Reserves.

There are over 300 parks in our City in a Garden!
Bet you didn't realise that Singapore has so many green spaces. Found all around the island, our parks offer a little pockets of nature in our neighbourhoods, each with its own charm, boasting picturesque views, lovely flora and fauna, and peaceful locales to simply chill out and have fun! You can enjoy nature walks, cycling, bird-watching, picnics, barbecues, sports, and gardening, among other activities. There's a park for everyone, so do check out NParks' webpage to find your personal escape from the hustle and bustle of city living.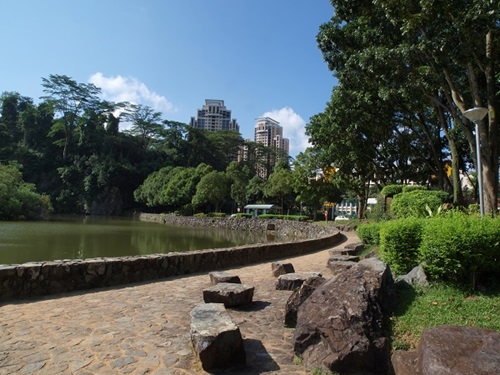 "Little Guilin" or Bukit Batok Town Park
So are you amazed by our country, and proud of its natural treasures? Don't just take our word for it – go take a little trip around Singapore and see for yourself! Adventure awaits you!
Text by Nathalie Vattery Val