A Sanctuary for Nature: one-north Park
Surrounded by melodious bird calls, butterflies fluttering past and bees bustling by, you can hardly believe that this green space is located in the heart of Singapore's up-and-coming research and business district.
Since opening in 2005, one-north Park has provided park goers with a range of unique landscapes and shared community spaces to enjoy and gather in, as well as a home for our urban biodiversity.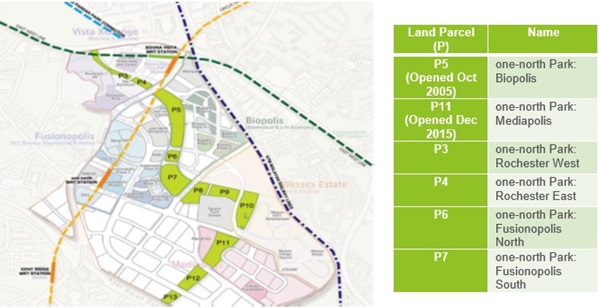 The park spans 16 ha, consisting of 13 land parcels that stretch across the entire length of the one-north district. With the recently opened Rochester West and East, and Fusionopolis North and South parcels in 2016, more than half of one-north Park is now completed. Encouragingly, an increasing number of wildlife have been making their home in the park, demonstrating the success of habitat enhancement efforts by NParks in these parcels.
Providing a Home for Birds
Sensitively developed based on the principles of environmental sustainability, parcels like Fusionopolis South retains its existing vegetation, including the remnant secondary forests from the area. The park is also enhanced with multi-tiered and diverse vegetation, specifically biodiversity-attracting plants to create habitats for fauna.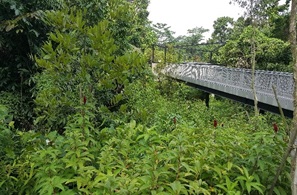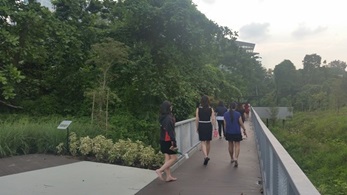 Walk through the boardwalk at Fusionopolis South to experience the secondary forest and get up close to nature.
To attract birds to the park, NParks enhanced the plot with trees such as the Weeping Fig (Ficus benjamina), Malayan Wild Cherry (Muntingia calabura), Tembusu (Cryptophyllum fragrans) and Saga Tree (Adenanthera pavonina L.). Such trees are attractive to, and provide food sources for, many bird species.
Despite its small size of 2.43 ha, more than 15 species of birds have been sighted in Fusionopolis South! Bird lovers will be able to spot species such as the Common Flameback (Dinopium javanese), Long-tailed Parakeet (Psittacula longicauda) and Pink-necked Green Pigeon (Treron vernans). A good time for bird-watching would be from 7 to 9 am.

The Common Flameback is one of many native bird species that you can spot at one-north Park.
Bringing back Butterfly Life
At Fusionopolis North, a butterfly garden was created by planting specially selected butterfly host plants. Such flora attract and provide food for butterflies, caterpillars and other insects.
Brightly coloured flowering shrubs, grasses and wildflowers such as the Peacock Flower (Caesalpinia pulcherrima), Golden Dewdrop (Duranta erecta), Common Lantana (Lantana camara) and Common Sendudok (Melastoma malabathricum) stand out as the main highlights of this garden.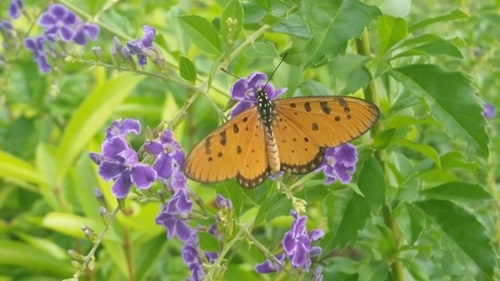 A Tawny Coster lands on the purple flowers of the Golden Dew Drop, a butterfly-attracting plant.
At least 10 species of butterflies including the Lime Butterfly (Papilio demoleus malayanus), Common Tiger (Danaus genutia genutia) and Blue Pansy (Junonia orithya wallacei) have been spotted gliding gracefully among flowering plants during clear and sunny mornings. Five species of bees such as the Asian Honeybee (Apis cerana) and Shiny Wing Carpenter Bee (Xylocopa auripennis) have also become residents here!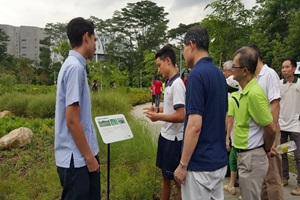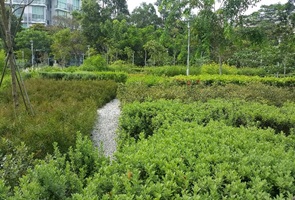 Informative signs have been put up to share with the public on the biodiversity at the butterfly garden in one-north Park: Fusionopolis North.
A rain garden is also featured in this 0.58 ha park, planted with specifically chosen wildflowers and grasses that help to naturally filter storm water runoff within the park. This in turn creates a habitat for butterflies, dragonflies, bees, birds and aquatic wildlife.
Gathering Space for All
The Rochester West and East parcels are ideal for office workers looking for a break from work, and to immerse themselves in nature. These two spots are green pockets for recreational outdoor activities. They include an event lawn suitable to hold community activities and to serve as a gathering point for the neighbouring community.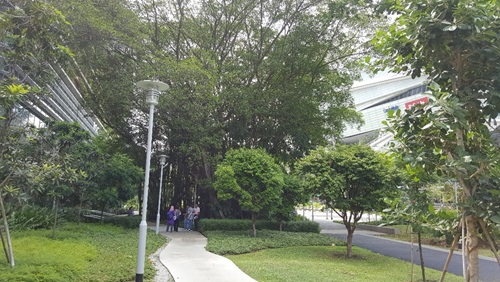 Visitors to one-north Park: Rochester East enjoy taking walks after a day's work along the tree-lined paths, especially under the majestic Ficus tree.
Park goers can look forward to future developments geared towards expanding the park, which will be progressively carried out over the next five years.
Visit one-north Park today!
Text by Eslindah Bte Ismail