Volunteering With My Family
Volunteering to conserve our marine biodiversity is a fun and meaningful activity, all the more so when doing it with the family. Just ask the Lims!
Eugene Lim, 45, and Doreen Foo, 41, have been bringing their daughter Fybie, 12, along on NParks' Intertidal Watch as well as other nature surveys in Singapore. "I prefer my child not to lose touch with nature like I have observed in many children these days," says Eugene. The experiences gained during the Intertidal Watch and nature surveys have taught the family to appreciate the nature around them and to share what they have learnt with family and friends.
"My husband and I also wanted to build up a common interest so that we can spend quality family time together," adds Doreen. "Besides, after learning that Singapore has such a rich biodiversity, we were inspired to contribute to the survey and scientific research as volunteers on a long term basis."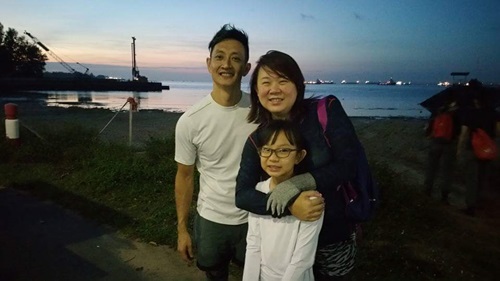 The Lim family volunteered for their very first Intertidal Watch at East Coast Park in 2016.
Intertidal Watch was first conducted in 2015 as part of efforts to inform the public about the extensive marine life that have found a home in Singapore's waters. Volunteers aid in documenting and monitoring the biodiversity of Singapore's intertidal habitats, which is invaluable when it comes to making decisions about the conservation of Singapore's marine ecosystems. The Lim family is one such group of volunteers.
The family first attended a guided walk at Sisters' Islands Marine Park in 2014. "It was an exciting eye-opener for us to be introduced to the vast marine diversity on our small island," Doreen says. "Through our guide, we learnt many interesting facts on marine life and wanted to know more. Last year, I was searching for guided nature walks on the NParks website and came to know more on the Citizen Science Programme."
The trio has since actively participated in numerous wildlife surveys as volunteers, including the Migratory Bird Survey at Sungei Buloh Wetland Reserve and Intertidal Watch at East Coast Park.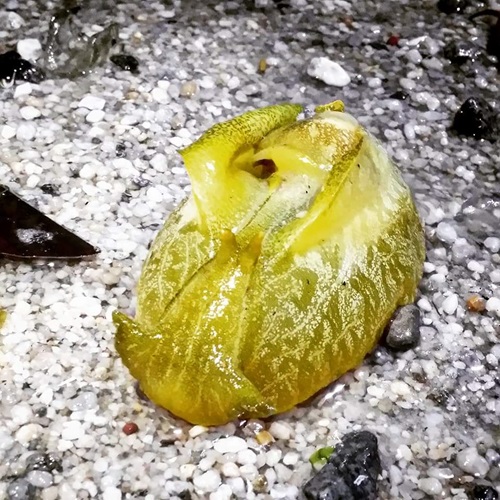 Doreen's favourite discovery, a Geographic Sea Hare (Syphonota geographica) which can be found among seagrasses along our Northern shores.
Doreen says, "Initially we were worried that laymen like us would not be able to meet the cut as volunteers, but we were glad that the training prior to each survey was properly planned with useful information. Being able to learn from experts was really enriching and allowed us to contribute to help NParks in future conservation and research projects."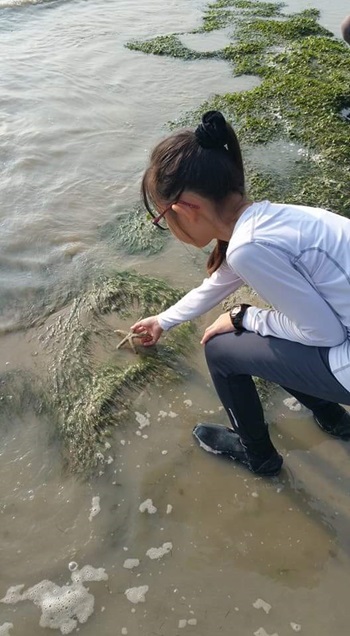 Fybie releases a Sea Star after taking its measurements for documentation during an Intertidal Watch.
This need to conserve our native wildlife resonates deeply with the family. Doreen considers it a life-long passion that requires dedication to pursue, especially since she needs to set time aside to conduct surveys as a volunteer.
She adds: "Surveys start very early, so it helps that you have a great interest in marine life! Imagine that on a small island like Singapore, we can still find more than half of the hard corals in the world! There is so much to explore and conserve."
"In our most recent Intertidal Watch survey, I spotted a beautiful fireworm on Changi Beach," said Eugene. He diligently noted its measurements, took a video and several photographs of this interesting find. Fybie has her own favourite marine animal too: "An NParks staff showed me a well-hidden pregnant octopus. It was awesome to see this master of camouflage up close!"
Having volunteered for several runs, the family now functions like a well-oiled machine at the surveys. Each member knows just what his or her role is – Fybie keeps an eye out for flora and fauna, Doreen checks, records and identifies them while Eugene lays the transacts and takes photographs.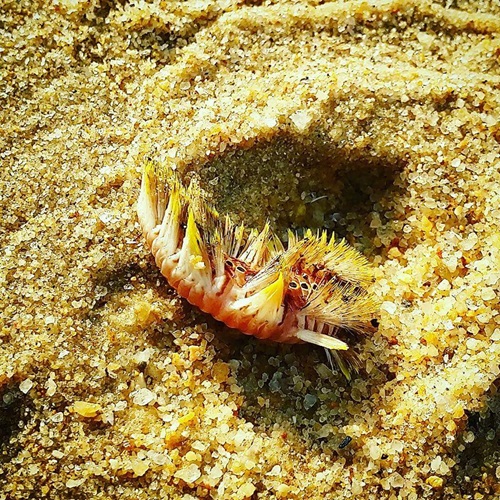 Eugene's favourite discovery, a Fireworm (Chloeia parva), is a beautiful segmented bristleworm which should not be touched as its bristles can give a nasty and painful rash.
Fybie has gained much from these experiences. She says, "I enjoy learning new things and sharing this knowledge with others. I also love identifying and spotting various species of animals and creatures on the shore."
Her parents echo this sentiment, both agreeing that spending their free time around nature is the best part about their new-found passion. "Learning more about marine life and spending time outdoors is what we enjoy the most," says Eugene.
Keen to contribute to the conservation of marine life as an Intertidal Watch volunteer? Find out more here! For other volunteering opportunities, please visit our website to learn more about our Citizen Science programmes.
Text by Jessica Yeo, photographs by Doreen Foo