Exciting New Openings at a Green Space Near You
Take a step closer to nature, enjoy the sea breeze, dine on local produce or simply soak in the great outdoors with a day out in our parks with these new offerings!
Aloha Sea Sports Centre
Head on down to the Aloha Sea Sports Centre at East Coast Park for hours of fun in the sun with activities such as stand up paddling, windsurfing, kayaking and more. Pick up a water sport with their array of lessons or pop by their pro-shop to check out quality sea sports equipment and accessories. With so many interesting offerings, the centre is a one-stop facility for all your water-sporting needs.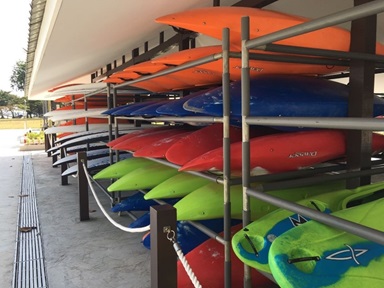 Address

1212 East Coast Parkway Area E
Singapore 449886

Operating Hours

(F&B)
Monday to Friday – 9.00 am to 9.00 pm
Saturday, Sunday and Public Holiday – 8.00 am to 10.00 pm
(Sea Sports)
Monday to Friday – 9.00 am to 5.30 pm
Saturday, Sunday and Public Holiday –8.00 am to 6.30 pm
(Retail Shop)
Monday to Friday – 11.00 am to 7.00 pm
Saturday, Sunday and Public Holiday – 10.00 am to 7.00 pm


Contact Number

6241 9212

E-mail

info@alohaseasports.com.sg
Website
Facebook Page
www.alohaseasports.com.sg
www.facebook.com/alohaseasportscentre/

Vineyard @ HortPark
Vineyard is a quintessentially French-Italian restaurant, but with a twist – it has "localised" its menu. It offers options made from sustainably-sourced ingredients like quail, frog and fish, and locally-grown produce such as herbs and vegetables hand-picked from their very own edible garden. Do give the favourites – Duck Confit with Juniper Berries and Roasted Parsnip, Fried Whole Quail served with Plum and Berries Compote – a try while you are there.
The Seagrill
Located at Changi Beach Park, The Seagrill offers a unique dining experience with an uninterrupted view of the horizon. Diners can also enjoy watching planes take off and land from the comfort of the restaurant's alfresco dining area. This casual restaurant offers a wide variety of dishes including starters, soups, pastas and seafood. Be sure to try their signature dishes like the King Prawns Tagliatelle, Seafood Butternut Soup and Cempedak Crème Brulee. To cater to families, The Seagrill also offers a kids' menu and an All-American-Brunch on weekends and public holidays.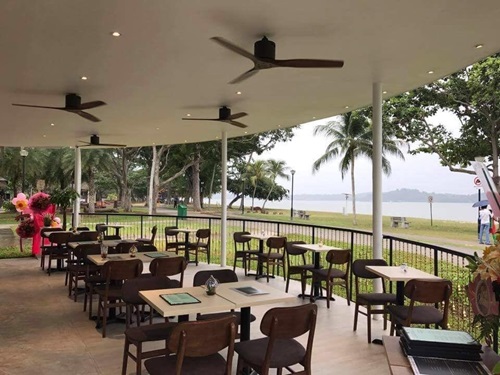 Ma2 Shop @ HillTop
Imagine taking in the breathtaking panoramic views of southern Singapore at Mount Faber Park, one of Singapore's oldest parks, while enjoying delectable treats with your loved ones. You can, with the Ma2 Shop vending café, the latest addition to Mount Faber's food options! Enjoy an array of hot food offerings such as Chicken Rice, Hokkien Mee, Chilli Crab Pasta, and even Japanese Oden (Ramen). You can even grab last-minute necessities such as ponchos, mosquito patches, drinks, and snacks there. This vending café is brought to you by the team behind Singapore's No Signboard Seafood Restaurant.
Campers' Corner Automated Store
Taking a hike at Sungei Buloh Nature Reserve, but need somewhere to refresh and relax? Campers' Corner Automated Store is one of the first vending machine cafés to be established in our nature reserves. This vending machine cafe offers you a variety of products including food, drinks, snacks and retail items like ponchos and waterproof bags. It even has a scenic view to boot!