Paying it Forward with Passion: Gina Ong
If Community in Bloom (CIB) Ambassador Gina Ong, 58, had to be a plant, she would be a sunflower standing tall and proud, bringing a 'sunshine-y' smile to everyone who looks at her. This is just as well, for every garden can do with a dose of Gina.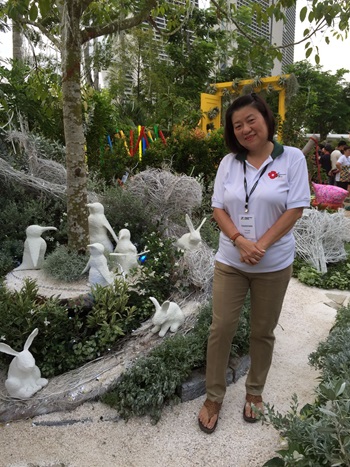 A sprightly gardening veteran, Gina lifts the spirits of not just her plants and fellow gardeners, but the residents at Foo Hai Elderly Lodge in the Marine Parade estate as well. Since 2015, community gardeners from the Marine Crescent Ville RC Community Garden have been contributing more than 15 kg of edibles every three months to the eldercare centre. And Gina, who saw the set up and subsequent growth of two community gardens – Marine Crescent Ville RC and Laguna Park – has been leading the charge, demonstrating that it is possible to turn your passion into a gift to others.

Find out more about her undying passion for gardening and her CIB experience.
How did you discover your passion for gardening?
I love food and cooking! Sometimes though, I couldn't get fresh herbs easily, which can be very frustrating, or I need to buy a lot when I needed just a small quantity. It was at this point that I wished I had a garden where I could harvest fresh herbs and vegetables. An opportunity came when I moved to Marine Crescent and joined the RC. The then Chairman was keen and supportive and managed to secure an empty patch of grass for us to start a community garden. And so it began!
How has the Marine Crescent Ville RC community garden grown since?
When I first started the garden in July 2002, there weren't many resources on the Internet that we could refer to. The only places I could draw inspiration from were the herb gardens at Fort Canning Park and Sentosa. I also learnt how to design landscape gardens from library books. It was from such simple beginnings that the garden grew to become what it is today.
We decided that residents of Marine Crescent should be able to enjoy the garden, so we welcomed them to cut herbs for cooking. Initially, some residents would dig up entire plants and bring them home. But with some education, we spread the message that they should only cut what they need. To get more people involved in gardening, we implemented an "Adopt a plot" programme where volunteers could take ownership of a plot of land. They are welcome to visit and garden at any time of the day, and in consultation with the team, plant crops they like.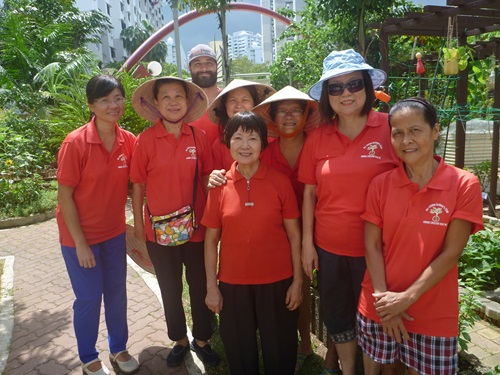 Since then our garden has been a great success! And when our garden entered the CIB Awards the programme was launched, we grew from strength to strength. The garden picked up a Bronze and Diamond award at the competition.
Now, our residents love to tend to our garden and even show it off to their friends and relatives, especially during occasions like Hari Raya and Chinese New Year!
How did you decide to share the fruits of your labour (literally) with the neighbourhood elderlies?
When we found out that Foo Hai Elderly Lodge needed to buy large amounts of vegetables from the market and cook for its residents daily, the Marine Parade Residents' Committee (RC) Chairman suggested that we share our harvest with them. So whenever we have huge harvests, we bring them to Foo Hai.
I feel a sense of satisfaction knowing that the fruits of my labour bring joy and good health to the residents and staff at Foo Hai. They also look forward to our regular contributions too! Our edibles are pesticide-free so the elderly can have a healthier diet while the centre saves on marketing, putting the money in other areas to improve the lives of its residents.
What do you look forward to doing in your community garden each time you visit?
I love to meet passionate gardeners who put in precious time to maintain our beautiful and bountiful garden. I also often think of what to plant and how to share our harvests with charitable organisations within our precinct, such as Foo Hai.
What advice do you have for someone interested in volunteering with CIB?
Don't worry if you don't have green fingers. More importantly, you must be passionate about gardening! Do it with your heart and everything will grow for you!
Gina was recently featured in Giving.sg's "East vs. West: The Battle of Good" video series on volunteerism in Singapore. Check out the video for a glimpse into what it is like to get involved in community gardening.
To find out more about how you can get involved with CIB, visit our website here or check out our gardeners' works of art at the Community in Bloom Garden Displays at the Community Garden Festival from 3 – 5 November 2017!
Text and photos by Hong Zhongzhi