Contest Issue 36
In this issue, we are giving away five sets of prizes, each comprising a Botanical Print Card Pouch and Tanglin Gate Magnet from the Singapore Botanic Gardens.
Carry around your cards and other small essentials in this zippered botanical print pouch, which features a tasteful and understated print of leaves, flowers, berries and buds. Also enjoy a beautiful magnet of one of the Singapore Botanic Gardens' most iconic attractions, the Tanglin Gate. The gate stands at the southeast corner of the Gardens, sporting a modern silver colour with a leaf motif as its main design.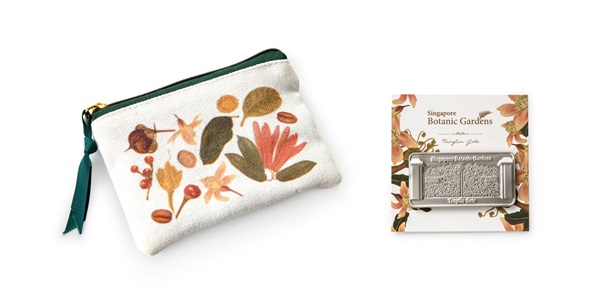 Simply answer the questions below and you could be a lucky winner!
In the article, 'Experience the Joys of Bird Watching', we highlight some interesting bird species that you can expect to see here.
What is the name of the NParks app mentioned in this article?
When did the Oriental Pied Hornbill begin to recolonise Pulau Ubin?
Contest closes 9 February 2018. Email your answers to nparks_communications@nparks.gov.sg with the subject title "My Green Space Contest Jan – Mar 2018", together with your name, IC/Passport number and contact number.
My Green Space Contest Winners: Oct – Dec 2017
Congratulations!
Angeline Tay

Chjiraporn Oringa Vathanasin
Mattie Annette Jackson
Lim Soo Ting
Richard Gee