Seeding a Love For Plants in Children
Thinking of interesting ways to expose your children to greenery and nature this year? Why not try your hand at growing a plant together?
If your child is in Primary 3, he or she can look forward to getting a free plant starter kit from his or her school, as part of NParks' Every Child a Seed Programme. The programme provides children with the opportunity to grow their very own plant and experience the joys and challenges of the growing process.
We follow mother of three Lynn Koh and her youngest son, Eldrick, who was given Kang Kong (Ipomoea aquatica) seeds as part of Every Child a Seed.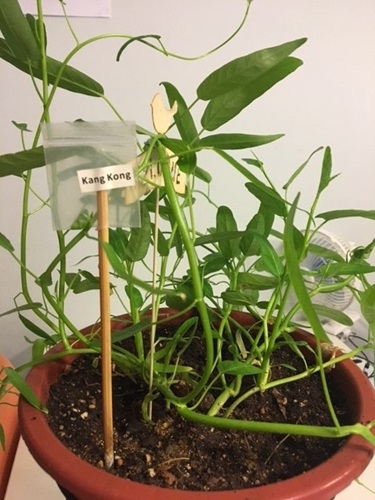 How long have you been growing your Kang Kong plant?
I have had the plant for about six months now.
How do you care for your Kang Kong?
I check the Kang Kong plant regularly for weeds, caterpillars or other bugs and remove them. I also water the plant once a day. My plant does not get too much sunlight because I live in a HDB flat, but it is still growing well!

Eldrick waters his Kang Kong plant at least once a day.
When your Kang Kong first sprouted, how did you feel?
I was ecstatic and overjoyed! Then, as the Kang Kong continued to grow, I felt confident that it would thrive and grow well.
Were there any difficulties you encountered when caring for your Kang Kong?
My dad kept wanting to harvest the sprouts and eat them! I harvested them once, and thankfully, they continued to grow afterwards.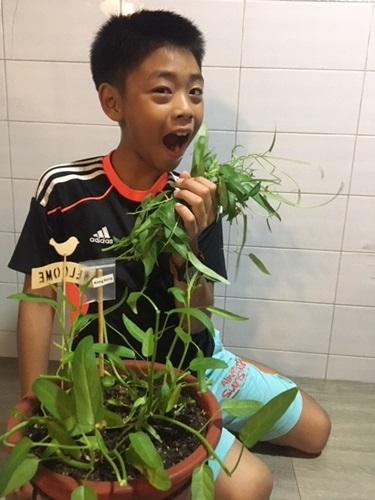 Growing edibles means that you can cook and eat them, saving a trip to the market.
Has caring for seeds taught you more about plants and helped you in understanding plant concepts taught in school?
Yes. Growing an actual plant is more fun than learning about them from pictures, and it also taught me to keep my plants safe from bugs.
Do you think this experience has taught you any important values?
Yes, it has taught me love. You need to love your plants in order for them to grow healthily. Now, I protect my Kang Kong and talk to it regularly.
Would you do gardening and planting again in future?
Yes. I'd like to try planting corn again, as I have tried growing it prevoiusly but failed. I'd also like to grow tomatoes and watermelons.
Lynn: It was fun! The family was constantly teasing Eldrick about eating his plant. It has contributed to family bonding.
Every Child a Seed is made possible through the Garden City Fund, a registered charity supported by NParks. The programme has been tailored to complement the Primary 3 Science Syllabus on Diversity, and aims to teach students about the life cycle of a plant, plant parts and their functions. The values of care and responsibility will also be reinforced.
The Every Child a Seed plant starter kit contains a small planting pot, a packet of potting mix, a packet of either Kang Kong, Sunflower or Roselle seeds and a plant journal to help students track the growth of their plants.
For more information on Every Child a Seed, please visit https://www.nparks.gov.sg/learning/programmes-for-schools.
Text by Elizabeth Kamaldin, photographs by Lynn Koh
Find out more about the Kang Kong
Kang Kong, known also by its English name, Water Spinach, is a creeping vine which can grow up to 3 m long. It grows best in warm, humid environments, and grows naturally in swamps, lakes, stream banks, and bogs – so well in fact, that it is considered to be an invasive weed in the United States of America and in the Philippines. This is because it rapidly covers the surface of bodies of water, resulting in light being unable to penetrate to depths below. Kang Kong has smooth leaves that are shaped like arrow heads, with each leaf blade measuring approximately 5 to 15 cm long and 2 to 6 cm wide. Its leaves and stems are widely consumed in Southeast Asia, where they are often eaten as a stir fried dish.