Dining by the Sea
One Saturday evening, my cousin and I decided to travel to the east of Singapore for dinner at the Sea Grill, a newly opened seafood restaurant in Changi Beach Park.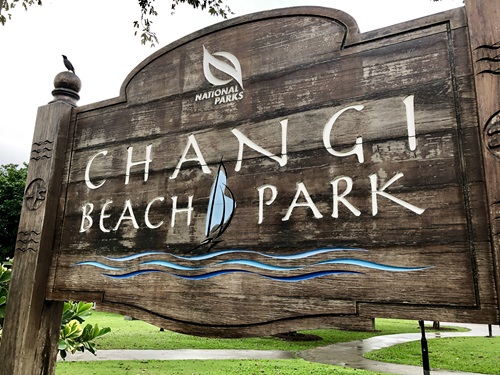 As we approached the restaurant, we noticed its modern and classy exterior. Inside, the restaurant was designed with a minimalist but welcoming look. But we were drawn to the irresistible sea views and decided to sit outdoors instead, for an al fresco dining experience.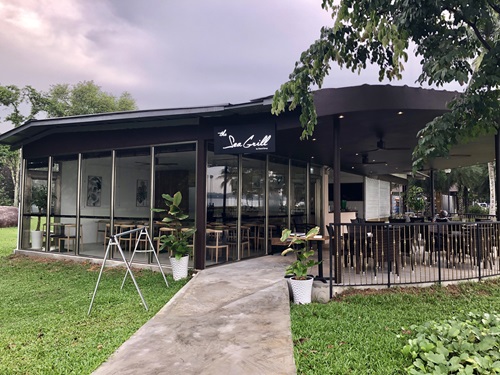 The Sea Grill, located in the heart of Changi Beach Park.

A tranquil view of the sea, like this from the Sea Grill, is uncommon in many parts of urban Singapore today.
While waiting for our orders to arrive, we took a moment to admire the uninterrupted view of the Johor Straits. With a gentle breeze accompanied by the sound of the rolling tide, we felt completely at peace. But after this restful pause, it was time to eat!
We started with the Caesar Salad with Grilled Prawns (S$14) as an appetiser to share. The dish featured lightly charred prawns, which had a subtle smoky flavour, and fresh crunchy salad greens. It was lightly seasoned with a tart vinaigrette and was well-complemented by sprinkles of savoury cheese flakes and crispy strips of bacon. With its vibrant mix of colours, the dish was a treat both for our eyes and palates.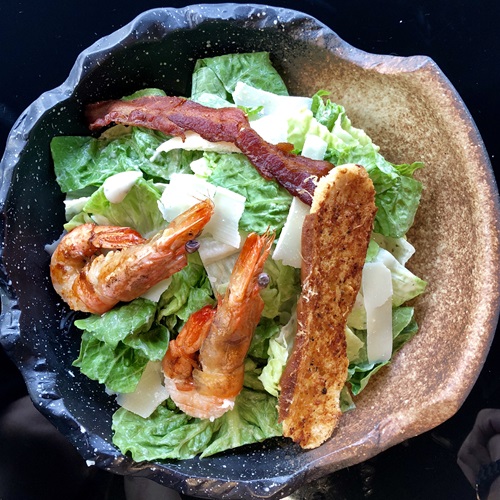 With the mix of colours from different ingredients, our salad looked and tasted good.
Next came the first main course, Linguine Carbonara (S$18). Beautifully presented with garlic bread and grated cheese, this classic dish came with a substantial portion of creamy pasta, cooked to al dente. It was served with a rich creamy sauce and topped off with crunchy bacon bits and croutons.

The pasta was topped with a rich, creamy and decadent sauce, guaranteed to satisfy cheese lovers.
Our second main course was the Wild Barramundi (S$28). After all, what's a trip to the Sea Grill without a dish of grilled fish? This dish came highly recommended, and for good reason. Served with fluffy mashed potatoes, savoury shimeji mushrooms, fresh asparagus fried with butter and a crunchy yam cracker, the real star of the show was the barramundi fillet. The generous portion of fish was tender and grilled to perfection with a delectable crispy skin.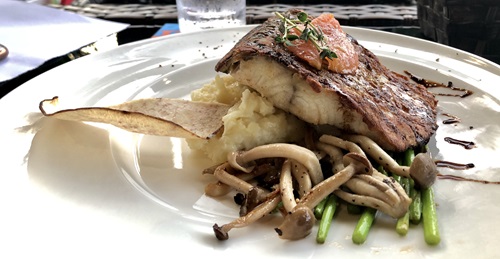 The savoury mushrooms served as a tasty contrast to the hearty serving of mashed potatoes and fresh asparagus.
To top off our tasty meal, we decided to share a Chocolate Lava Cake (S$14) for dessert. This was the best we had, from its presentation to its taste. The lava cake was crusty on the outside and crumbled perfectly when I sank my spoon in. The cake was a chocolate-y gooey treat, complemented perfectly with milky vanilla ice cream. The dish was presented beautifully as well, with strawberry halves and fresh flowers on the side, adding colour and vibrancy to the dessert.

The tartness from the strawberries contrasted well with the sweetness of the chocolate lava cake and vanilla ice cream.
All in all, I had a great dining experience. An unexpected pleasure was the trip to Changi Beach Park. Setting foot there brought back memories of my carefree childhood days, and the park's rustic atmosphere provided me with a sense of much-needed serenity, readying my body and soul for the next day. I would definitely recommend the Sea Grill at Changi Beach Park as a great spot in the east for families, couples and groups of friends.
Text and photos by Leon Lim