Fun with Frogs
At first sight, frogs and children can make for a very strange combination.
But not for NParks volunteer, Ms Liu Kaiyi, 19. From independently organising frog-themed children's camps to conducting games and lessons on guessing their mating calls, Kaiyi, knows that frogs and children can create a perfect combination for much fun and learning.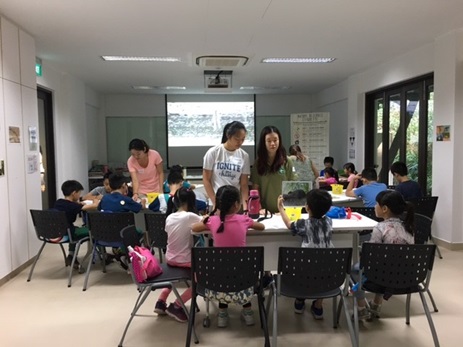 Kaiyi (in green), together with other NParks staff and volunteers, facilitates games and hands-on activities for camp participants.
Once Upon a Time…
Kaiyi's interest in frogs began in 2013 when she was a Secondary 4 student. Then, she embarked on a year-long research stint with the Department of Biological Sciences in the National University of Singapore (NUS). At that time, Kaiyi found herself going on site multiple times to do preliminary fieldwork for a research project investigating the relationship between water quality in riparian zones, the interface between land and a river or stream, and diversity in local frog populations.
"After the research project ended, I felt that it was a pity that I could not apply my newly-gained knowledge to my school work. So, I searched for alternative avenues to apply myself, and learnt about volunteering for NParks!" she recalls.
Ever since, Kaiyi, who now studies Geography and Economics in NUS, has been helping out as a youth volunteer for various NParks events. She particularly enjoys working with children.
Not Just Child's Play
"Most children enjoy being outdoors!" Kaiyi says. "Activities such as hiking around the Central Catchment Nature Reserve, where camps are held, while completing activities about local flora and fauna really engage their senses. These also present them with opportunities to see and touch what we can only talk about in the classroom."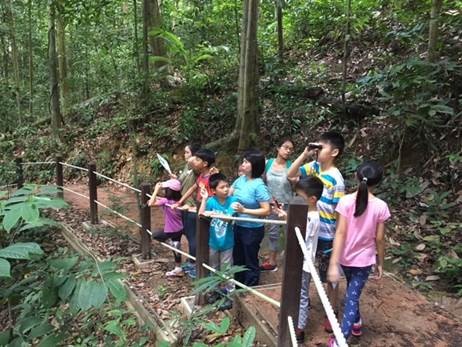 ​Camp participants watching out for flora and fauna while on a hike.
The challenge is when she meets children who are more accustomed to urban environments and carry "misconceptions that nature is scary or dangerous". Kaiyi explains, "Some will complain, 'Oh no, I don't want to be bitten by mosquitoes!' or 'Eeeww, so disgusting', when they see a reptile or an insect."
"Such reactions tell me that these kids do not understand how to appreciate our natural heritage," she adds. "Thus it is even more crucial that I can help create opportunities for them to build up experience and confidence, and to interact better with our natural environment."
In the four years she has been a volunteer with NParks, Kaiyi has been involved in many such programmes. This includes I heART Nature, an interactive 90 minute parent-child bonding session, as well as the Nature Keeper Camp, a one-day programme that uses nature walks, games and hands-on activities to teach children aged seven to 11 about our forest environment.
Personal Growth
The most important thing that volunteering with NParks has taught Kaiyi is to have a sense of empathy. She says, "No two children are alike in their way of thinking and prior experiences, and I have to adapt and change my teaching approach for each child, so that they can learn best."
Though it can be tiring, Kaiyi says it is all worth her while especially when she sees students returning again and again to participate in camps and activities. "One of our regular students has even 'graduated' to become a volunteer facilitator during the last camp, helping out and sharing the knowledge that he has gained over the years with others," Kaiyi says proudly.
"Youth volunteers bring energy and novel ideas to volunteering events, and outreach officers are extremely understanding and supportive of trying new ideas and approaches," she said. And so, when asked on her future volunteering plans, Kaiyi exclaims, "I hope to rope in more friends to join me in volunteering!"
Interested to join us as a volunteer? Find out how you can volunteer with us here.
Text by Elizabeth Kamaldin