Experience The Joy Of Bird Watching
The Javan Myna (Acridotheres javanicus), Rock Dove (Columba livia) and White-collared Kingfisher (Todiramphus chloris) are three common birds you can easily spot all around Singapore. But did you know that our small island nation is actually home to around 400 other species of native and migratory birds?
If you enjoy hearing the sweet and cheery chirpings of birds and are interested to learn more about them, why not try out bird-watching this year?
Bird-watching is a great family-friendly activity which involves a slower rhythm of life and promises to relax the nerves and calm the senses. Our parks and nature reserves are also maintained to attract a number of bird species and to facilitate the creation of suitable habitats for them. This means you can look forward to seeing our feathered friends all around our many green spaces!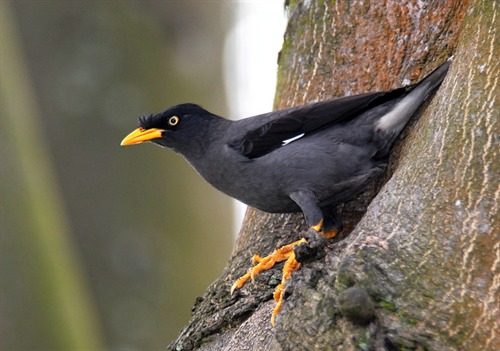 Javan Myna. Photo credit: Cai Yixiong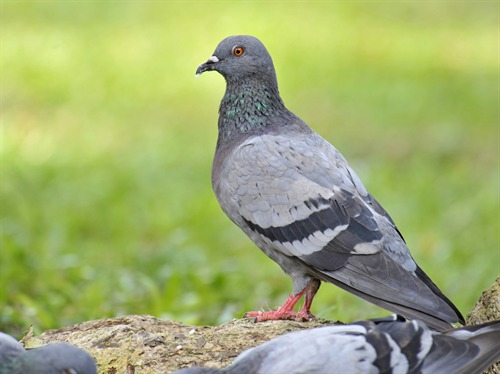 Rock Dove. Photo credit: Mendis Tan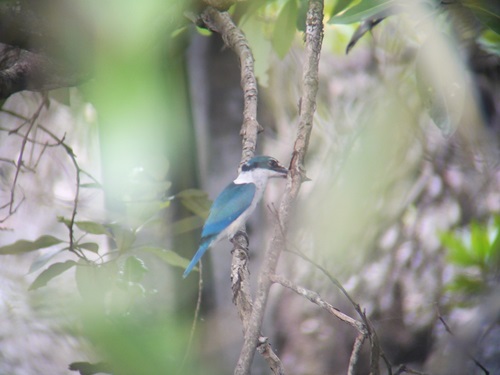 White-collared Kingfisher. Photo credit: Toh Wan Ting
Birds for the beginner birder
Some common native or introduced species include the Zebra Dove (Geopelia striata), whose plumage features stripes similar to a zebra, the White-breasted Waterhen (Amaurornis phoenicurus), which favours sites close to waterbodies and the Asian Koel (Eudynamys scolopacea), whose distinct "ko-el, ko-el" call is something we have all heard.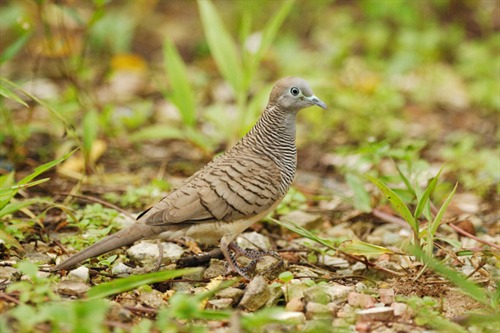 Zebra Dove. Photo credit: Lin Yangchen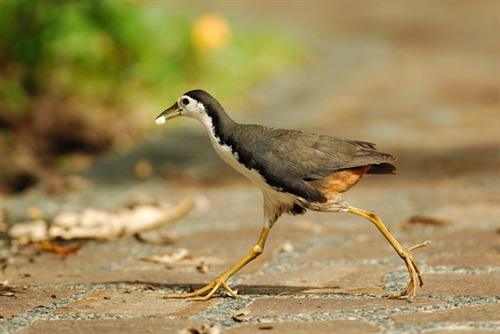 White-breasted Waterhen. Photo credit: Lin Yangchen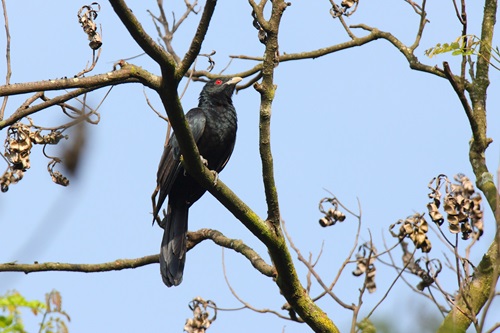 Asian Koel. Photo credit: Jian Zhong
Getting serious with migratory birds
Every year from September to March, expect an influx of interesting new species as Singapore hosts a number of migratory birds. These birds travel great distances to avoid the harsh winters from the northern Hemisphere.
During this season, keep your eyes peeled for birds such as the threatened Asian Dowitcher (Limnodromus semipalmatus), which can be spotted at the Sungei Buloh Wetland Reserve, a significant stopover point for around 220 migratory species. Also look out for the Common Redshank (Tringa totanus), which travels all the way from Mongolia to get to sunny Singapore!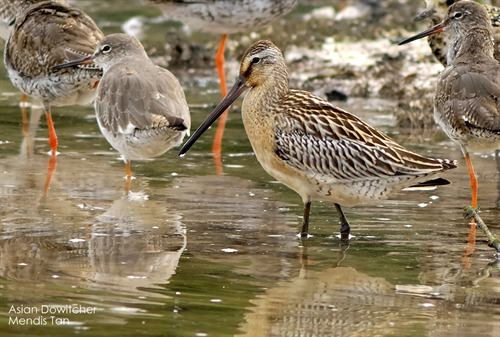 Asian Dowitcher. Photo credit: Mendis Tan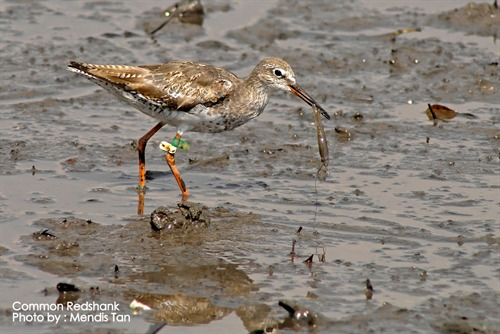 Common Redshank. Photo credit: Mendis Tan
Making a comeback
If you are lucky, you may even spot iconic species, such as the Oriental Pied Hornbill (Anthracoceros albirostris). This bird was thought to be extinct in Singapore for nearly a century, but began to recolonize Pulau Ubin in the early 1990s. Ever since, with the support of researchers and conservationists, it has slowly but steadily been making a comeback, and is found across mainland Singapore today.

Oriental Pied Hornbill. Photo credit: Jacqueline Lau
How to get started
Experienced birders may appear daunting with their heavy equipment or field gear, but really, all you need are your eyes, ears and some patience. Of course a handy pair of binoculars or a camera with a zoom function will help.
First-time bird watchers should head to our gardens, nature areas and parks from around 7 am to 9 am. While you may spot birds at any time, early mornings are usually recommended as most birds are active during this period. For a higher chance of spotting birds, dress in light coloured clothing.
Suggested parks and nature areas you can head to include Sungei Buloh Wetland Reserve, a haven for migratory birds, Bukit Timah Nature Reserve, a primary rainforest with a high degree of biodiversity, and Labrador Park, which attracts a great number of sea birds.
When you spot a bird, do record your observations. If you are not sure how to identify the birds that you have seen, search for them on SGBioAtlas, an app developed by NParks which helps to identify birds and other animal species. Birds are usually named after their physical appearance, habitats and vocalisations, so taking notes of these elements may help you in identifying the species spotted. With a little more experience, you may be able to identify birds just by their calls!
Interested in learning more about bird-watching? NParks has a range of online resources and basic tutorials to get you started. With these lessons on bird identification and some hands-on experience in the field, you will soon be well along your way to becoming a master birder!
Planning to go bird watching? Here are some helpful hints!
Dress in comfortable clothes in light colours (preferably long pants and a long-sleeved shirt to prevent mosquito bites)

Put on comfortable walking shoes with socks

Wear a hat in non-bright colours

Bring your own drinking water, and pack your own snacks if required

Bring a good pair of binoculars, pen and notebook to jot down your observations

Please do not frighten the birds and leave nesting birds alone
Garden Bird Watch 2018
Join us for Garden Bird Watch 2018, where you will have opportunities to team up with fellow like-minded individuals for bird watching. Garden Bird Watch is part of the NParks Community in Nature Biodiversity Watch series, which helps us gather valuable information about our birds. The next run of Garden Bird Watch will take place in April. Click here for more information.
Text by Leon Lim