10 Surprising Facts About Our Everyday Edibles
We see these fruits and vegetables on our dinner plates, but there is more to these edibles than meet the eye. Read on to discover 10 interesting facts about edibles which are part of our everyday diet.
Millennial Food: Lettuce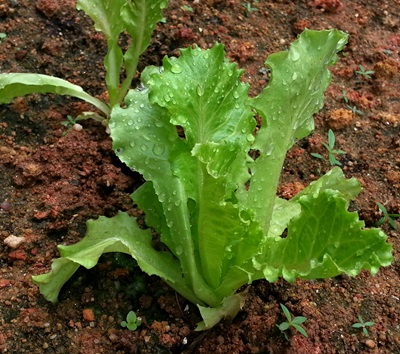 Lettuce. Photo credit: Jane Li
The lettuce (Lactuca sativa) has been having a moment in recent years, as an increasing number of people adopt veganism and opt for salads, of which lettuce is usually a main component. Did you know that this leafy green vegetable actually produces flowers too? In fact, the lettuce belongs to the same family as the Sunflower (Helianthus annuus) and Daisy (Bellis perennis), and its flowers are most similar to the latter. Like most plants, the lettuce grows from seeds and takes four days to germinate.
Movie Essential: Corn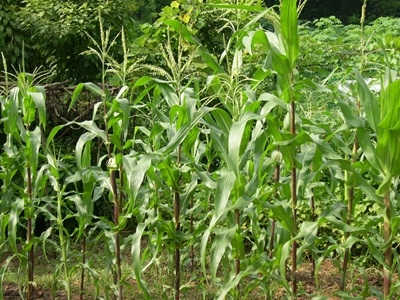 Corn crops. Photo credit: Flora & Fauna Web (left); Jacqueline Chua (right)
Corn (Zea mays) is a common vegetable which can be eaten raw, boiled, grilled or even baked into chips. Raw kernels can also be used to make popcorn, a favourite among moviegoers, by heating them under intense pressure till they 'pop'. Sadly, the corn found in supermarkets cannot be used to make popcorn. If you are keen to make popcorn yourself, raw kernels can be found in the dried food section of stores. Corn is another vegetable grown from seeds and it takes about four to six days to germinate.
The White Vegetable: Xiao Bai Cai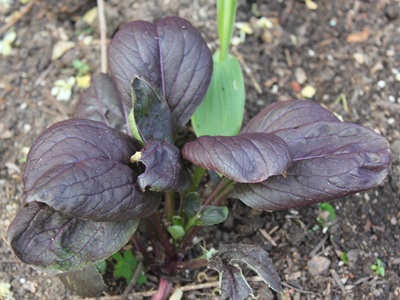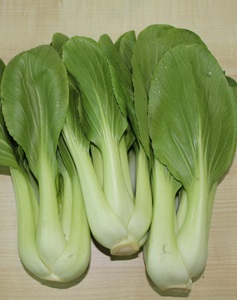 Xiao Bai Cai (left). Photo credit: Justin Chua Qi Zhang; Purple Xiao Bai Cai (right). Photo credit: NParks Flora&Fauna Web
Bok Choy is the Cantonese name for Xiao Bai Cai (Brassica rapa). This vegetable prefers cooler temperatures ranging from 15 to 20 degrees Celsius. However, the varieties we commonly eat are adapted to suit our region's tropical climate. There are two main varieties in Singapore, one with a white stem and another with a green stem. There is also a purple variant of the Xiao Bai Cai. Fancy a little magic show? The leaves of this purple plant turn bright green when they are cooked!
The Big K: Kale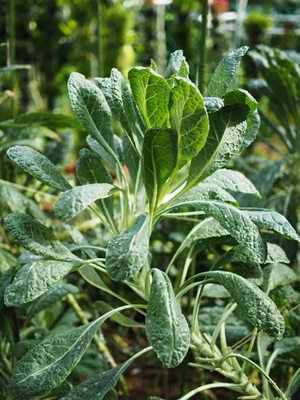 Kale. Photo credit: Jacqueline Chua
Kale (Brassica oleracea var. sabellica) is a nutritious vegetable which comes in different colours such as purple, blue-green and white. It is especially well-liked in many European countries, and can be added to salad, mixed in juice and even baked into chips. This low-calorie snack is definitely a good replacement for snacking on junk food.
Nature's Amethyst: Brinjal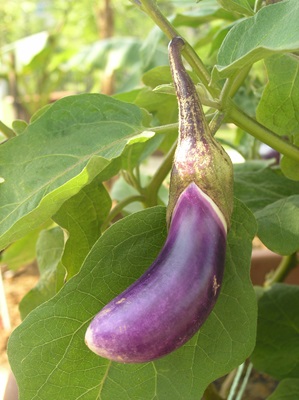 Brinjal (left). Photo credit: Joyce Foo Ming Yee; A variety of the Brinjal, which is white and shaped like an egg (right). Photo credit: Jennie Tang
Curious to know why the Brinjal (Solanum melongena) is also known as eggplant? While it may not look it, the first variety of the purple plant produced outside of Asia was white and shaped like an egg. In Indonesia however, there is even a kind of brinjal which is light-green and elongated in shape, and can be eaten raw. Most brinjals are usually consumed cooked, and are bitter to taste.
Long Green Finger: Okra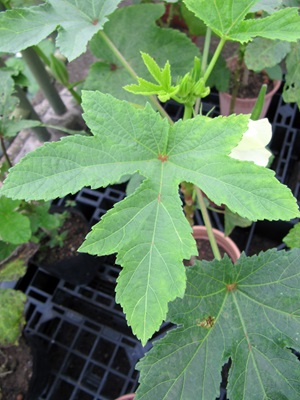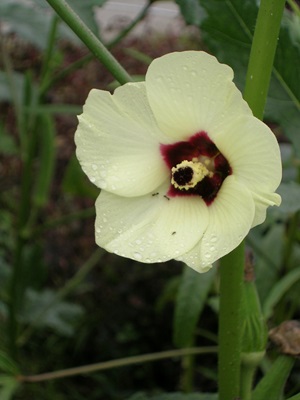 Okra leaves (left). Photo credit: Vicky Lim Yen Ngoh; Okra flower (right). Photo credit: NParks Flora&FaunaWeb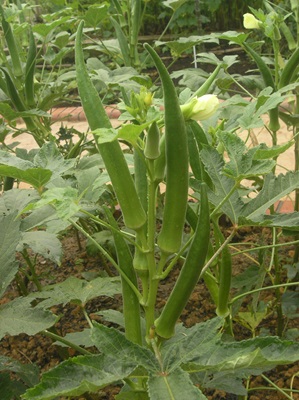 Okra. Photo credit: Joyce Foo Ming Yee
The Okra (Abelmoschus esculentus), also known as the Lady's Finger, is often used as a natural thickening agent in soups and curries because of its gooey texture. But did you know that the shrubby-looking vegetable has a number of health benefits as well? The Okra is high in antioxidants and also has medicinal value as its roots produce mucilage, a thick gluey substance, which is able to treat wounds, cuts and boils. Also, like the lettuce, its flowers are similar to those of the daisies.
The Staple: Sweet Potato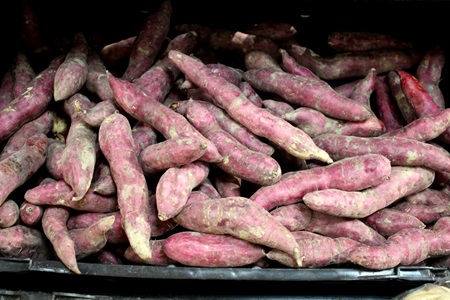 Sweet potato leaves (left). Photo credit: Pauline Tay; Sweet potato (right). Photo credit: Shi Biying
The sweet potato (Ipomoea batatas), was a staple food for most Singaporeans during the Japanese Occupation. It comes in a number of different colours, including white, red, purple, orange and yellow, and is usually steamed and eaten. Many enjoy the natural sweetness of the sweet potato, which is a tuber, as well as the slight bitterness of its leaves. This versatile plant can be grown from seeds, stem cuttings and even from tubers themselves.
Halloween Icon: Pumpkin

Pumpkin leaves (left) and pumpkins (right). Photo credit: Vicky Lim Yen Ngoh
You know Halloween is near when you see the pumpkin (Cucurbita moschata Duchesne) appearing! Once used by the Irish to make lanterns because it was more commonly available than the potato, the pumpkin has since been widely recognised as a key Halloween icon. The pumpkin is best grown under direct sunlight in a slightly acidic medium and is unable to tolerate water-logged conditions. Pumpkins are grown from seeds and each pumpkin contains more than 20.
Blush Rush: Tomato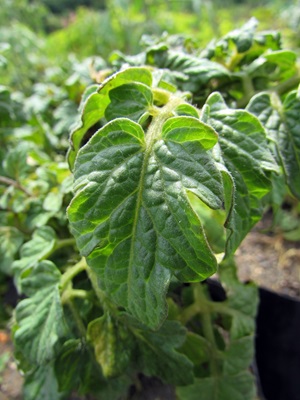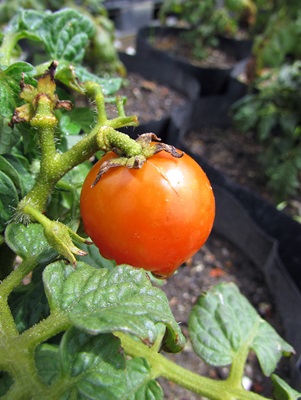 Tomato leaves (left) and tomatoes (right). Photo credit: Vicky Lim Yen Ngoh
The tomato (Solanum lycopersicum) can be grown from seeds or stem cuttings and requires a trellis, which is a framework of light wooden or metal bars, to support its growth. There are many varieties of tomatoes in Singapore, although the one we see most regularly in salads is the Cherry Tomato. Tomatoes are also useful in protecting us against ultraviolet rays. Amazing huh?
The Pretty One: Chinese Spinach

Chinese spinach. Photo credit: Jane Li
The Chinese Spinach (Amaranthus tricolor), also known in Malay as Bayam, is a vegetable that ladies will love; it promises to keep your skin feeling soft and looking fresh. This vegetable, according to folk medicine, can also be used to treat bladder distress and has antioxidant properties. It requires direct sunlight to grow well and is grown throughout Southeast Asia.
The next time you are at your dinner table, why not share these insightful snippets of information with family and friends?
Do you enjoy growing edibles in your garden? Why not showcase your skills and bountiful harvest at the Community Garden Edibles Competition 2018! Pit your gardening skills against other passionate gardeners, as we look for the heaviest or longest fruits and vegetables. Click here to find out more about registration details and how you can take part.
Text by Dion Goh and Kwek Ee Chern