What's Hot At HortPark
Where in Singapore can you find the most native plants in a single spot?
Look no further than the newly expanded Native Garden at HortPark, which is now home to more than 100 species of native plants.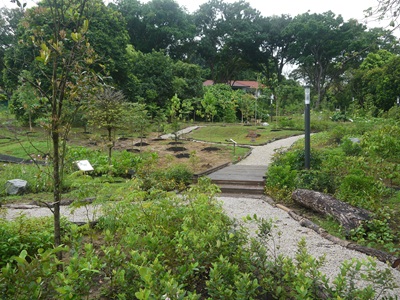 Native Garden. Photo credit: NParks
With a bigger native plant collection, it is hoped that more people would be encouraged to grow these plants in their gardens or use them in urban landscaping.
But why focus on native plants?
They have adapted well to local conditions and are often easier to maintain. Most have come up with their own defences against pests and diseases. Having evolved together, they are better at providing food and shelter for our native animals, compared to introduced plants, and may help bring back some of the animals that have been lost due to development. Also, they are used in our local dishes and traditional medicine and are an important part of our cultural heritage.
To find out more about these precious species, take a trip down to the Native Garden, which is located at the western end of HortPark. There are two parts to it: the Habitat Collection and the Five Zones.
1. Habitat Collection
Immerse yourself in the "rainforest area" – water flows along a man-made stream and lush plants grow on undulating terrain. You can hear the calls of insects and birds and may even spot snakes and other animals.
The Habitat Collection showcases native plants in their natural environments. Besides the rainforest, other habitats featured are the freshwater swamp forest and coastal vegetation. There is also a mangrove area which shows how mangrove plants can be grown in urban areas, such as in areas with waterlogged soil.
2. The Five Zones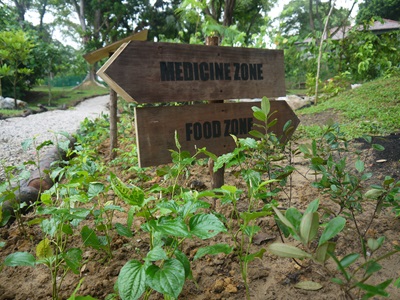 Zones in the Native Garden. Photo credit: NParks
The native plants here are grouped according to their various uses.
At the Food Zone, you learn about plants that are used in our local and traditional dishes. A rare species is the Nephelium maingayi, which has edible fruits that look and taste like rambutans.

Nephelium maingayi. Photo credit: Jessica Teo
At the Medicine Zone, you encounter plants such as Bamboo orchid (Arundina graminifolia). Its flowers, when stir-fried, tastes bitter and some believe they can help to manage high blood pressure.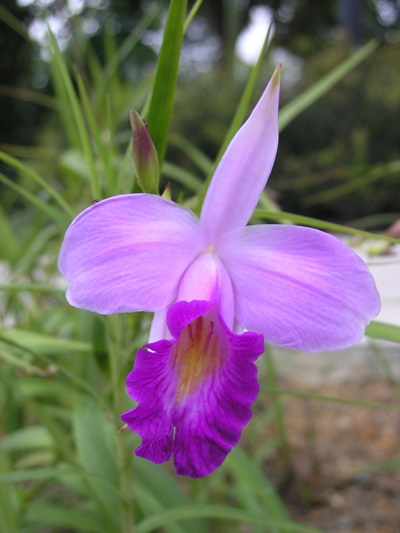 Bamboo Orchid. Photo credit: Joyce Foo Ming Yen
Walk over to the Timber Zone and you come across famous timber-producing trees such as the Chengal (Neobalanocarpus heimii), also spelt as Cengal, which is used to make furniture.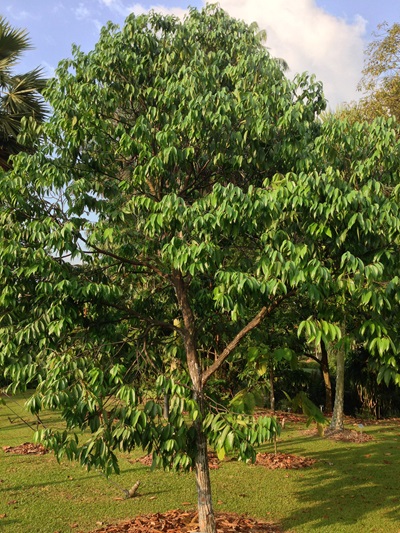 Chengal. Photo credit: Ang Wee Foong
The Bird Zone introduces native plants that attract birds, such as the critically endangered Small-leaved Nutmeg (Knema globularia) which bears fruit that is eaten by the Oriental Pied Hornbill (Anthracoceros albirostris).

Small-leaved Nutmeg. Photo credit: Boo Chih Min
Meanwhile, the Butterfly Zone contains native plants which provide nectar for butterflies as well as a place for them to lay their eggs and leaves for their caterpillars to munch on.
Vibrant Horticultural Showcase At HortHouse
Besides the Native Garden, you can also check out the resplendent horticultural display in front of HortHouse, near the entrance to HortPark.

HortHouse. Photo credit: NParks
Occupying a refurbished colonial bungalow at Alexandra Road No. 394, HortHouse is now the new training hub for the Centre for Urban Greenery and Ecology (CUGE), which used to be at Cluny Road.
CUGE continues to offer courses on horticulture, arboriculture, and botany for hobbyists and landscape industry partners – but with a colourful difference.
To support learning and inspire home gardeners, the front of HortHouse has been decorated with 11 families of flowering plants – in shades of red, purple, yellow and white. Together, they act as a buffer zone between HortPark and the Southern Ridges.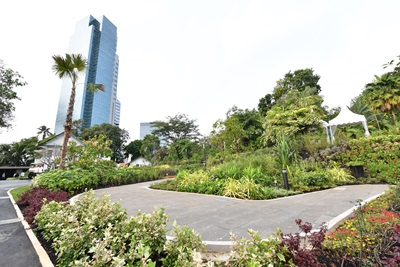 Horticultural display in front of HortHouse. Photo credit: NParks
What's Special About The Showcase
Part of the showcase includes a collection of exotic and local plants specially cultivated at the Pasir Panjang Nursery that you won't be able to find at commercial nurseries. There are plants from the Olive, Coffee and Rose families. From time to time, these plants will be rotated with new cultivars from the nursery.
The permanent display of flowering plants includes shrubs like Red Leaf Hibiscus (Hibiscus acetosella 'Red Shield'). Its leaves are edible and can be used in stir-fried dishes. There are also vines like Rose Jasmine (Jasminum sambac 'Grand Duke of Tuscany') – its fragrant flowers are used to make jasmine tea – and trees like the Henna Tree (Lawsonia inermis). The reddish-brown paste extracted from the leaves of the latter is used in the henna tattoo we are familiar with.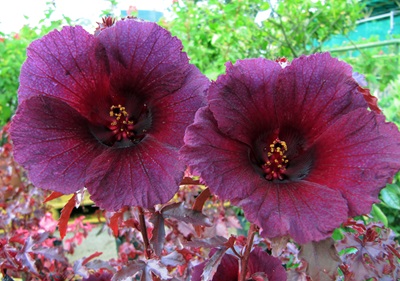 Flowers of the Red Leaf Hibiscus. Photo credit: Vicky Lim Yen Ngoh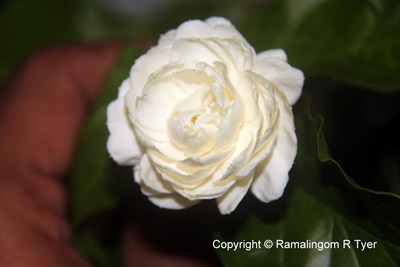 Flower of the Rose Jasmine. Photo credit: Ramalingom R Iyer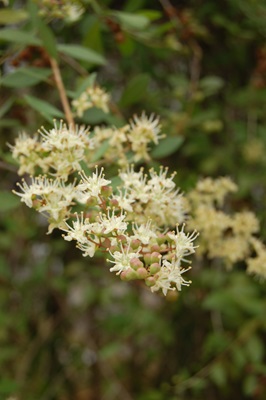 Flowers of the Henna Tree. Photo credit: NParks Flora&FaunaWeb
For more information on the HortHouse and Native Garden, visit our HortPark website here. You can also find out more about the interesting courses conducted by CUGE, or to sign up for an upcoming course on our CUGE website.
Text by Lea Wee