Conserving Singapore's Natural Heritage
In her nine years with NParks, Toh Yuet Hsin has had a number of memorable wildlife encounters.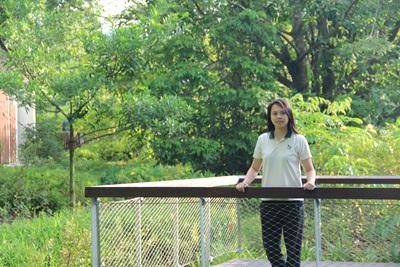 Toh Yuet Hsin, Deputy Director of the Central Nature Reserve. Photo credit: NParks
When she was a park manager at Labrador Nature Reserve, she saw a pair of Lesser Whistling Ducks (Dendrocygna javanica) swimming in a dragonfly pond she and her colleagues had created.
"When the ducks disappeared during a dry spell, I thought they were gone for good, but they revisited us after eight months with nine ducklings!"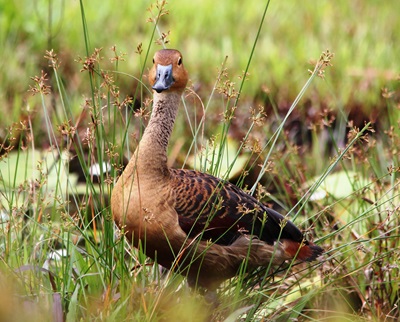 Lesser Whistling Duck. Photo credit: Toh Yuet Hsin
Another rare wildlife encounter happened last November, when she saw a small troop of the critically endangered Raffles' Banded Langur (Presbytis femoralis) at Windsor Nature Park at Upper Thomson. It was the first recorded sighting of the monkeys at the nature park, which fringes the Central Catchment Nature Reserve and has been sensitively enhanced through the planting of native tree species.
Yuet Hsin, now the Deputy Director of the Central Nature Reserve, recalls: "I was one of the lucky few to see the monkeys. They are a very elusive species so it was amazing that we could watch them move in the canopy for as long as for five minutes."
More satisfyingly, the sightings of these animals show that her team's efforts at enhancing habitats have paid off.
While she has always loved nature, especially plants and birds, Yuet Hsin's passion for conservation only germinated after she attended a mangrove planting session at Sungei Buloh Wetland Reserve. She was then a student in Horticulture and Landscape Management at Ngee Ann Polytechnic.
She recalls: "I saw mudskippers for the first time and learnt that mangroves are nurseries for a number of shrimp and fish species, and are an important part of our natural heritage."
She went on to obtain a Bachelor of Applied Science in Horticulture from the University of Queensland before joining NParks in 2009.
In the five years that she subsequently spent at Labrador Nature Reserve, her passion for conservation blossomed. Besides creating a pond for dragonflies, she and her colleagues also successfully transplanted the Dipteris conjugata, a critically endangered plant which used to be abundant at the Reserve.
Three years ago, she joined the conservation division as a Deputy Director of the Central Nature Reserve, overseeing the Central Catchment Nature Reserve, which also includes MacRitchie, Lower Peirce, Upper Peirce, Upper Seletar Reservoir Park, Windsor Nature Park and Springleaf Nature Park.

The Central Catchment Nature Reserve, the largest of the nature reserves in Singapore, occupies over 2000 ha of forest cover and is rich in biodiversity. Photo credit: NParks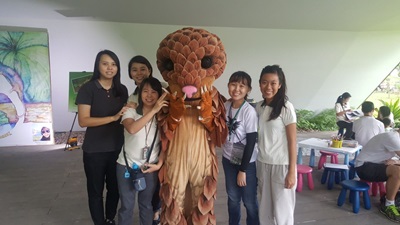 Yuet Hsin with her colleagues at an outreach activity at Windsor Nature Park. Photo credit: NParks
She and her team not only take care of the flora and fauna in these areas, but also ensure that trails and facilities are well-kept. During dry spells and stormy weather, foot patrol is stepped up as part of ground surveillance.
In fact, every day throws up new challenges and emergencies can arise, for instance, when a hiker is lost.
Right now, Yuet Hsin and her team, who have spent hours in the field observing the long-tailed macaques (Macaca fascicularis), are trying to raise public awareness about them. It is an issue that is close to her heart.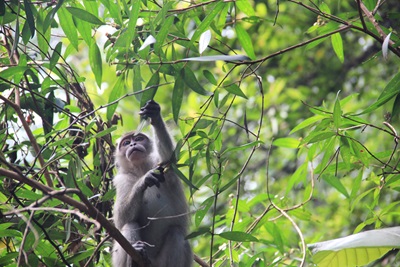 Long-tailed Macaque. Photo credit: Ang Wee Foong
She says: "Being fringe animals, they are animals that the public have close encounters with. They are curious animals which are attracted to easily available food sources. However, their behavior can sometimes be misinterpreted by those who may not be familiar with the long-tailed macaques."
She strongly believes that with a better understanding of how these animals behave, humans and monkeys can co-exist.
"The important thing is to keep a distance when observing them and keep your food away," she says.
While she has always wanted to be close to nature, she did not expect to be knee-deep in its conservation.
But it was a natural step to take.
She says: "If we don't protect our nature areas, which are our natural heritage, we may start to lose them."
Text by Lea Wee