Nature At Your Doorstep
Can't find the time to travel to Sungei Buloh or Pulau Ubin to enjoy the fascinating flora and fauna of Singapore? Parks bustling with biodiversity can be found right in your neighbourhood.
Find out where some of them are!
Tampines Eco Green – Your Eco-friendly Park
Tucked away in Tampines, a 20-minute walk away from Tampines MRT station, is a 36.5 ha park that looks like a savannah with marshlands, secondary forests and freshwater ponds.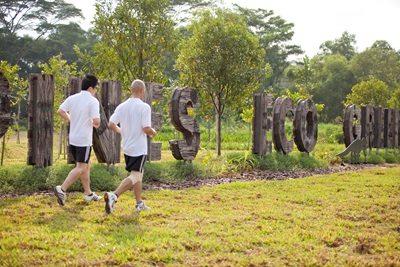 Tampines Eco Green. Photo credit: NParks
Singapore's first eco-friendly park, it is home to an astounding amount of wildlife: over 75 species of birds, 20 species of dragonflies, 35 species of butterflies and 32 species of spiders.
You can observe birds and other animals by staking out in bird-watching hides made out of twigs and branches. If you are lucky, you may be able to spot the Purple Heron (Ardea purpurea), which can grow up to 1 m tall. It is the tallest bird that can be seen at the park.
And if you are wondering about dead trees at one part of the park, they are actually left there intentionally. Called snags, they are nesting sites for birds such as woodpeckers and also food for many birds, as dead wood contains microorganisms. They provide a scenic backdrop for photographs too. Other eco-friendly features in the park include green roofs on all its shelters and vegetated swales, which are broad, shallow canals that use plants to trap pollutants and help cleanse the park's water.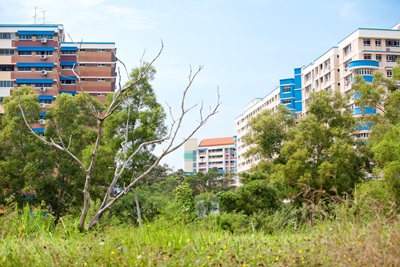 Tampines Eco Green. Photo credit: NParks
Find out more about Tampines Eco Green here.
Admiralty Park – Combining Nature and Play
This 27 ha park houses the largest nature area within an urban park and is only a 15-minute walk away from Woodlands MRT station. It was re-opened in October 2017 after two years of re-development.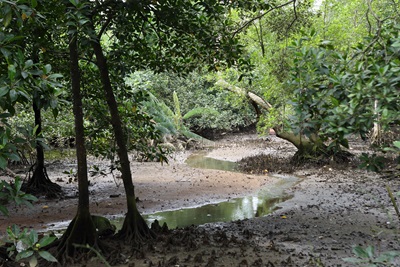 Keep a look out for rare plants in the nature area in Admiralty Park. Photo credit: NParks
The nature area, which takes up 20 ha, is a diverse mix of secondary forest, freshwater swamp, mangrove and grassland. It has been planted with more native trees to boost the species diversity of the area. More than 100 species of plants and animals can be found here. You can also spot rare plants such as the Putat Kampung or Fish Poison Tree (Barringtonia racemosa). The powdered bark and other parts of the tree are used as a fish poison. To bring visitors closer to nature, a mangrove boardwalk and viewing platform have also been added.

Fish Poison Tree. Photo credit: Ang Wee Foong
The urban park, which occupies the remaining 7 ha, is no less colourful. You can have your fill of wild rides on 26 slides, the most number of slides in any park in Singapore. This includes the widest slide – wide enough for a family of four ­– and the longest outdoor slide, 34 m long, in a public park here. There is also a swing which can hold parents and toddlers all at the same time. One play area comes with interactive LED lightings that change colour and intensity upon touch or motion.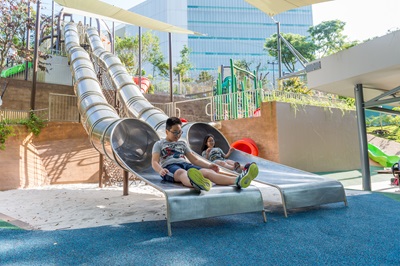 Have a ball of a time on the many exciting slides at Admiralty Park. Photo credit: NParks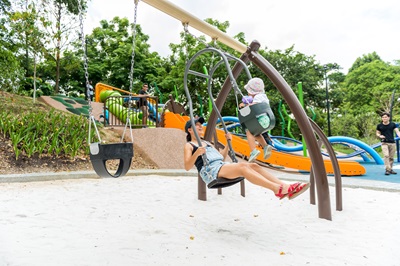 Enjoy the cool breeze against your skin as you swing together with your little ones. Photo credit: NParks
Find out more about Admiralty Park here.
Alexandra Park Connector – Greenery Amid Concrete Buildings
A green arrow blazing through the grey of a mostly residential area, this 1.7 km long park connector brings you from Tanglin Road to Zion Road in just 30 minutes on foot. At the Tanglin Road entrance, you are greeted by a floating wetland, where plants help to absorb pollutants and clean up the water in the nearby Alexandra Canal. There is also a water play area and a fitness corner.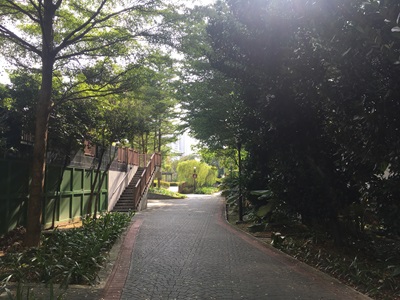 A stretch of Alexandra Park Connector, behind Tanglin Regency. Photo credit: Lea Wee
The path continues, flanked on the left by the calm and soothing waters of the canal, and on the right, by a neat row of shady trees and bushy shrubs. Birds chirp and the occasional eagle soars above.

Views along Alexandra Park Connector. Photo credit: Lea Wee
Meanwhile, condominiums and HDB flats rise up on both sides of the park connector. If you need a drink or a bite halfway through the walk, you can drop by Valley Point Shopping Centre along Delta Road. Or you can wait till the end of the connector, where there is Zion Riverside Food Centre or Great World City.
Find out more about Alexandra Park Connector here.
For more information on the many parks and park connectors flanking our neighbourhoods, check out our website here.
Text by Lea Wee