Shooting Stars
The "Singapore Garden Photographer of the Year" photo competition aims to showcase the rich biodiversity and greenery that make Singapore an exceptional City in a Garden.
Hear what five winners of last year's edition of the competition have to say about their winning photos and their twin passions for nature and photography.
Gardens and Landscapes category
1. Photo: Misty Evenings
3rd prize winner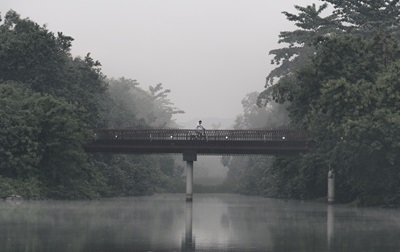 Professional photographer Tan Yong Lin, 29, was out for a cycle one misty evening around Lorong Halus when he saw, across the reservoir, this bridge at Punggol Waterway Park. He whipped out his camera and, after an hour of waiting, got the shot he wanted. He goes to nature areas near his home in Pasir Ris to cycle and take photos about three times a week.
He says: "Even though Singapore is highly urbanised, there are still many green areas. This is a privilege we should treasure."
2. Photo: Undertale
Merit winner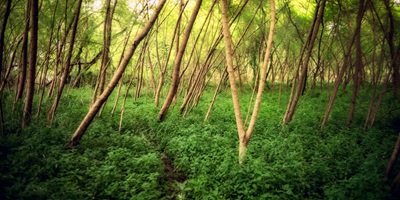 Software engineer Jonathan Chiang Shun Jie, 28, chanced upon this scene one morning while he was walking through Punggol Park Connector. He was struck by how "bent" the trees looked, probably due to the strong winds in the area. Taking photos of natural landscapes is his passion and some of his favourite green spaces in Singapore include Coney Island and parts of Pasir Ris Park, Changi Beach Park and Punggol.
He says: "Going to these places is a form of escape for me, to get away from the hustle and bustle of work."
3. Photo: Sunset
Merit winner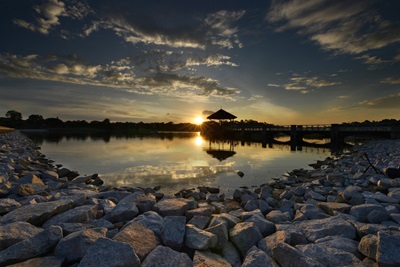 Mr Wong Chek Poh, 57, a tutor, nailed this shot after a few visits to Lower Pierce Reservoir. Besides nature photography, he also enjoys taking pictures of urban landscapes and subjects within them.
He says: "Nature photography takes a lot of patience. You need to wait for the 'right' sunset, sunrise, or animal to pass by. But I enjoy being in the quiet surroundings of green spaces."
People and Nature category
1. Photo: Tranquility
Merit winner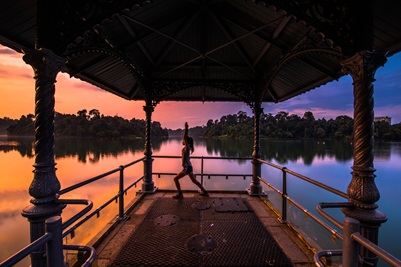 When Mr Ahmad Iskandar Bin Abdullah, 45, saw the clouds taking on a yellowish tinge one evening, he rushed from his home in Balestier to MacRitchie Reservoir to take this sunset photo. Besides taking photographs, the senior associate in an architectural firm often visits nature areas to stroll or jog. He also takes his family to places like Sungei Buloh Wetland Reserve and the Singapore Botanic Gardens for walks on weekends.
He says: "We find these places very calm and serene."
2. Photo: Health is Wealth
Merit winner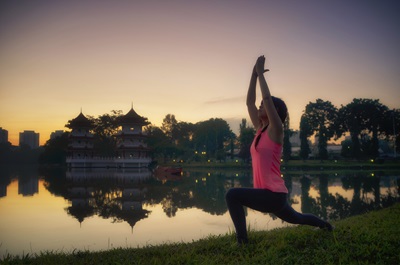 Account clerk Chong Yoke Choo, 43, took this selfie one morning at the Jurong Lake Gardens (Chinese Garden). She loves taking photographs of natural landscapes and hangs out with a group of photographers every weekend at nature areas such as Lower Seletar Reservoir Park.
She says: "Even if I don't get a good photograph, every outing is enjoyable because I get to relax among greenery."
Dos and Don'ts of Nature Photography
Practise etiquette and courtesy when taking photos in public areas.

Do not cut or remove any flora that may be in the way.

Do not feed any animals in our parks and nature reserves.

Avoid making artificial calls and lures to attract animals.

Do not disturb your subjects or disrupt the activity they are engaged in.

Respect the personal space of your subjects and keep a distance; refrain from doing anything that may endanger or cause them discomfort or inconvenience.

Be considerate and put yourself in the shoes of your subjects before taking a shot. Find out if consent is needed.

Be guided by your love and respect for nature photography, and consideration for the subjects.

Have a good understanding of the environment you are in, act ethically and observe all laws.
For more information on the "Singapore Garden Photographer of the Year" photo competition and to view all winning photographs, click here. Do check back on our NParks website here for updates on how you can take part in the next run of the competition.
Text by Lea Wee