Dine At The Park
Seized by a craving for good food and lush greenery at the same time? Drop by one of these five eateries nestled in nature-rich areas. The good news is: you can always work off the calories later by taking a walk in the park.
1. Tamarind Hill Restaurant @ Labrador Park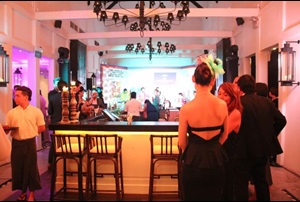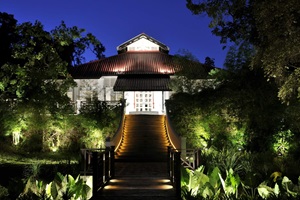 Food: Housed in a colonial bungalow, this restaurant offers a variety of traditional and contemporary Thai cuisine. Signature dishes are: tamarind platter, steamed seabass with lime, mango sticky rice, grilled wagyu sirloin and foie gras, deep-fried lobster with tamarind sauce and scallop tempura with Phanaeng curry. Note that some dishes are seasonal and may not be available when you visit.
Greenery: The restaurant is perched atop Labrador Nature Reserve, located along the southern coast of Singapore. The Reserve is home to the only rocky sea-cliff on the mainland that is open to the public. You can see plenty of cliff-side vegetation and soak up the sea view. If you are making your way towards Labrador MRT, remember to make a trip to Berlayer Creek mangroves, one of two remaining mangroves located in the south of mainland Singapore.
Find out more on their website. You can also enjoy our Labrador Nature and Coastal Walk Trail Guide here.
2.Verdure Café @ Springleaf Park
Food: A cosy café tucked in a quiet corner of Springleaf Nature Park at Upper Thomson, it offers a mix of western delights, from pasta dishes such as chilli crab pasta and smoked duck aglio olio, to foie gras eggs benedict. Don't forget to check out its wide range of organic tea, including hibiscus orange and calendula flower tea.
Greenery: The café is surrounded by greenery which you can enjoy from the al fresco dining area or through the glass walls enclosing its indoor dining area. Springleaf Nature Park is one of the nature parks buffering the Central Catchment Nature Reserve and has been enhanced to be more forested compared to other public parks. It is home to over 80 species of birds.
Find out more on their website. For more information on Springleaf Nature Park, click here.
3. Lewin Terrace @ Fort Canning Park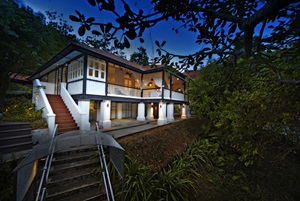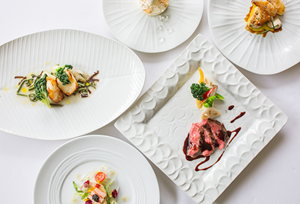 Food: Found in a charming black and white bungalow which used to be the residence of the former Chief of the Central Fire Station, this restaurant specialises in Japanese-French fusion food, prepared under the expert eyes of Chef Hiroyuki Shinkai, who has over a decade of experience working at Michelin-starred restaurants. The special spring course menu with wine pairing is a must-try, so are the Japanese wagyu beef and any of the fish dishes.
Greenery: An iconic landmark with a rich history dating back to the 14th century, Fort Canning Park also has plenty in store for all. History buffs will enjoy viewing ancient artefacts and landmarks, and nature lovers can rest and relax in the 18 ha green oasis which offers respite from the hustle and bustle of the city. Heritage and native trees are abundant, and you can even visit a spice garden, Singapore's first experimental and botanical garden. The park's expansive, sprawling lawns also often play host to a variety of arts-related events, including concerts, theatre productions and festivals.
Find out more on their website. You can also enjoy our many Fort Canning Park DIY Trail Guides: Ancient History Trail; Colonial History Trail; Spice Garden Trail and Trees of the Fort Trail.
4.Grub @ Bishan-Ang Mo Kio Park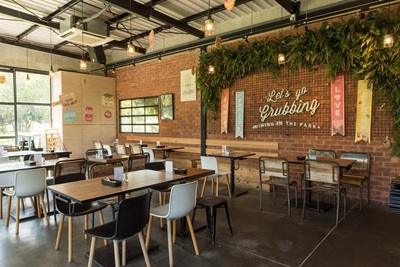 Food: This bistro, located at the Pond Gardens side of the park, serves burgers, pastas and pizzas. These are made using natural ingredients, in line with the bistro's focus on "responsible eating". Some not-to-be-missed dishes are: chilli crab pasta, Sakura ebi pasta, deluxe cheeseburger, maple bacon burger, cheesy chicken burger, mentaiko fries and churros.
Greenery: Bishan-Ang Mo Kio Park is one of the largest urban parks in central Singapore. One of its most unique features is a beautiful 3 km river, which was naturalised from an old concrete canal. It meanders through the park, attracting wildlife such as birds and dragonflies.
Find out more on their website. You can also enjoy our Bishan-Ang Mo Kio Park Trail Guide here.
5.The Garage @ Singapore Botanic Gardens
Food: Bee's Knees, a café on the ground floor is best known for its pizzas, pastas, sandwiches and desserts. Its signature dishes include truffle carbonara pizza, tiger prawn pasta, pinche chicken sandwich and pandan pancakes. On the other hand, Botanico, located on the second floor, offers seasonal fare, with a focus on fresh, natural ingredients, while the drinks in the bar at the outdoor terrace come infused with fresh herbs. Some do-not-miss dishes include Botanico salad, seabass ceviche, ibérico char siew and jalapeño ice cream.
Greenery: Be sure to drop by the Foliage Garden opposite the Garage building after your meal. Here, you can see ornamental plants with foliage in every imaginable colour, shape and texture. Or if you are with children, you can take them to the newly revamped Jacob Ballas Children's Garden. There, they can explore among other things, four new zones featuring the ecosystems of a farm, a forest, a stream and an orchard.
Find out more on their website. Planning a visit to the Singapore Botanic Gardens? Learn more about the gardens' beautiful array of botanical and horticultural attractions here.
For more information on the many dining options available in our gardens and parks, click here. To get the latest information on our tenants' activities and promotions, check back on our website here for updates.
Text by Lea Wee