Helping Hands to Green Up Our City
Thanks to volunteers from all walks of life, pockets of biodiversity amidst our urban landscape have been created around our island.
Their efforts come under NParks' Community in Nature (CIN) initiative, which has various programmes to engage different sectors of the community to bond with nature and help conserve Singapore's natural heritage.
Here are two initiatives.
Butterfly Habitat at Bishan-Ang Mo Kio Park – A Labour of Love by Volunteers
Sengkang resident Pang Shi Jie used to visit Punggol Park or Sengkang Riverside Park whenever he wanted to relax and take a break from his studies.
However, it was only after he started volunteering at the Butterfly Habitat at Bishan-Ang Mo Kio Park in March 2015 that he began to see these parks with "new eyes" and enjoy them more.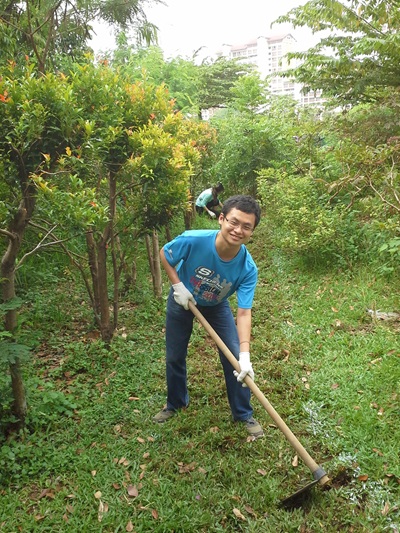 Pang Shi Jie at his first volunteer session at Bishan-Ang Mo Kio Park. Photo credit: Pang Shi Jie
"I started to notice the butterflies, birds and other wildlife in the parks," says the 23-year-old pharmacy undergraduate.
Between March and August 2015, he travelled to Bishan-Ang Mo Kio Park every Wednesday and Saturday morning. Together with other volunteers, he dug and laid out a gravel path to make the Butterfly Habitat at the park more accessible to the public. They also planted butterfly-attracting plants such as Lantana (Lantana camara) and Milkweed (Asclepias curassavica) and pruned and weeded flower beds in other parts of the park. Once, they even waded into the shallow part of the river to pick litter and remove snails.
Shi Jie enjoyed every minute of it.
He says: "I learnt to identify many butterfly and plant species and also picked up gardening skills which I brought home to help my mother with her plants."
For instance, his mother hardly pruned her plants in the past, but after he shared how pruning can contain the growth of a plant and make it more appealing, she has been pruning them more regularly.
Despite his busier schedule these days, Shi Jie continues to volunteer at Bishan-Ang Mo Kio Park whenever he can.
"It's not often that one gets such a unique hands-on volunteer opportunity in Singapore," he says.
MINDS Woodlands Gardens School – A School in a Garden
Walking from the side gate to the main building of MINDS Woodlands Gardens School is a delightful experience, now that the path is lined with butterfly-attracting plants.
At least seven species of butterflies can be found fluttering about, including four residents – the Common Grass Yellow (Eurema hecabe contubernalis), Lime Butterfly (Papilio demoleus malayanus), Lesser Grass Blue (Zizina otis) and Chocolate Pansy (Junonia iphita).
Areas around the school's driveway and carpark as well as a wall at the assembly area have also been greened up. A herb garden thrives at the school's backyard, where there are five troughs for students to grow plants from seeds or stem cuttings.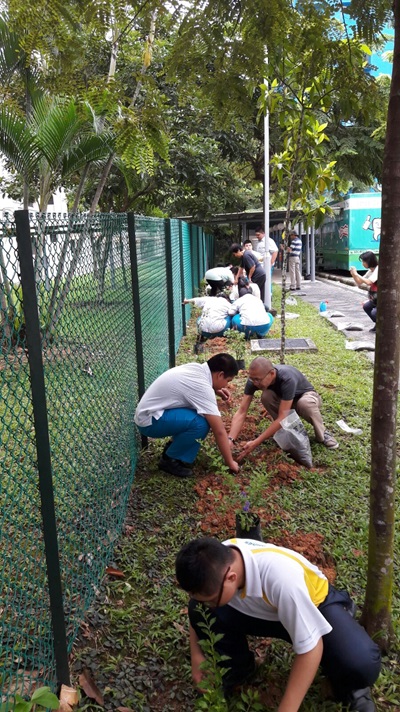 Students and teachers at MINDS Woodlands Gardens School involved in planting at the Butterfly Garden. Photo credit: MINDS Woodlands Gardens School
These green spaces come under the NParks' Greening Schools for Biodiversity Programme, which provides participating schools with training, advice, funding and bags of plants to start their own green spaces. It was rolled out at MINDS Woodlands Gardens School in 2016.
Madam Jenny Lim, the teacher-in-charge of the programme, says the school's greener environment has drawn wildlife such as butterflies, birds, lizards and snails, and provided a living classroom for the students.
Teachers collect caterpillars and leave them in a transparent enclosed tank at the school's learning centre so that students can observe how the caterpillars transform into butterflies. Also collected for exhibit are dead specimens of insects such as dragonflies and carpenter bees.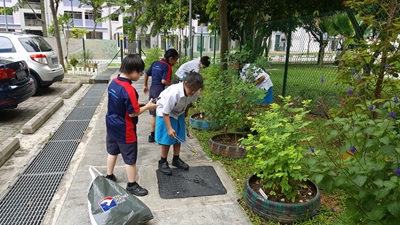 Students picking up leaf litter and helping to remove snails and other pests at the Butterfly Garden. Photo credit: MINDS Woodlands Gardens School
Besides learning about biodiversity, students have also taken part in roadshows to introduce their garden to the public, and build up their confidence in the process.
There are plans to make the school even greener, including introducing a pond, a terrarium of mangrove plants and a rooftop garden.
"Green spaces make learning more conducive for teachers and students. It also makes our environment pleasant and inviting for parents and visitors," says Madam Lim.
"Just like Singapore aims to be a city in a garden, we aim to be a school in a garden."
Are you passionate about nature and greenery and interested to play a part in supporting our vision of making Singapore a City in a Garden? Click here to find out more about our many volunteering opportunities. You can also contribute to our Community in Nature (CIN) Initiative, a national movement to connect and engage different groups to conserve Singapore's natural heritage.
Text by Lea Wee